All credits for this creation owed to Alvin Houpwns on Instagram .
But even more credit owed to ME for veganizing this ridiculous thing!
Correction: Ridiculously amazing thing!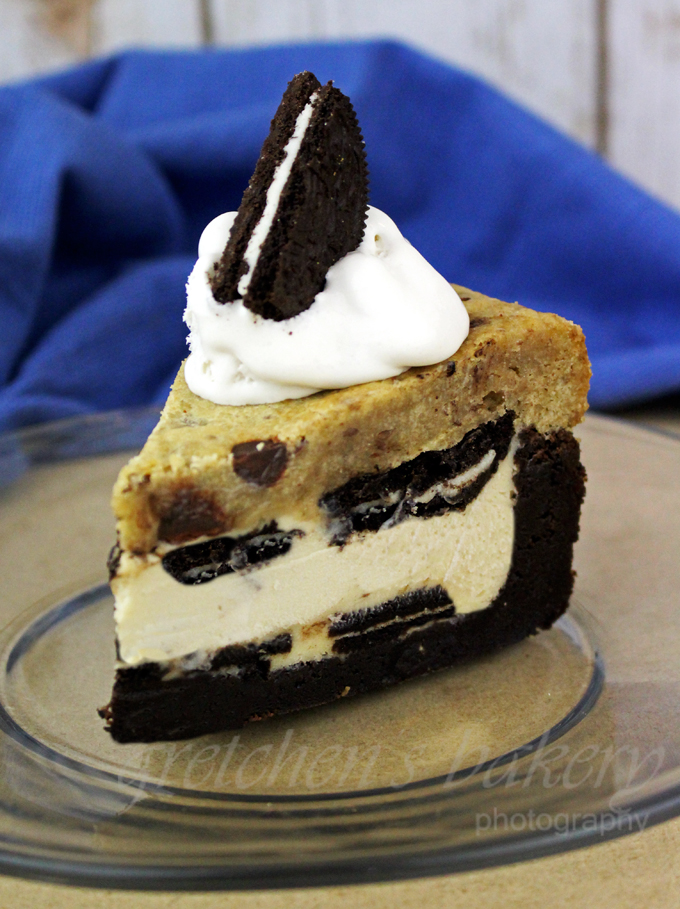 With just 3 simple recipes and some chocolate sandwich cookies you can be chowing down on this epic dessert in no time!
I will admit it did not take much testing to pull this one off, thankfully for me this one was a "one and done"
All of my recipes for Vegan Brownies, Vegan Cheesecake and Vegan Chocolate Chip Cookies worked perfectly the first time I tried them all together!
No tweaks needed! YAY! I love when that happens!
Simply follow along with my recipes below and the video tutorial for how to put it all together!
Just one note, I used my Box Brownie Hack Recipe for this one, but I do have several recipes for scratch brownies here on my blog if you are not a "box mix kinda person"- any of my scratch recipes would work great here!
CLICK HERE for Brownie Archives!
5 Layer Brownie Cookie Cheesecake
Instructions
Preheat your oven to 350°F
Grease and parchment line an 8" X 3" cake pan and also grease the outside and sides (literally the bottom of the pan that would sit on the counter) of a 6" cake pan *see video.
Prepare the recipe for the brownies then spread the batter into the greased and parchment lined 8" pan,
Place the 6" parchment paper circle on the bottom of the greased 6" pan and then press it down into the center of the brownie batter, allowing the batter to come up around the sides.
Bake for 35 minutes and cool while you prepare the cheesecake batter as per that recipe blog post & instructions.
Line the baked brownie with 10 cookies, then pour the cheesecake batter into the cavity.
**You may have about 1 cup of cheesecake batter that will not fit into the pan- bake in a smaller cake pan or ramekin and bake it with the other cheesecake, hide it from everyone while you eat it!
Top with another 10 cookies
Bake for 40 minutes more and meanwhile prepare the cookie recipe.
Roll the cookie dough as best you can to 8" diameter and place in the refrigerator until needed
Once the cheesecake is almost baked, the center will be very jiggly and clearly not baked all the way through.
Carefully place the cookie dough on top and bake for another 15 minutes or until the cookie is baked.
Cool completely out of the oven, then refrigerate overnight
Unmold the brownie cheesecake cookie carefully onto a serving platter.
Cut slices and serve with vegan whipped cream & and a chocolate sandwich cookie for each piece!
Notes
Keep refrigerated, covered for up to 8 days.

Serve cold or bring to room temperature before serving