I had so many people asking me for this recipe I just had to make a blog post for it!
I still have people emailing me and sending me notes on facebook to say "That carrot cake was the best I've ever tried!"
But don't take my word for it, try it for yourself!
Quite possibly the easiest recipe to mix too, since there is no mixer required!
Even the cream cheese icing can be done by hand since vegan cream cheese is so much easier to cream smooth than it's animal counterpart!
This is my go-to recipe whenever I want to impress the masses.
Isn't that odd? Whoever would have thought a carrot cake would be a vegan converter! LOL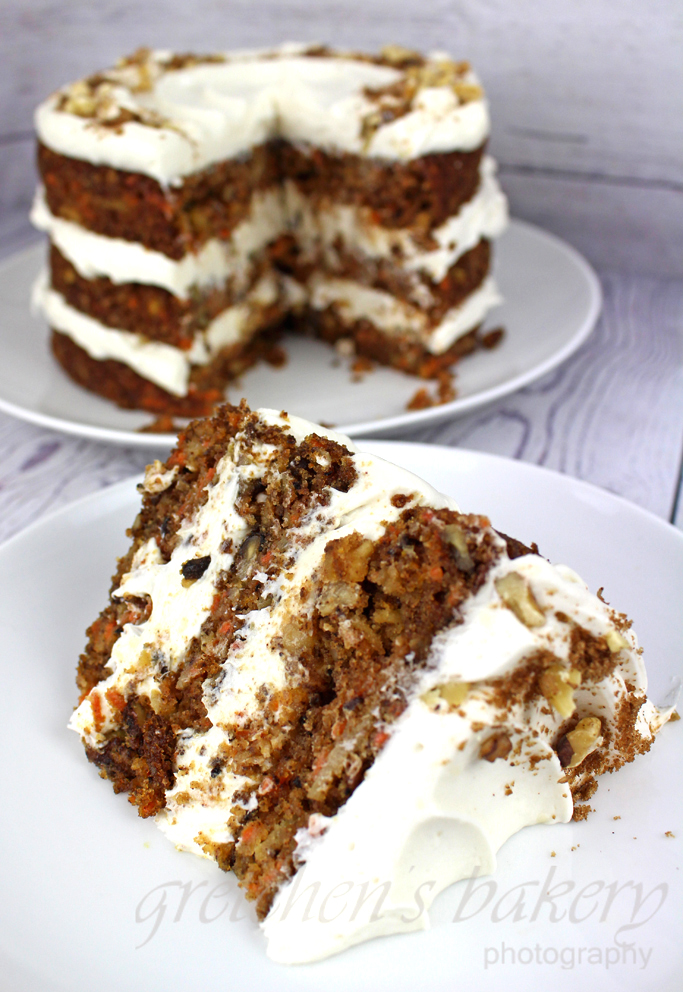 Vegan Carrot Cake with Cream Cheese Icing
Ingredients
Vegetable Oil ¾ cup (177ml)
All Purpose Flour 1¼ cup (157g)
Cake Flour ½ cup (60g)
Baking Powder 1 teaspoon (4g)
Baking Soda 1 teaspoon (4g)
Salt ¼ teaspoon
Ground Cinnamon 1¾ teaspoons
Brown Sugar ½ cup (105g)
Granulated Sugar ½ cup (100g)
Ground Flax Seeds 3 Tablespoons (24g)
Hot Water 6 Tablespoons (90ml)
Vanilla Extract 1½ teaspoons (7ml)
Carrots 4 medium (approx 2 cups 250g)
Granny Smith Apple 1 medium peeled approx ¾ cup
Orange Zest from ¼ large orange approx 1 teaspoon
Toasted Walnuts ¾ cup plus more for garnish *optional
Instructions
Combine the flax with the hot water and let stand to thicken
In a large bowl combine the sugars with the oil, vanilla extract and the flax mixture, whisk smooth
Add the orange zest
Then sift together all of the dry ingredients directly into the bowl and whisk smooth
Add the grated carrots and apple and the nuts then mix smooth
Pour batter into greased cake pans and bake immediately at 350°F in a preheated oven for approximately 25-40 minutes depending on the size of your pans. Bake Until they are Done
Cool cakes while you prepare the Cream Cheese Icing recipe below and then assemble cake as shown in the video
Notes
You can freeze un-iced carrot cake layers wrapped well for up to 1 month


Iced cake must be kept refrigerated but may stay at room temperature for up to 3 hours max
FOR THE CREAM CHEESE ICING
Vegan Cream Cheese Icing
Ingredients
Vegan Cream Cheese 2 Tubs (2cups) (454g)
Vegan Butter 1 stick (½ cup) (112g)
Confectioner's Sugar 2 cups (240g)
Vanilla Extract 1 teaspoon
Vegan Buttercream 1 cup *optional
Instructions
Smooth cream cheese and butter with a spatula by hand *vegan cream cheese can get runny if you over mix it so it is better to mix this recipe by hand
Add sifted confectioners sugar, blend on low just to combine
Add extract then add optional vegan buttercream icing
Mix smooth