EVERYONE'S ALWAYS CLAIMING THEY HAVE THE BEST CHOCOLATE CHIP COOKIE RECIPE!
Believe me I get it, but you haven't tried mine.
I've struck the balance between perfectly chewy insides and crisp crunchy outsides
With chocolate chunks that go on for days
So what sets mine apart you may ask?
Oh I don't know, endless hours of tweaking and testing and eating and tweaking and testing again and then eating more again.
Originally I was using a proprietary blend egg replacer for the binder
Which resulted in a very good cookie out of the oven
But upon sitting for a day or so, the cookies turned hard and brittle
This was easily fixed by adding in a bit of baking powder in place of some of the baking soda
Since baking soda causes spreading which means thinner crispier cookies and baking powder helps to puff causing a thicker chewier fluffier cookie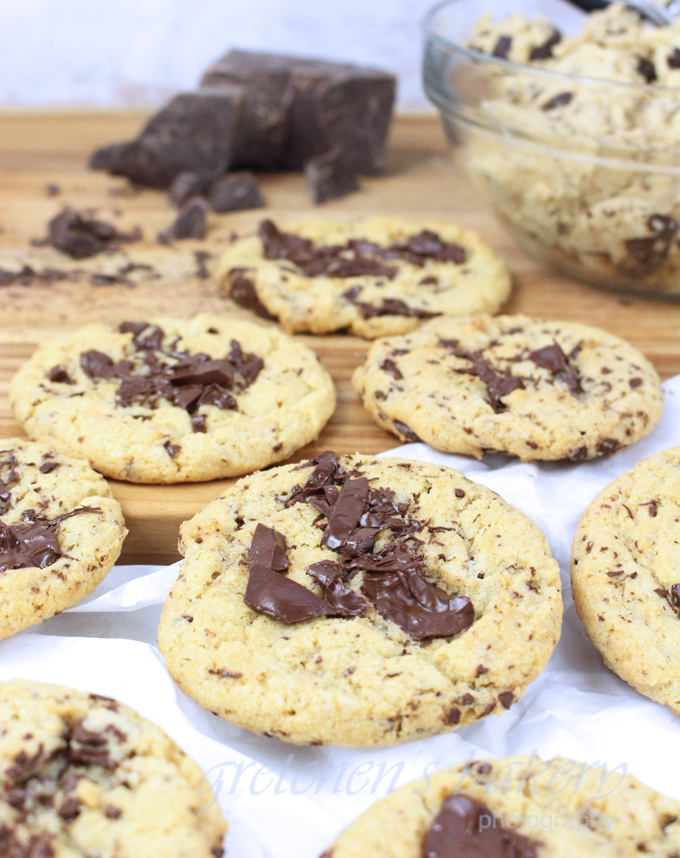 I've also gone back to the basics lately and started using aquafaba as the egg replacer in almost all of my cookie recipes.
It's super easy, almost always available since I eat chickpeas and hummus like it's my job, and it has great binding power in cookie recipes
Last I use chocolate chunks and not chips
Sorry Toll House, I just prefer the ooey gooey chocolate goodness of real couverture in my cookies
So all of these things together are what goes into making seriously the best vegan chocolate chip cookie recipe!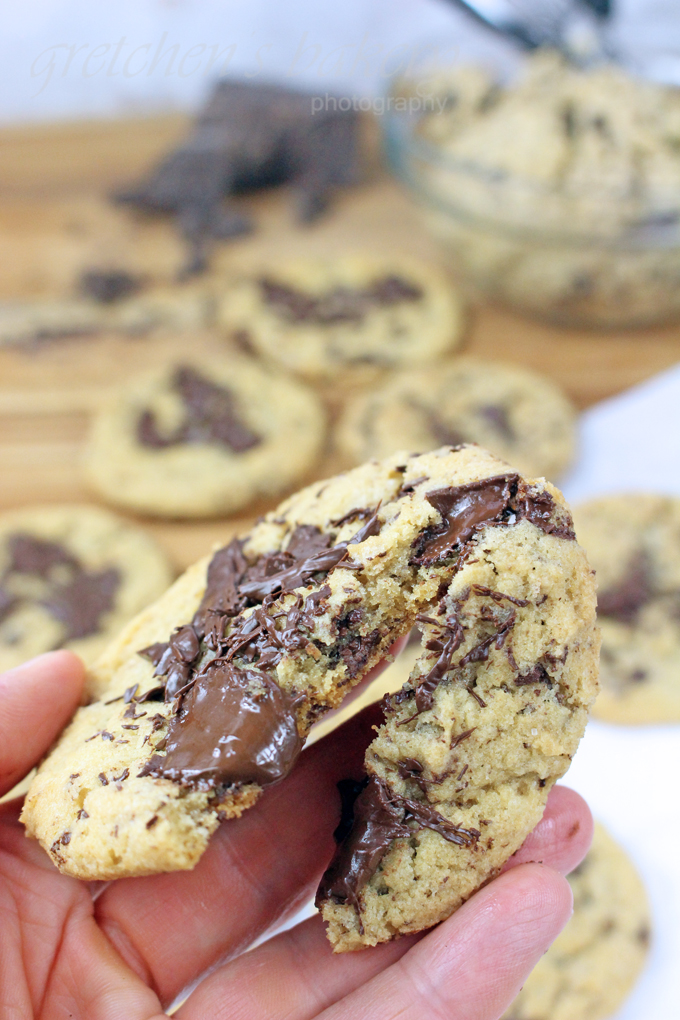 Pro Bakery Tip:
By adding a few rogue chunks of chocolate to the tops of each cookie before baking, you will get not only the best tasting cookies, but the best looking cookies too!
Another Pro Tip is to refrigerate your scooped cookie dough balls for about 15 minutes before baking
This will help them from spreading too much in the oven which results in a chewier, fluffier cookie!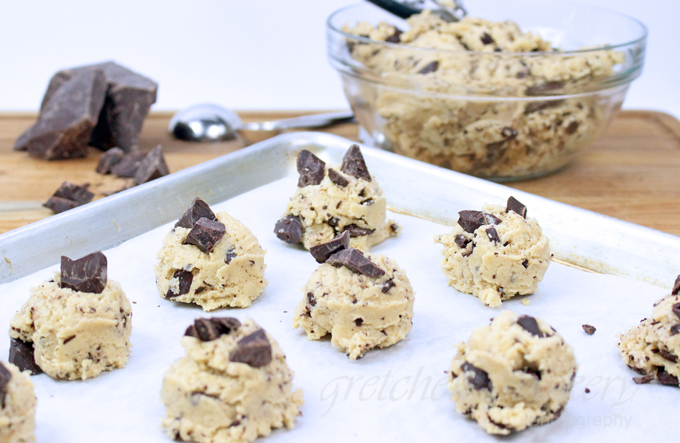 Yield: 24 cookies
Seriously the Best Vegan Chocolate Chip Cookie Recipe!
Ingredients
Vegan Butter 1 cup (226g)
Granulated Sugar 1 cup (200g)
Light Brown Sugar 1 cup (200g)
Salt 1 teaspoon (6g)
Aquafaba 1/3 cup (77ml)
Vanilla Extract 2 teaspoons (10ml)
All Purpose Flour 3½ cups (435g)
Baking Soda 1¼ teaspoon
Baking Powder ½ teaspoon
Chocolate Chunks 2 cups *reserve some chunks for the tops
Instructions
Preheat oven to 350°F
Be sure all your ingredients are at room temperature before beginning
Cream the vegan butter with both sugars and the salt in the bowl of your electric mixer with the paddle attachment
Cream for 3 minutes on medium speed or until light & fluffy
Add the aquafaba slowly while mixing on low speed until incorporated
Stop the mixer and scrape the bottom & sides of the bowl then add the vanilla extract and mix on high speed for 20 seconds to emulsify
Sift together the flour, baking powder and baking soda and then add all at once to the creamed mixture.
Mix just until it comes together then add the chocolate chunks and mix well.
With a 2 ounce scoop portion the dough onto a parchment lined sheet pan spaced 2" apart
Add a few of the reserved chocolate chunks to the tops of each cookie ball
Bake in a preheated 350°F oven for 12-15 minutes or until golden browned
Cool slightly then enjoy!
Notes
Cookies will stay fresh for up to 1 week in an airtight container at room temperature

You can also freeze un-baked dough, by scooping the dough into a parchment lined sheet pan, freeze and then transfer to a zip lock bag for up to 2 months

Thaw & bake as you wish! 🙂
3.5.3251