If you love Oreos (and who doesn't?) You are going to love this new creation that combines so many ideas into one luscious sinful cookie bar!
Black & White Oreo Cookie Tart is basically two kinds of Oreos, combined with my chocolate chip cookie recipe, stuffed into a tart and baked to sweet gooey perfection.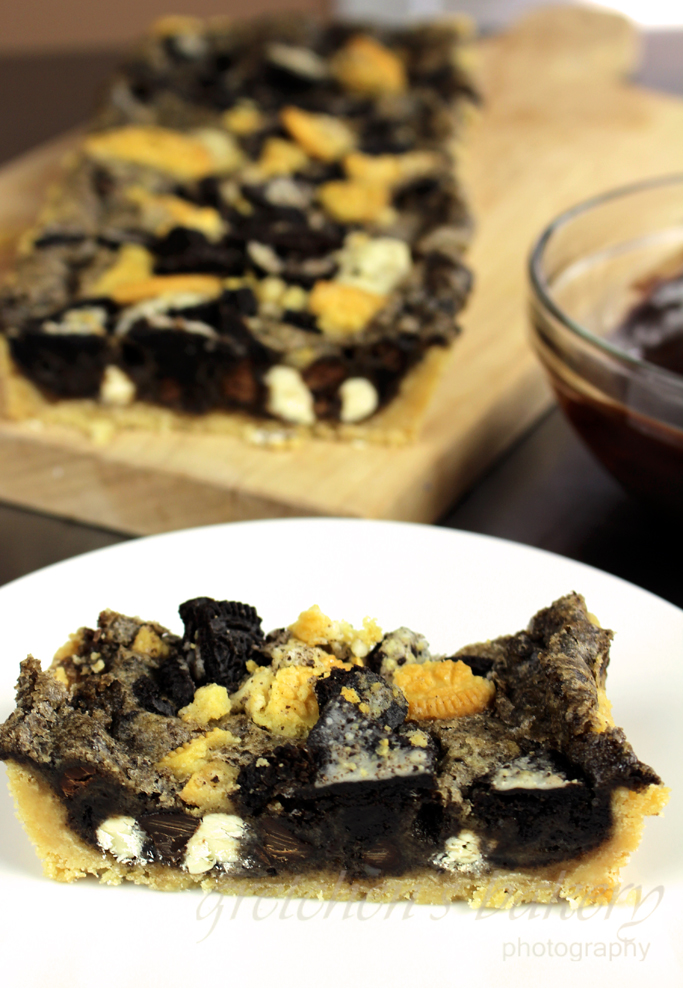 You can stop there and have yourself some grab and go cookie bars for a quick snack or go all out over the top ice cream sundae dessert!
Of course you know which route I took, because I cannot get enough Ben & Jerry's non dairy Peanut Butter Oreo Ice Cream!
I mention in the video below that if you don't have the tart pan I am using or if you just want to go traditional pie style it's your choice.
Vegan Chocolate Chips are not that easy to find but I order mine online here
Black & White Oreo Cookie Tart
Ingredients
Golden Oreos 14 + a few for the top
Coconut Oil or Vegan Butter 2Tablespoons (28g)
Regular Chocolate Oreos 12 or enough to make 1 cup crushed + a few for the top
Chickpea Water ½ cup (120ml)
Cream of Tartar ¼ teaspoon
All Purpose Flour ½ cup + 2 tablespoons
Vegan Butter 12 Tablespoons (168g)
Vegan Sugar ¼ cup (50g)
Vegan Brown Sugar ½ cup (100g)
Vanilla Extract 1 teaspoon (5ml)
White Chocolate Chips ½ cup
Semi Sweet Chocolate Chips ½ cup
Instructions
Crush the golden oreos with the melted coconut oil in a food processor and then press into a lightly greased tart pan with a removeable bottom (or a pie plate)
Freeze crust while you prepare the rest of the recipe
Crush the regular chocolate oreos in the food processor and set aside
Cream the vegan butter with both sugars until light & fluffy approx 3-5minutes
Add the vanilla extract and the then flour and crushed oreos, mix well then add the chips
In a clean bowl with a whip attachment whip the aquafaba with the cream of tartar to medium stiff peaks
Fold the bean meringue into the cookie dough batter and then pour into the prepared golden oreo crust.
Sprinkle more crushed oreos on top and then baker in a preheated 325°F oven for approximately 50-60 minutes depending on the depth of your tart or pir. It will looked puffed and not jiggly when you shale the pan
Once you remove from the oven it will collapse
Cool completely before slicing
Notes
Cookie Tart can be stored at room temperature in an airtight container for up to 10 days

Freeze wrapped well for longer storage up to 2 months