Are you tired of hummus but don't know what else to do with all those chickpeas from our Aquafaba Recipes!?
Well now you can make Chickpea Salad Sandwiches!
One of my favorite meals that I started preparing as I was first transitioning to an all vegan / plant based diet and this one stuck with me even until now!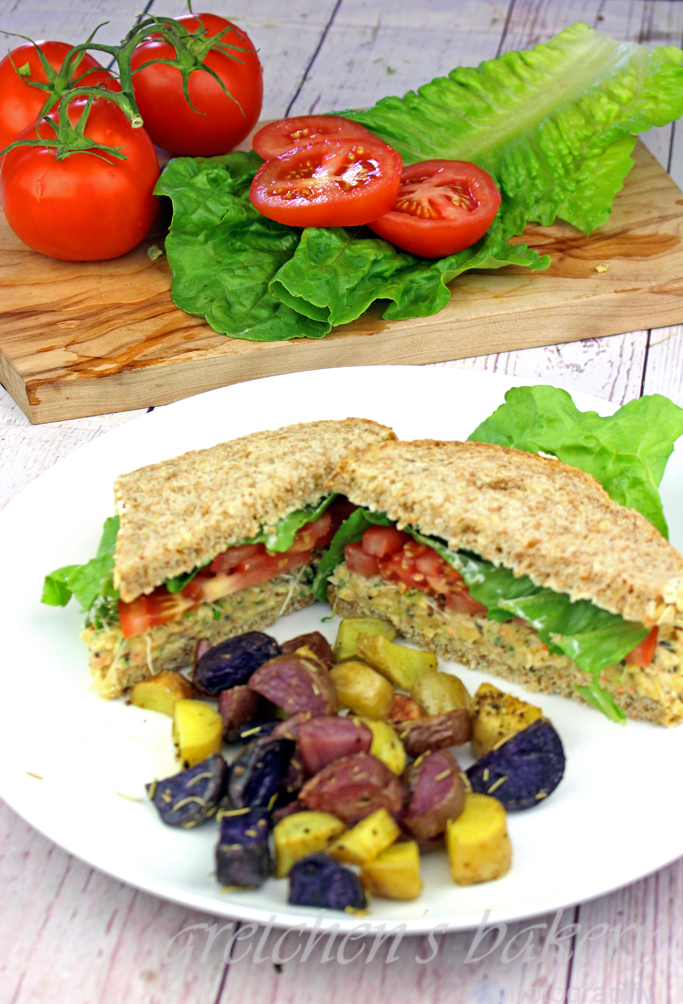 So easy and so tasty and a great way to use up all those chickpeas after making Aquafaba Swiss Meringue buttercream!
You probably already have everything you need in your pantry and refrigerator and even if you don;t you can really make this recipe into your own style with whatever spices, veggies you like and if you don't have the Just Mayo you can use a mashed avocado instead!
I like my sandwiches on Ezekiel sprouted grain bread but I have made this into a wrap as well.
Piled with alfalfa sprouts, lettuce and tomato this easy lunch option is pretty healthy too!
I've paired it with rosemary roasted fingerling potatoes for a healthier option than chips or fries.
Chickpea Salad Sandwiches
Some people like to add celery salt to theirs or even some mustard. You can really add whatever you like to this recipe
I also started adding powdered seaweed sheets to mine! I just grind them in a spice grinder and it gives it a "ocean" taste just like we remember tuna to be!!
Serves:
Makes 2-3 sandwiches
Ingredients
1 can of chickpeas drained
1 carrot
1 celery rib
⅓ small red onion
Parsley 3 sprigs
Just Mayo ¼ cup or to taste
salt & pepper to taste
Bread of your choice
fixin's of your choice, I used alfalfa sprouts, lettuce and tomato & extra mayo! Yumm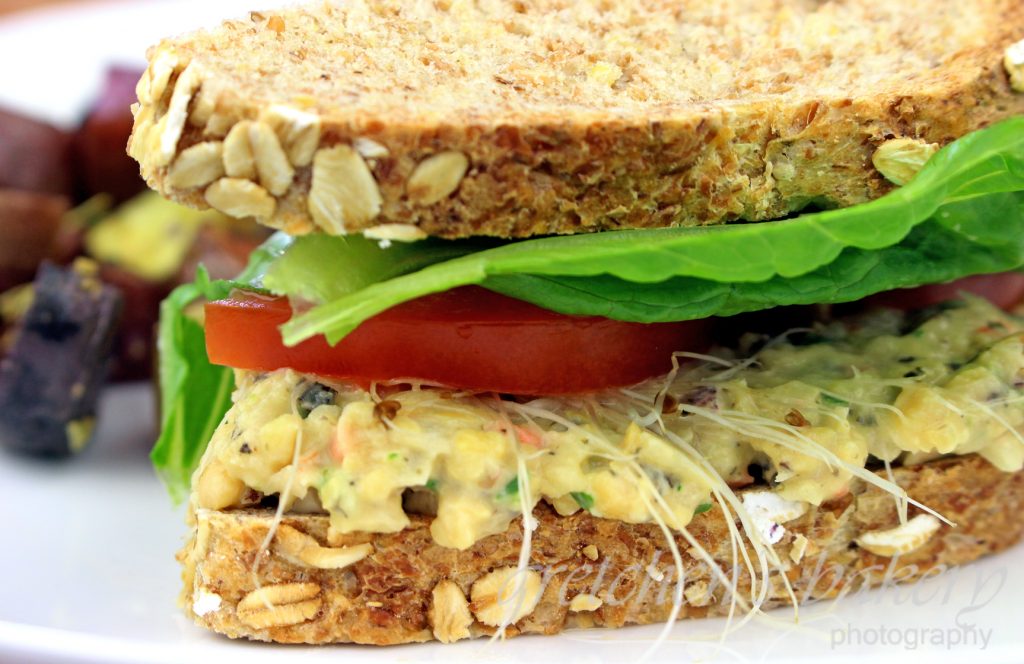 For the Roasted Potatoes
Roasted Rosemary Fingerling Potatoes
Ingredients
Fingerling or Small Red Potatoes 2 cups diced to 1" cubes
Olive Oil 2 Tbs
Dried Rosemary 2 tsp (or fresh 2 Tbs)
salt & pepper to taste
Instructions
Combine everything together in a small bowl and toss to coat evenly
Rost in a preheated 375°F oven for approximately 20-25 minutes or until tender