I couldn't wait to show you guys this recipe since I started making it last week!
Now let me just say that I have been testing and trying all different kinds of "cheese sauces" for a long time now. Everything from the potato and carrot sauce, to onces cooked on the stove top made primarily of "nooch" (nutritional yeast) and even ones made with a base of pureed cauliflower.
All of those above named have been good, don't get me wrong.
But this one…. this Creamy Mushroom & Garlic Pasta is LIFE!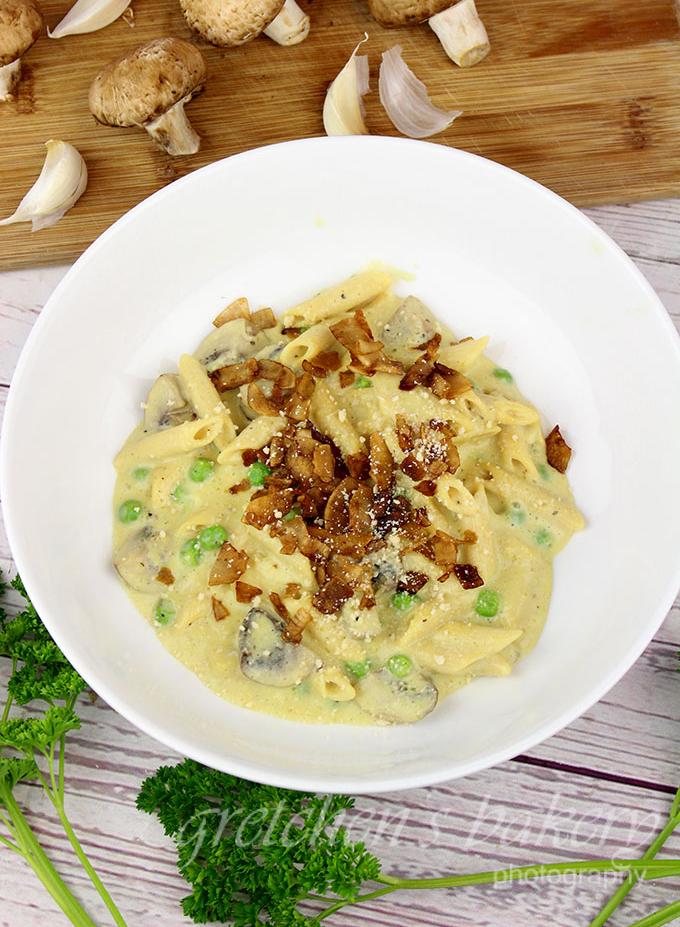 I've adapted it from The Minimalist Baker's recipe for same, only she used roasted brussel sprouts and way less cheese sauce than me!
I loved it with the brussel spouts for sure, but I also love mushrooms too.
The addition of peas were a great idea not only for color but yumm! Peas!
I mention in the video if you are against using alcohol in your cooking you can use vegetable stock in place of it.
But it really makes it so good with that white wine, and the alcohol really cooks off if that is your concern.
At any rate try this recipe! You will love it!
*UPDATE since original video & post: I make this pasta dis so much that I have actually made it even easier at this point compared to the original video last year. No need for lender or stick blender (or removing those veggies from the saute pan). Just add the Arrowroot Or Cornstarch to the plant milk, give it a good whisk and I even added the nutritional yeast as well. This way everything is smooth before adding to the pan, no need for transferring to a blender etc… I wish I have done it that way in the video, as that was a real pain in the a#@!
Creamy Mushroom & Garlic Pasta
Ingredients
1- 8ounce Box Banza pasta or any pasta of your choice
Garlic 5 cloves minced (approx 3 Tbs)
Vegan Butter or Olive Oil 3 Tablespoons
White Wine ⅓ cup *I used Sauvignon Blanc (or vegetable stock)
Arrowroot or Cornstarch 4 Tablespoons
Soy or Almond Milk 1¾ cup
Nutritional Yeast 5 Tablespoons
Vegan Parmesan Cheese ¼ cup + more for sprinkling on final dish
Mushrooms 1½ cup sliced
Frozen Peas 1 cup
Salt & Pepper to taste
Instructions
Prepare the pasta while you make the sauce as follows:
Saute the garlic with the vegan butter or oil
Add the mushrooms and cook for 2 minutes on high heat
**See note above the recipe for updated EASIER way to make this!
Remove the mushrooms to the side and add the wine to the garlic & butter and then cook on medium high heat until it has reduced by half, about 3 minutes
Add the arrowroot and whisk smooth as possible then add the milk and whisk, it will be clumpy
Transfer to a high speed blender and add the nutritional yeast, salt, pepper and parmesan cheese, blend smooth
Transfer back to the saute pan and cook over medium high heat until bubbly and thick (you can adjust if it is too thick by adding more milk)
Adjust the seasonings and add the mushrooms and peas and the cooked pasta
Serve immediately with more Parmesan cheese and optional smoky crispy coconut bacon recipe here
Notes
Pasta dish can be stored for up to 1 week in an airtight container and can be reheated over low heat in a saute pan with a small amount of milk added for creaminess and to bring back the consistency