This Easter you can make a stunning display cake with very minimal effort.
Your guests will think you purchased this one from a bakery I can guarantee it!
This Easy Easter Checkerboard Cake is not only perfectly decorated for Easter but it is so delicious too!
Six layers of moist vanilla cake and the best buttercream you will ever try!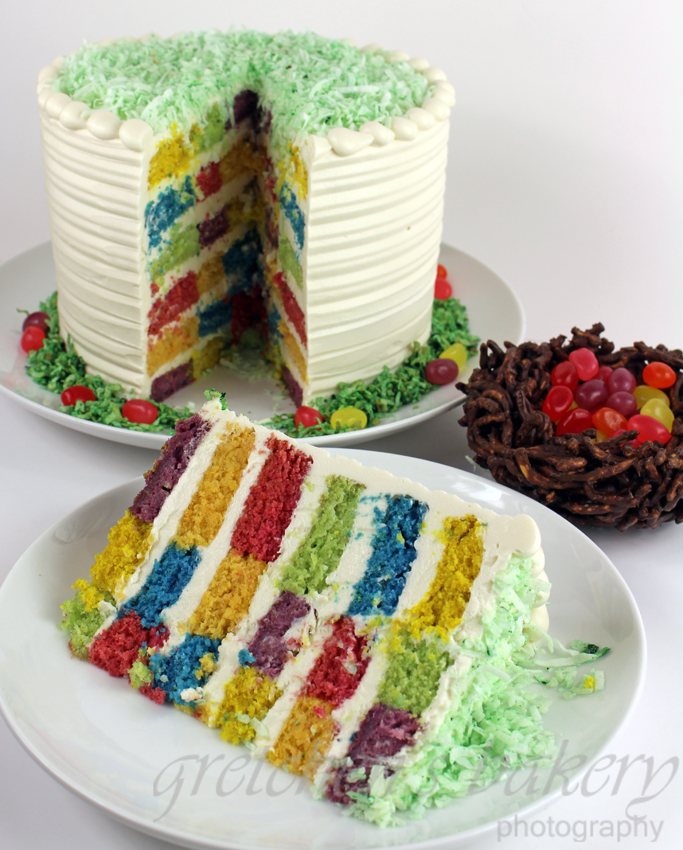 With this vegan vanilla cake recipe and my best vegan buttercream our lactose intolerant and egg free guests can partake too!
YAY! Everyone wins this Easter!
Oh and guess what else I decided to try this time?
All natural food colorings for the layers!
The only color I could not really mimic was the blue, so I did add some blue food dye for that layer.
But otherwise I juiced beets, kale, carrots and blackberries and I was so pleasantly surprised at how great and vibrant it all came out!
I even used the kale juice to color the coconut and I am so happy at how it all turned out.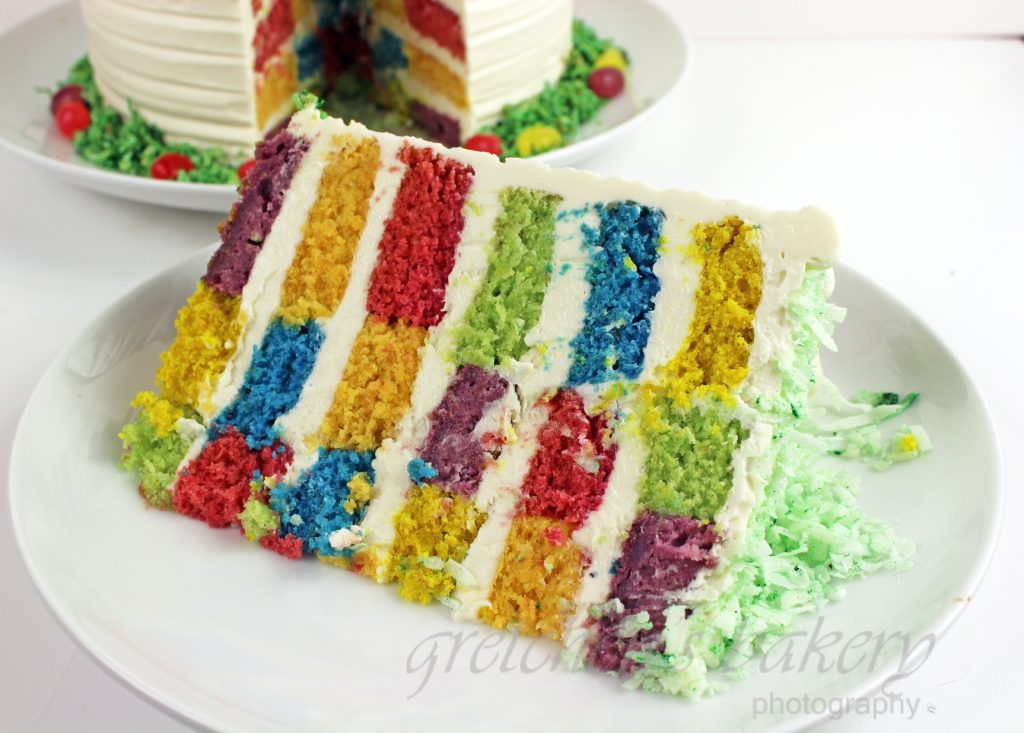 As for my little bird's nest, I made that out of Chow Mein Noodles and chocolate.
I'm sure you all have seen others make this same nest with Vermicelli noodles which is also a fine option, but I'm not a big fan of eating raw spaghetti pasta and if you have not yet tried Chow Mein Noodles smothered in chocolate?! That is a dessert all it's own!
The vegan jelly beans came from veganstore.com so no "bug poop here!" LOL If you are not sure what I am talking about check out my video for Mint Cupcakes, where I learned that Junior Mints (and most shiny candies for that matter, are made with bug secretions!)
Ok well let's get onto the making of this awesome cake recipe and get that Easter cake rolling!
Easy Easter Checkerboard Cake
This is a
building on recipes project
so you will need to get your buttercream prepared in advance.
If you are using natural food color like I did, juice those vegetables ahead of time too. ( I used tumeric powder for the yellow)
I used
7" cake pans
to get 6 perfectly even layers. If you do not have 7" cake pans you may use 8" pans for a 4 layer cake
Ingredients
1 Recipe Best Vegan Buttercream
For the cake:
Ground Golden Flax 6 Tablespoons (48g)
Hot Water ¾ cup (180ml)
Milk Alternative (I used Oat Milk) 1½ cup (360ml)
Distilled White Vinegar 2 Tablespoons (30ml)
Vanilla Extract 1 Tablespoon (15ml)
Cake Flour 3 cups (360g)
All Purpose Flour ¾ cup (94g)
Baking Powder 5 teaspoons (25g)
Salt ½ teaspoon (3g)
Granulated Sugar 2¼ cups (450g)
Vegan Butter 1 cup + 2 Tablespoons (255g)
Instructions
Combine the flax meal with the hot water and let stand for about 5 minutes to thicken
Add the vinegar to the milk to sour
Sift the flours with the baking powder and salt
Cream the vegan butter with the sugar until light and fluffy and this may take about 3-5 minutes on medium to high speed
Add the thickened flax paste while mixing on medium speed, scrape the bottom and sides of the bowl to incorporate evenly, add the vanilla extract
Add about ⅓ of the flour to the creamed mixture then add half of the soured milk
Add another ⅓ of the flour and then the remaining sour milk
Add the last amount of flour and mix just to combine evenly.
Divide the batter evenly into 6 bowls, add your food color to each one. (* I used tumeric powder for the yellow)
Spread the batter into greased and parchment lined cake pans and bake in a preheated 350°F oven for approximately 15-18minutes or until they are springy to the touch when you gently press the centers.
I used 7" cake pans to get 6 perfectly even layers. If you do not have 7" cake pans you may use 8" pans for a 4 layer cake
Meanwhile prepare the buttercream recipe if you have not already
Let the cakes cool completely then proceed as shown in the video above to make the checkerboard design with a set of round cookie cutters. Space them as evenly as possible depending on what size cake layers you are using. Since I had 7" layers I used a 4½" cutter for the first ring and a 2½" cutter for the center ring
For the Chocolate Chow Mein Nest you will need ½ can of Chow Mein Noodles and about ¾ cup of tempered chocolate (or candy melts)