Foolproof Vanilla Custard Cake~ California Fruit Cake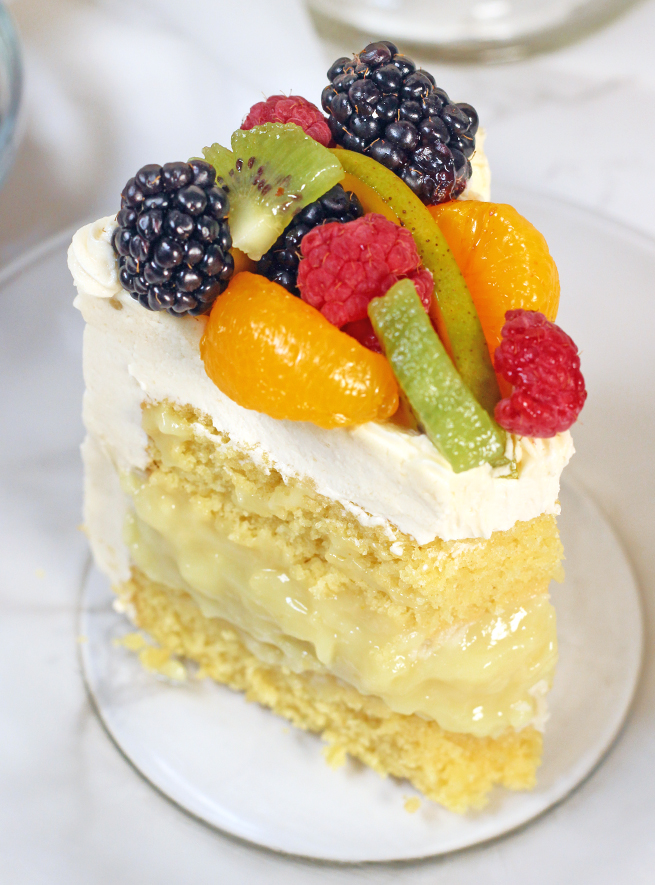 For the Yellow Cake Batter:
Soy Milk 1½ cups (355ml) *soy milk is the only plant milk that will thicken like buttermilk, but you can use whatever plant milk you prefer
White Vinegar 1½ Tablespoons
Vegan Butter ½ cup (113g)
Vegetable oil of your choice ½ cup (117ml) *or more vegan butter melted
Granulated Sugar 1¾ cup (350g)
Salt ½ teaspoon
Vanilla Extract 3 teaspoons (15ml)
All Purpose Flour 2 cups (250g)
Cake Flour 1 cups (120g) *see notes in body of the text article for more info on cake flour
Baking Soda 2 teaspoons
For the Custard:
Soy Milk 2¼ cup (533ml)
Granulated Sugar ¾ cup (150g)
Cornstarch 5 Tablespoons (40g)
Turmeric ¼ teaspoon
Vegan Butter 1½ Tablespoons (21g)
Vanilla Extract 1 teaspoon (5ml)
1 Recipe your favorite buttercream * I used American Buttercream with a teaspoon of almond extract added
Sliced toasted almonds for garnish approx ¾ cup
Assorted fresh and/or canned fruits of your choice
Apricot Jam ¼ cup *optional, see notes above
First prepare the cake by combining the vegetable oil with the melted vegan butter add the vanilla extract and set aside
Combine the soy milk with the vinegar and let stand for 5 minutes to thicken.
Sift all the dry ingredients together in a large mixing bowl, including the sugar.
Pour the wet ingredients into the dry ingredients in the mixing bowl and whisk smooth (this will be the plant milk mixture and the butter/oil mixture)
Pour the batter into the greased and parchment lined pans and bake immediately in the preheated 350°F oven for 15 minutes, then turn the open temperature down to 325°F to bake the rest of the way, approximately 15 minutes more or when you gently press the centers they are springy to the touch. Or do the toothpick test for moist crumbs.
Cool in the pans until you can safely touch without burning yourself then turn the cakes out onto a cooling rack to cool the rest of the way.
Next prepare the custard: combine all the ingredients except for the vanilla extract and the vegan butter in a medium sauce pot over and cook over medium to high heat and bring to a boil stirring constantly to avoid scorching the bottom .
Once it starts to bubble let it boil on low heat for about 10 seconds.
Remove from the heat and add the vegan butter and vanilla extract and stir until melted and smooth.
Once the cakes are completely cooled (I Like to refrigerate mine for several hours to make sure they are also very COLD)
Build the cake with a ring of buttercream to hold in the custard filling.
Crumb coat and then do a final icing with the buttercream
Decorate the edge with sliced toasted almonds and then arrange the fresh fruits on top.
The California Fruit Cake must be kept refrigerated at all times and will stay fresh for about 6 or 7 days wrapped loosely to prevent drying.

I do not freeze cakes filled with custard as they turn soggy & the custard will crystallize
Recipe by
Gretchen's Vegan Bakery
at https://www.gretchensveganbakery.com/vanilla-custard-cake/