Chickpea Salad Sandwiches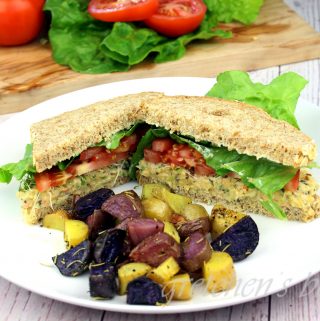 Serves:
Makes 2-3 sandwiches
1 can of chickpeas drained
1 carrot
1 celery rib
⅓ small red onion
Parsley 3 sprigs
Just Mayo ¼ cup or to taste
salt & pepper to taste
Bread of your choice
fixin's of your choice, I used alfalfa sprouts, lettuce and tomato & extra mayo! Yumm
In a food processor or by hand with a fork, mash up the chickpeas to a rough consistency, be careful not to over mash or you will make hummus!
Mince the carrot, celery, onion and parsley and add to the mashed chickpeas
Add the vegan Mayo and the salt & pepper to taste and then mix well.
Serve on bread or on a salad!
Chickpea Salad must be kept refrigerated at all times
It will stay fresh for up to 7 days in the refrigerator in an airtight container
Recipe by
Gretchen's Vegan Bakery
at https://www.gretchensveganbakery.com/chickpea-salad-sandwiches/