Updated & Improved Vegan Pumpkin Cheesecake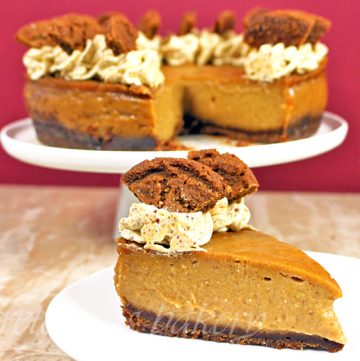 Vegan Cream Cheese 1½ packages (12oz) (336g) * I only use Tofutti Brand for baking
Canned Pumpkin 1 cup (226g)
Firm Tofu ¼ package (3½ounces) (98g) *not pressed just drain of excess water
Light Brown Sugar ¾ cup (150g)
Cornstarch 5 Tablespoons (40g) *see notes above
All Purpose Flour 2 Tablespoons (15g)
Molasses 2 teaspoons (10ml)
Salt pinch
Cinnamon 1 teaspoon
Ground Ginger 1¼ teaspoon
Cloves ¼ teaspoon
Nutmeg ¼ teaspoon
Vanilla Extract 2 teaspoons (10ml)
Vegan Butter 2 Tablespoons (28g)
Plant Milk 3 Tablespoons (90ml)
Prepare the crust as per the instructions listed in the above recipe for the original pumpkin pie cheesecake.
Then prepare the cheesecake batter:
Combine all the ingredients in a food processor and process smooth.
Pour the cheesecake over the prepared crust and bake in a water bath in a preheated 350°F oven for 1 hour
Turn the oven off and let the cheesecake cool inside the oven for 1 more hour
Out of the oven, cool the rest of the way and then refrigerate for at least 4 hours or overnight.
Unmold and then prepare the optional buttercream with gingersnap cookies & pumpkin!
Pumpkin Pie Cheesecake must be kept refrigerated at all times, will stay fresh in the refrigerator for up to 1 week.
I do not like to freeze vegan cheesecake, I find the texture changes in a bad way & they get soggy on the thaw
Recipe by
Gretchen's Vegan Bakery
at https://www.gretchensveganbakery.com/pumpkin-pie-cheesecake/