Chocolate Bundt Cake for Valentine's Day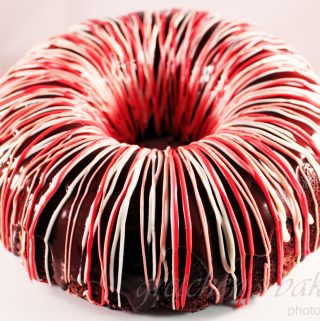 Serves:
serves 8-10 people
For the Cake Recipe:
Vegan Butter or Coconut Oil 8Tablespoons (113g)
Vegan Semi Sweet Chocolate 3ounces (85g)
Unsweetened Applesauce 2 Tablespoons
Light Brown Sugar ½ cup (105g)
Granulated Sugar ½ cup (100g)
Flax Meal 2 Tablespoons (16g)
Warm Water 5 Tablespoons (75ml)
Vanilla Extract 2 teaspoons (10ml)
Whiskey 2 Tablespoons (30ml)
Strong Brewed Coffee ½ cup (120ml)
*Or do what I did and use 1 tablespoon instant coffee granules and hot water
All Purpose Flour 1 cup + 1 Tablespoon (133g)
Natural Cocoa Powder 3 Tablespoons (30g)
Baking Soda ½ teaspoon
Baking Powder ¼ teaspoon
Salt ¼ teaspoon
Chocolate Glaze recipe in the summary above
Colored Glaze, recipe in the summary above
Combine the flax meal with the warm water and let stand to thicken about 10 minutes
Melt the vegan butter or coconut oil with the chocolate over a low heat stirring constantly
Sift together half of the sugar(s) with the flour, baking powder, baking soda, salt and cocoa powder
In a mixing bowl combine the other half of the sugar(s) with the flax paste, applesauce, vanilla extract, coffee and whiskey, mix well.
Add the melted chocolate and butter and mix well.
Add the sifted dry ingredients a heaping spoonful at a time while mixing on low until it is all incorporated
Pour into the prepared bundt pan and bake in a preheated 375° F oven for 15 minutes then turn the oven temperature down to 350°F for another 20-25 minutes
The cake will rise a lot and then fall slightly as it nears the end of bake time and when you insert a a toothpick into the center it will come out clean, you will know it's done
Cool completely and then ice with chocolate glaze and colored sugar glaze as I mentioned in the above text.
Recipe by
Gretchen's Vegan Bakery
at https://www.gretchensveganbakery.com/chocolate-bundt-cake-valentines-day/