Thai Basil Ice Cream Vegan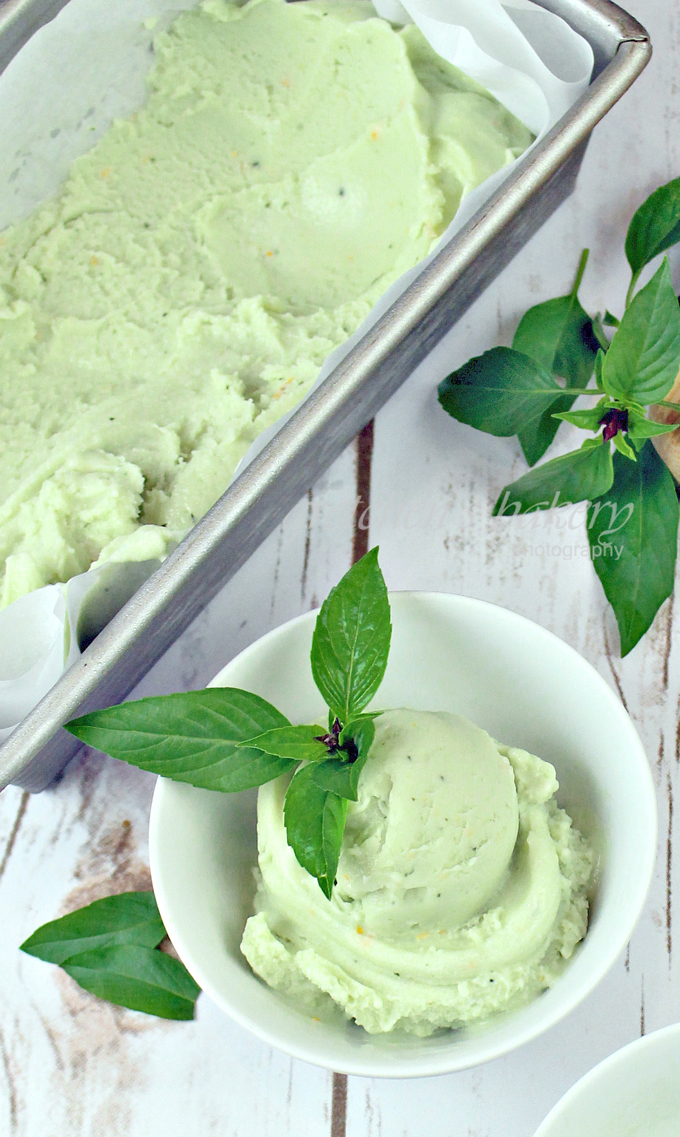 Full Fat Canned Coconut Milk 1 cans (15oz each)
Almond Milk (*or any milk alternative of your choice) 2 cups (474ml)
Thai Basil ½ cup packed tightly (15g)
Italian Basil ½ cup packed tightly (15g)
Orange zest from 1½ large oranges approximately 1 Tablespoon
Granulated Sugar ¾ cup (150g)
Arrowroot (or cornstarch) 3 Tablespoons (30g)
Xanthan gum ½ teaspoon
Vanilla Extract 2 teaspoons (10ml)
Green food color *optional as needed
Combine both milks the sugar, orange zest and half the amount of each of the basil into a large sauce pot and heat over medium heat until it starts to bubble slightly.
Remove from the heat and cover it to steep for at least a half hour (you can do it overnight too for most intense flavor)
Strain the mixture, discard the basil leaves and the orange zest and then return the milk mixture to the sauce pot
Add the rest of the basil leaves and the arrowroot and reheat it over medium heat while stirring constantly.
It will start to thicken as it comes just under a boil and then you can remove it from the heat and add the vanilla extract and the xanthan gum and optional green food color.
Pour into a high speed blender or a food processor and process smooth
Transfer the entire mixture a bowl and cool to col before pouring into your ice cream machine as per the instructions on your particular model.
Once it is frozen to what is more like soft serve, transfer to a container and freeze solid.
Ice cream will stay fresh in an airtight container in the freezer for up to 1 month
Recipe by
Gretchen's Vegan Bakery
at https://www.gretchensveganbakery.com/thai-basil-ice-cream-vegan/