Chocolate Orange Mousse Cake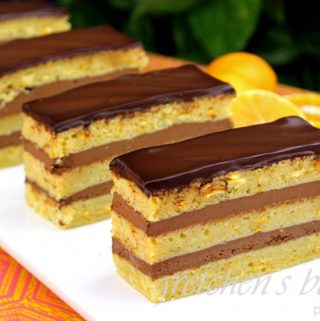 For the Cake Batter:
Plant Milk *soy is best but any will do 1 cup (237ml)
Apple Cider Vinegar or white vinegar 2 teaspoons (10ml)
Navel Orange 1 small or 2 clementines total weight of orange with skin on is 5oz (that's approximately 2 small clementines or 1 small navel) total volume measure of a pureed orange with the skin on is a scant ½ cup
Vanilla Extract 2 teaspoons (10ml)
Cake Flour 2½ cup (300g)
Egg Replacer *I am using the Plant Based Egg for best results 2 teaspoons
Granulated Sugar 1 cup + 2Tbs (225g)
Baking Powder 4 teaspoons
Salt 1 teaspoon
Vegetable Oil or Melted Vegan Butter 12 Tablespoons (168g)
For the Chocolate Mousse:
Semi Sweet Vegan Chocolate 8ounces (226g)
Hot brewed coffee 2 Tablespoons (30ml)
Vanilla Extract 1 teaspoon (5ml)
Aquafaba *Chickpea Water from Canned Chickpeas ¼ cup (60ml)
Agar powder ⅛ teaspoon *see note above
Granulated Sugar 4 Tablespoons (50g)
Cream Of Tartar ¼ teaspoon
Coconut Milk Full Fat 1- 15ounce can (*refrigerated overnight)
1 Recipe Vegan Chocolate Ganache
For the Cake: First pull of the hard stem of the orange is there are any and check the oranges for seeds by slicing them in half and remove seeds if there are any. The skins stay on the orange, so leave that intact.
Combine the soy milk with the vinegar to sour and let stand for 5 minutes.
Place the orange(s), sugar, vanilla extract, soy milk mixture and vegetable oil in a food processor and blend smooth, there will be small chunks of orange, that is exactly what you want!
Add the rest of the ingredients and blend to a smooth batter
Divide the batter evenly into the greased and parchment lined pans and bake in a preheated 350°F oven for approximately 18-22 minutes or until they spring back when you gently touch the centers, or a toothpick inserted comes out clean.
Cool completely in the pans, while you prepare the chocolate mousse
For the mousse:
Combine the hot coffee and the agar powder and whisk smooth. Keep it warm or the agar will set and you will have to remelt.
Meanwhile open the can of coconut milk that has been refrigerated overnight and carefully scoop out the fat that is on top and place in a mixer with a whip attachment, use the coconut liquid for something else (like a smoothie or a recipe that calls for no fat coconut water)
Whip the coconut cream to soft peaks and reserve in the refrigerator
Melt the chocolate in a large bowl over a double boiler or in a microwave safe bowl
Add the hot brewed coffee with the agar and the vanilla extract to the melted chocolate all at once while whisking vigorously to incorporate well.
Add the reserved whipped coconut cream and whisk smooth
Whip the aquafaba/agar with the cream of tartar to stiff peaks while adding the sugar slowly
Take a small portion of the AF meringue and fold into the chocolate mixture to lighten.
Fold in the rest of the AF gently
Prepare the ganache as per the instructions on that blog post, then assemble the cake as shown in the video tutorial.
You will notice in the video tutorial that I baked the batter into 4- ⅛ sheet pans but ended up only using 3 of the layers! Since I wanted to serve these as individual portions rather than a full tall family style cake, I thought the 4 layers would just be too tall for that type of serving size. So I ended up using only 3 of them, and I munched on that 4th layer with a nice slathering of the extra vegan ganache! LOL You can of course use all 4 layers if you wish!
This cake must be refrigerated at all times, and will stay fresh wrapped well for up to 10 days.

I do like to bring it to room temperature before serving, but that is just my preference as the cake tastes great cold too!
Recipe by
Gretchen's Vegan Bakery
at https://www.gretchensveganbakery.com/chocolate-orange-mousse-cake/