White Chocolate Berry Cream Pie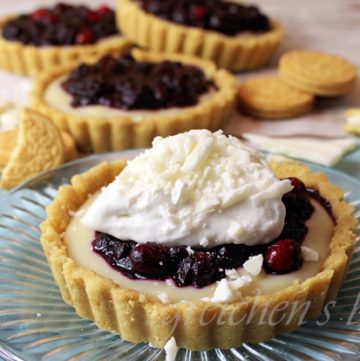 For the Crust:
Golden Sandwich Cookies 36 (*with the fillings)
Vegan Butter 7 Tablespoons
For the Berry Compote:
Fresh or Frozen Berries 2.5 cups (that's 2+1/2 cups)
Sugar *optional I used 2 tablespoons
Lemon zest *optional approximately 1 teaspoon from 1 small lemon
For the White Chocolate Custard:
Soy Milk 2 cup (474ml)
Granulated Sugar ½ cup (100g)
Cornstarch 5 Tablespoons (40g)
Vegan White Chocolate 5 ounces (approx 1 cup chopped)
Vegan Butter 1½ Tablespoons (21g)
Vanilla Extract 1 teaspoon (5ml)
1 Recipe Vegan Whipped Creamor COCO Whip Whipped Topping by SoDelicious
For the crust grind up the sandwich cookies in a food processor until fine crumbs.
Add the melted vegan butter and process until it is even and resembles wet sand
Press this mixture into an un-greased pie plate (9") or your un-greased 4" tart molds (6) and refrigerate until needed OR for a crispy pie shell, bake in a preheated 350F oven for 12-15 minutes to crisp
Prepare the berry compote by cooking the berries over a medium heat with the optional sugar
Stir often to avoid burning.
The berries will start to break down and get syrup-y especially if you use frozen berries.
If you are using fresh berries you may have to add a few tablespoons of water to help them cook down.
After about 20-30 minutes the berry mixture will be broken down, syrup-y and starting to get thicker.
Remove from heat and let cool (it will thicken as it cools)
Prepare the custard by combining plant milk, sugar & cornstarch in a medium sauce pot over medium to high heat and bring to a boil stirring constantly to avoid scorching the bottom .
Once it starts to bubble remove from the heat and add the vegan butter & the white chocolate, stir to melt evenly throughout.
Add the vanilla extract.
Pour into the prepare pie shell or the tart shells then refrigerate for about 20minutes to cool & set.
Top with the cooled berry compote and then coconut whipped cream
Serve with shaved white chocolate *optional.
Recipe by
Gretchen's Vegan Bakery
at https://www.gretchensveganbakery.com/white-chocolate-berry-cream-pie/