100 Hour vs 1 Hour Vegan Fudge Brownies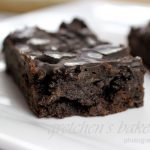 All Purpose Flour 2 cups (250g)
Baking Powder ⅔ teaspoon
Salt ⅔ teaspoon
Granulated Sugar 11oz (311g) *this is about 1½ cups + 1 Tablespoon
Vegan Butter 12 Tablespoons (170g)
Molasses 4 teaspoons
Strong Brewed Coffee 5½ fluid ounces (162ml)
Semi Sweet Chocolate chunks 3 ounces (85g)
Natural Unsweetened Cocoa Powder 1 cup + 2 Tablespoons (85g)
Vanilla Extract 2 teaspoons (10ml)
Chocolate chunks for topping 3 ounces (85g)
Chocolate Chips for the batter ⅔ cup
Bring the vegan butter & molasses to a boil
Add the cocoa powder & first measure of chocolate chunks and whisk to melt smooth
Add the hot coffee and then transfer to a large mixing bowl, add the vanilla extract & the sugar
Whisk smooth
Sift the flour, baking powder & salt into the batter and stir just to combine, do not over mix
Add the optional chocolate chips to the batter
then spread into the greased & parchment lined sheet pan.
Add the other measure of chocolate chunks to the top
Bake in a preheated 350F oven for 25 minutes **Or follow the video and wait 4 days (approx 100 hrs) before baking by storing the brownie in the refrigerator.
Cool completely before cutting.
Brownies can be stored at room temperature in an air tight container for up to 1 week.

For longer storage, keep refrigerated for up to 2 weeks.

Freeze for up to 3 months
3.5.3251
Recipe by
Gretchen's Vegan Bakery
at https://www.gretchensveganbakery.com/one-hour-vegan-fudge-brownies/