How to Make a Vegan Birthday Cake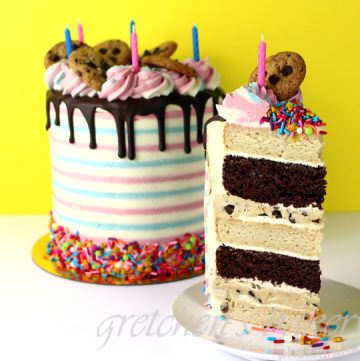 1 Recipe Chocolate Cake baked into 3- 7" cake pans *you will have 1 extra layer if you are using 7" pans, but divide the batter equally in half if you are using 8" pans
1 Recipe Vanilla Cakebaked into 3- 7" cake pans *or divide the batter equally between 2-8" pans
1 Recipe Chocolate Chip Cookies for garnish *optional* I used a #100 Scoop to make the small size, then baked the rest of the dough into large cookies for my family! :)
For the Edible Cookie Dough Filling::
Vegan Butter room temperature 7 Tablespoons
Granulated Sugar ½ cup
Light Brown Sugar 7 Tablespoons
Salt ½ teaspoon
Vanilla Extract 1 teaspoons
Room temperature Soy Milk 10 Tablespoons
All Purpose Flour 1½ + 2Tablespoons
Vegan Mini Chocolate Chips or Chunks 1¼ cup
Prepare your cake pans with professional pan grease & parchment paper liners.
Preheat your oven to 350°F
Prepare your cake layers by following the recipes & instructions on those pages.
Prepare the buttercream as far in advance as 1 week and then color 1 cup of it blue and 1 cup of it pink.
Prepare the edible cookie dough filling, by first toasting the flour on a sheet pan in a preheated 350°F oven for approximately 5 minutes.
Cool completely while creaming together both sugars with the vegan butter until light & fluffy.
Add the plant milk and be sure to scrape the bottom & sides of the bowl to mix well.
the mixture may look curdled from the heavier amount of plant milk I am using to get the consistency of this dough to a creamy fluffy filling, not a herd stiff dough. *You can adjust this to your liking, more or less.
Add the cooled flour with a pinch of salt *optional and mix well
Add the miniature chocolate chips and mix well.
Divide the dough between 2 cakes pans (*the same size you used for your cake layers!) that have been lined with plastic wrap for easy removal.
Refrigerate the dough until firm & set.
Assemble the cake as shown in the video tutorial.
This cake can stay at room temperature for as long as it stays below 72°F otherwise the buttercream can get too warm and will start to droop, especially because this is a very tall cake!

For longer & possible safer! storage, keep refrigerated in an airtight container for up to 1 week
Recipe by
Gretchen's Vegan Bakery
at https://www.gretchensveganbakery.com/how-to-make-a-vegan-birthday-cake/