Chocolate Covered Strawberry Vegan Chocolate Mousse Cake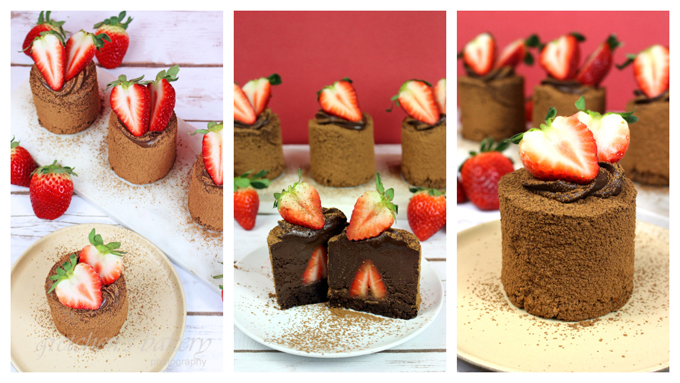 Serves:
8 Individual or 1-8" cake
½ Recipe Chocolate Cake baked into a quarter sheet pan
Chocolate Mousse:
Semi Sweet Vegan Chocolate 8ounces
Strong Brewed Coffee 3 Tablespoons
Agar Powder ½ teaspoon
Coconut Milk 2 - 15 ounce cans refrigerated overnight
Aquafaba ½ cup
Optional garnishes:
Cocoa powder for dusting approx ¼ -½ cup
Fresh Strawberries 8-10
Remember to refrigerate your coconut milk overnight before beginning.
First grease & parchment line your quarter sheet pan and get the oven preheated to 350°F
Prepare the chocolate cake recipe and then bake for approximately 25-30 minutes or when a toothpick inserted into the center comes out clean.
While the cake is baking prepare the ganache recipe as shown on that article recipe post.
Clean and trim your strawberries and get them ready for dipping, make sure they are dry before you do dip them
Next prepare your molds with the acetate cake strips as shown in the video tutorial on Youtube
Cut the cooled cake discs with a cookie cutter that is the exact same size as the molds,
Insert the cake discs into the bottom and then dip your strawberries into the ganache, covering almost all the way to the tips (it just helps in the handling of them to not dip them all the way, but of course you could!)
Next prepare the chocolate mousse by melting the vegan semi sweet *or bittersweet if you prefer! chocolate over a double boiler or in the microwave.
Sprinkle the agar powder over the hot coffee and keep it warm in a pan of hot water to prevent it from setting.
Whip the coconut fat from the tops of the cans of coconut milk *reserve the water for these recipes using coconut water!!
Reserve the soft whipped coconut cream and then prepare the aquafaba by whipping the bean liquid in a high speed balloon whip stand mixer until thick & glossy CLICK HERE FOR MORE INFO ABOUT AQUAFABA! It's a game changer!!
Whip the warm agar/coffee into the chocolate & whisk smooth, then fold (whisk) in the coconut cream, then fold in the whipped aqaufaba.
Immediately portion into your prepared molds and then refrigerate to set.
Unmold by rolling of the acetate strip carefully then sprinkle with cocoa powder, decorate with the reserved ganache and a sliced strawberry for garnish!
Mousse cakes must be kept refrigerated at all times.

They will stay fresh for up to 1 week in an airtight container in the refrigerator **fresh strawberry garnish will wilt after 1-2 days

Because of the fresh strawberry inside, I do not freeze these cakes, the strawberry will be mushy & soggy on the thaw. If you LEAVE OUT the strawberry inside and just make mousse cakes, you can freeze these for up to 1 month
Recipe by
Gretchen's Vegan Bakery
at https://www.gretchensveganbakery.com/chocolate-strawberry-mousse-cake/