Red Velvet Cookies (all natural- no dye - vegan)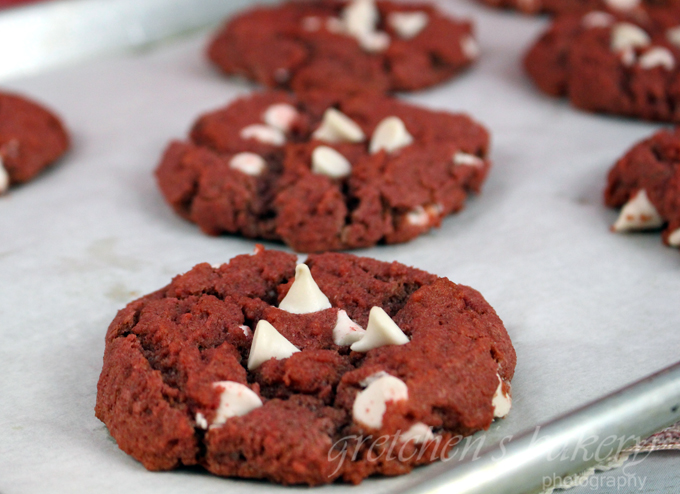 Serves:
13 - 2 ounce cookies
Vegan Butter 8 Tablespoons (113g)
Light Brown Sugar ½ cup (100g)
Vegan Sugar ½ cup (100g)
Aquafaba 3 Tablespoons (90ml) *see note in the text of this post above
Vanilla Extract 1 teaspoon (5ml)
All Purpose Flour 1¾ cups MINUS 2 Tablespoons! (205g)
Beet Root Powder 2 Tablespoons (20g)
Baking Soda ½ teaspoon
Baking Powder ¼ teaspoon
Salt ½ teaspoon
Vegan White Chocolate Chips 1 cup *optional
Cream the vegan butter with both sugars with an electric mixer on medium - high speed until light and fluffy approx 2 minutes.
Scrape the sides and bottom of the bowl to ensure an even mix, then add the vanilla extract and the aquafaba slowly as you continue to mix on low speed.
Once it is incorporated whip on high speed for about 20 seconds to emulsify.
Scrape the bowl again and then add the salt, baking powder & soda, the beet root powder and the flour.
Mix well to incorporate and then add the vegan white chocolate chips.
Mix to combine then using a 2ounce cookie scoop scoop dough onto a parchment lined sheet pan spaced 2" apart.
Bake in a preheated 350°F oven for 10 minutes then turn the temperature down to 325°F for another 15minutes.
Turn the oven off and let the cookies sit inside for 5 more minutes.
Cool on a rack and then eat them!
Cookies will stay fresh for up to 10 days in an airtight container at room temperature.

You can freeze either the unbaked dough for up to 2 months in a freezer bag or the baked cookies for 1 month in an airtight container
Recipe by
Gretchen's Vegan Bakery
at https://www.gretchensveganbakery.com/red-velvet-cookies-all-natural-no-dye-vegan/