Strawberry Cheesecake Cookies ~ Vegan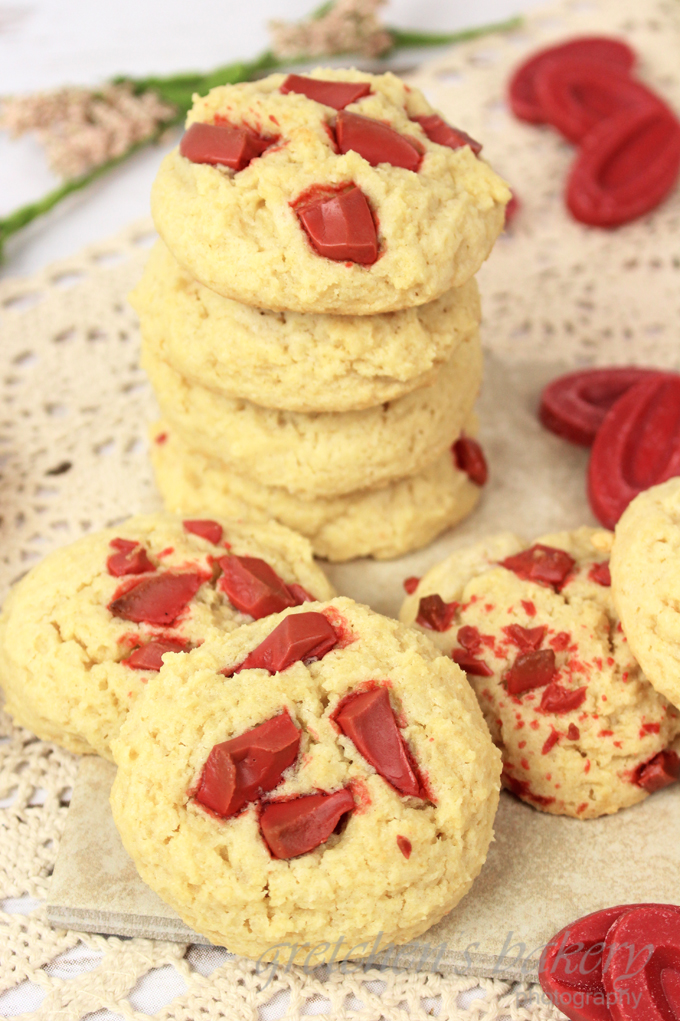 Serves:
18 1 ounce cookies
Vegan Butter 6 Tablespoons (85g)
Granulated Sugar ½ cup (100g)
Vegan Cream Cheese *or sour cream * see note above 6 Tablespoons (95g)
Cheesecake Super Flavor 2 teaspoons (10ml)
Cornstarch 1 Tablespoon (8g)
All Purpose Flour 1¼ cup (157g)
Baking Powder 1 teaspoon
Baking Soda ¼ teaspoon
Egg Replacer *any dry blend will be fine, I used Bob's Red Mill this time 1 Tablespoon
Salt ½ teaspoon
Strawberry Couverture 1 cup chopped fine
Cream the vegan butter with the sugar until light and fluffy approx 3 minutes
Sift together the flour, cornstarch, baking powder and baking soda, salt and egg replacer
Add the vegan cream cheese and the Cheesecake Super Flavor, mix well to combine
Add the sifted dry ingredients all at once and mix on low speed jut until combined.
Add the chopped strawberry chocolate and mix to combine
Scoop the dough with a 1 ounce scooper or drop by heaping tablespoons onto a parchment lined sheet pan spaced 2" apart.
Add more chopped chocolate on top of each dough ball *if desired
Bake in a preheated 350°F oven for 10 minutes, not quite starting to get golden browned.
Even a minute too long can turn these cookies from light, soft & delicate to dry biscuits!
Strawberry Cheesecake Cookies can be stored at room temperature for up to 1 week in an airtight container

Freeze unbaked dough for up to 2 months wrapped well to avoid freezer burn and condensation
Recipe by
Gretchen's Vegan Bakery
at https://www.gretchensveganbakery.com/strawberry-cheesecake-cookies-vegan/