Vegan Crème Brûlèe Recipe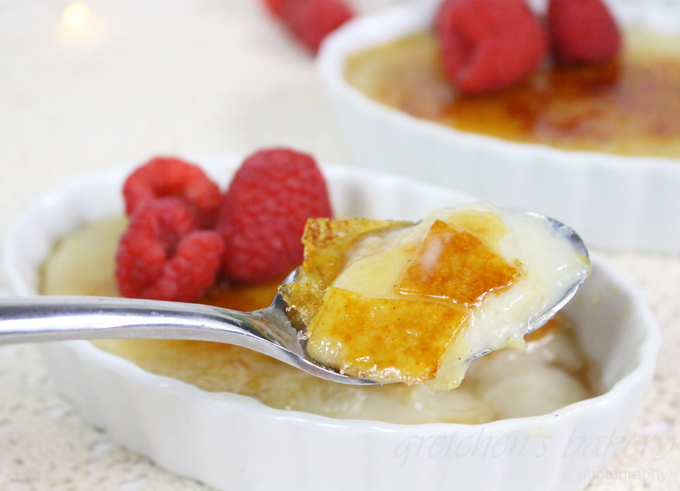 Serves:
6 - 4 ounce ramekins
Plant Milk *I use vanilla soy milk for best results 2½ cups (590ml)
Granulated Sugar ½ cup (100g)
Cornstarch 5 Tablespoons (40g) **see note above
Vegan Butter *optional 1 Tablespoon (14g)
Vanilla Extract or Paste 2 teaspoons (10ml)
OR 1 vanilla bean scraped of it's seed and boiled with the plant milk *see notes below
Grnaulated sugar 4-6 Tablespoons for caramelizing the tops
Combine the sugar & cornstarch together in a heavy bottom sauce pot, then add the plant milk
Cook over medium heat stirring constantly with a whisk until it comes to a boil.
Remove from the heat and stir in the vegan butter & vanilla
*If you are using a vanilla bean you will split it and scrape it of it's seeds and boil the entire pod in the milk. Once it boils, remove the pod and dry it off, then add it to a bowl of granulated sugar tightly closed and use for vanilla sugar as the caramelizing sugar for the tops :)
Pour the custard into un-greased ramekins and refrigerate to set - this should only take about 15-20 minutes
Once set, sprinkle approximately 1 Tablespoon granulated sugar lightly over the tops, NOT A THICK LAYER, then using a torch (according to the instructions on your particular model) caramelize the tops
Serve immediately.
Creme Brulee must be kept refrigerated and will stay fresh for up to 4 days

Do not caramelize the sugar until just before serving
Recipe by
Gretchen's Vegan Bakery
at https://www.gretchensveganbakery.com/vegan-creme-brulee-recipe/