Birthday Cake Cheesecake~ Copy Cat Cheesecake Factory Recipe ~ Vegan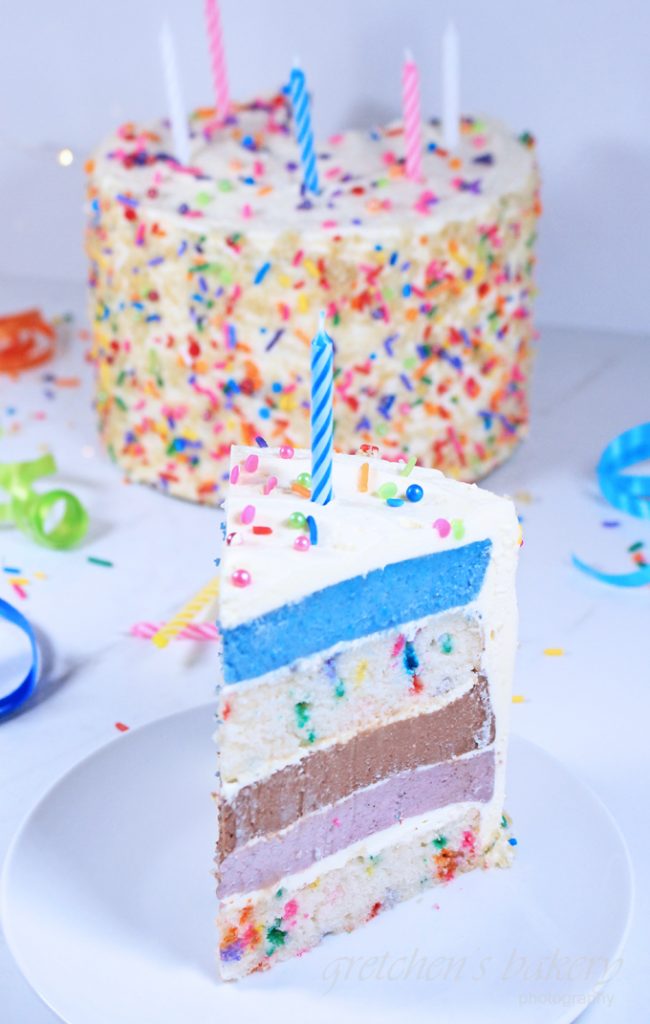 **Please read the note above and adjust your recipes accordingly!
***I am using 6" pans for the recipes listed below
__________________________________________
For the Cake:
½ Sprinkles of your choice
For the Cheesecake:
Vegan Cream Cheese *see notes 12 ounce (339g)
Vegan Butter melted 2 tablespoons (28g)
Granulated Sugar 1 cup (200g)
Cornstarch 4 Tablespoons *see notes (32g)
All Purpose Flour 3 Tablespoons (24g)
Plant Milk *I use soy milk 6fl oz (177ml)
Vegan Lactic Acid or apple cider vinegar 1 teaspoon
Salt ¼ teaspoon
Vanilla Extract 3 teaspoons (15ml)
For the Cocoa Layer:
Cocoa powder 2 tablespoons
Boiled Water 2 Tablespoons
Food Color or Super Flower Powder natural colors *see notes in text of blog post
For the Cream Cheese filling & Icing:
Vegan Cream Cheese 2 Tubs (2cups) (454g)
Vegan Butter 1 stick (½ cup) (112g)
Confectioner's Sugar 2 cups (240g)
Vanilla Extract 1 teaspoon
You will also need about 1 cup vanilla cake scraps ground fine & more sprinkles for garnish
First prepare the white cake recipe as per the instructions listed on that blog post.
Add sprinkles to the batter and bake immediately according to the instructions divided evenly amongst your greased & parchment lined cake pans.
Most likely you will have to wait until the cakes are cooled and un-molded before mixing the cheesecake unless you have 5 of the same sized pans?
When the cakes are cooled, wrap them airtight and refrigerate until the rest of the recipes are prepared.
To make the cheesecake, place all of the cheesecake ingredients **except the cocoa powder & water into the work bowl of your food processor and pulse to blend
Scrape the sides of the bowl to ensure an even mix then blend again to a smooth mixture
Divide the batter evenly into 3 small bowl.
Add the hot water to the cocoa powder and whisk smooth, add that to one of the bowl of cheesecake batter and whisk smooth
Add your pink & blue food color or flower powder natural food coloring to the other 2 bowl ans whisk smooth
into the prepared crust and bake in a water bath in a preheated 350°F oven for 35-40 minutes or until the centers are no longer jiggly when you lightly shake the pans
Turn the oven off but leave the cheesecakes in the oven to cool slowly for another 20minutes.
Remove the cheesecakes and cool completely then refrigerate for at least 2 hours to set or overnight before unmolding.
Loosen the sides and bottom of the cheesecake pan with a blowtorch or by submerging the pan into hot water and running a small spatula around the edges
Meanwhile prepare the cream cheese icing **or buttercream see notes!
Smooth cream cheese and the softened vegan butter BY HAND with a wooden spoon or spatula
Add sifted confectioners sugar, mix evenly then add the vanilla extract
Mix smooth~ refrigerate until needed
Assemble the cake as shown in the video or according to the picture and decorate with fine cake crumbs mixed with more sprinkles!
Birthday Cake Cheesecake must stay refrigerated at all times, it will stay fresh in the refrigerator for up to 10 days wrapped loosely to prevent drying.
Recipe by
Gretchen's Vegan Bakery
at https://www.gretchensveganbakery.com/birthday-cake-cheesecake/