Tropical Carrot Cake Recipe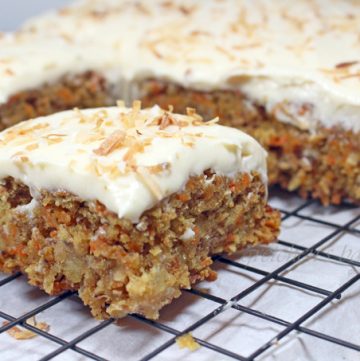 For the Carrot Cake Recipe:
Vegetable Oil ¾ cup (177ml)
All Purpose Flour 1 cup + 2 tablespoons (140g)
Cake Flour ½ cup (60g)
Baking Powder 1 teaspoon (4g)
Baking Soda 1 teaspoon (4g)
Salt ¼ teaspoon
Ground Cinnamon 1¾ teaspoons
Brown Sugar ½ cup (105g)
Granulated Sugar ½ cup (100g)
Ground Flax Seeds 3 Tablespoons (24g)
Hot Water 6 Tablespoons (90ml)
Vanilla Extract 1½ teaspoons (7ml)
Carrots 4 medium (approx 2 cups 250g)
Crushed canned pineapple drained extremely well ¾ cup
Orange Zest & Juice from ¼ large orange approx 1 Tablespoon juice & 1 teaspoon zest
Toasted Coconut ¾ cup plus more for garnish
For the Cream Cheese Icing: **see notes above new & improved recipe!
Vegan Cream Cheese 1 cups (226g)
Vegan Butter ¼ cup (56g)
Confectioner's Sugar 1 cups (120g)
Vanilla Extract 1 teaspoon
Vegan Buttercream 1 cup *optional
First prepare your cake pan(s) with parchment paper lining & pan grease
Preheat your oven to 350°F
Combine the flax meal with the hot water and let stand to thicken
In a large bowl combine the both sugars with the oil, vanilla extract, orange zest & juice and the salt, whisk smooth
Sift together all of the dry ingredients directly into the sugar mixture in the bowl and whisk smooth
Add the grated carrots and drained pineapple and the toasted coconut then mix smooth
Pour batter into greased cake pans and bake immediately at 350°F in a preheated oven for approximately 25-40 minutes depending on the size of your pans
Cakes are done when a toothpick inserted into the center comes out with moist crumbs not raw batter.
Cool the cakes in the pans until they are cool to the touch, then flip them out onto a cooling rack to cool completely
Meanwhile prepare the cream cheese icing by creaming the sifted confectioners sugar with the softened vegan butter.
Add the vanilla extract and then add the vegan cream cheese and mix by hand with a wooden spoon or spatula until combined well.
Add the optional vegan buttercream and refrigerate until ready to ice your cake.
Carrot cake that is iced with cream cheese icing must stay refrigerated at all times.
3.5.3251
Recipe by
Gretchen's Vegan Bakery
at https://www.gretchensveganbakery.com/tropical-carrot-cake-recipe/