Coconut Strawberry Shortcake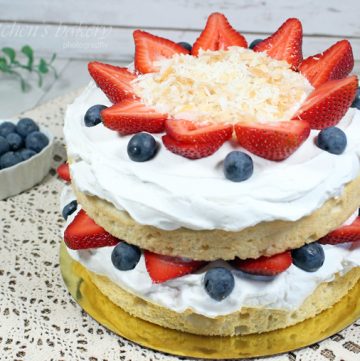 1 cup unsweetened coconut flakes
2 Pint Cartons SILK brand Whipping Cream OR
1 recipeVegan Whipped Cream *see notes above for more options
1 Pound fresh strawberries
½ cup fresh blueberries
½ cup toasted coconut
Grease and parchment line 2-7" Cake Pans and preheat the oven to 350°F
Prepare the cake recipe as per the instructions on that blog post
Add the unsweetened flake coconut at the last stage of mixing
Divide the cake batter between the 2- greased 7" pans and bake in a preheated 350°F oven for about 30-35 minutes or when a toothpick inserted into the center comes out clean.
Cool the cakes in the pans and then turn them out onto a cooling rack to cool the rest of the way.
Once the cakes are completely cooled, whip the vegan whipped cream *I add ½ cup of confectioners sugar to each PINT of SILK brand heavy whipping cream~ adjust to your liking
Assemble the cake with a layer of whipped cream, the fresh sliced strawberries and blueberries then the other layer of cake and more whipped cream on top.
I left this cake as a "naked" style cake decor but you can of course decorate as you prefer.
Whipped cream cakes must be kept refrigerated at all times and this cake will stay fresh for up to 5 days in the refrigerator.

The cake layers can be wrapped and stored in the freezer for up to 1 month
3.5.3251
Recipe by
Gretchen's Vegan Bakery
at https://www.gretchensveganbakery.com/coconut-strawberry-cake/