The Ultimate Vegan Brooklyn Blackout Cake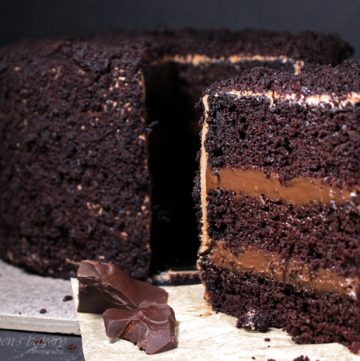 Cocoa Powder 4 Tablespoons
Hot Water 4 Tablespoons
For the Chocolate Custard:
Plant Milk 2 cup (474ml) * I use soy milk
Granulated Sugar ½ cup (100g)
Cornstarch 4 Tablespoons (32g) *see notes in notes for success above the recipe
Cocoa Powder 2 Tablespoons
Vegan Semi-Sweet Chocolate 2½ ounces (approx ½ cup chopped)
Vegan Butter 1½ Tablespoons (21g)
Vanilla Extract 1 teaspoon (5ml)
First prepare the cake recipe as per the instructions on that page.
For the 7" layers, the oven temperature will stay at 350F but will probably take about 25 minutes to bake, always check at around 18 minutes just to see how it's going
While the cake is baking prepare the cocoa paste for the chocoalte buttercream by combining the hot water with the cocoa powder, whisk smooth then set aside to cool.
Prepare the buttercream recipe according to the instructions on that recipe post, and at the last stage of mixing add the cooled cocoa paste. Mix well.
Once the cakes are baked and cooling, you can then prepare the custard **if you are building the cake as I did with the hot custard, otherwise you can prepare the custard at any time ahead of time and build the cake at a later time
Prepare the custard by combining plant milk, sugar, cocoa powder & cornstarch in a medium sauce pot over medium to high heat and bring to a boil stirring constantly to avoid scorching the bottom .
Once it starts to bubble remove from the heat and add the vegan butter & the chocolate, stir to melt evenly throughout.
Add the vanilla extract stir to mix well.
Set up your cooled cake layers with the acetate strip and pour the custard into each layer *see video instruction for more clarity.
Refrigerate the cake until set and then ice with chocolate buttercream
Use the remaining cake layer to break up into large crumbs to stick onto the buttercream icing.
Brooklyn Blackout Cake must be kept refrigerated because of the chocoalte custard filling.

It will stay fresh, loosely covered for up to 7 days in the refrigerator
3.5.3251
Recipe by
Gretchen's Vegan Bakery
at https://www.gretchensveganbakery.com/brooklyn-blackout-cake/