Piña Colada Cheesecake Bars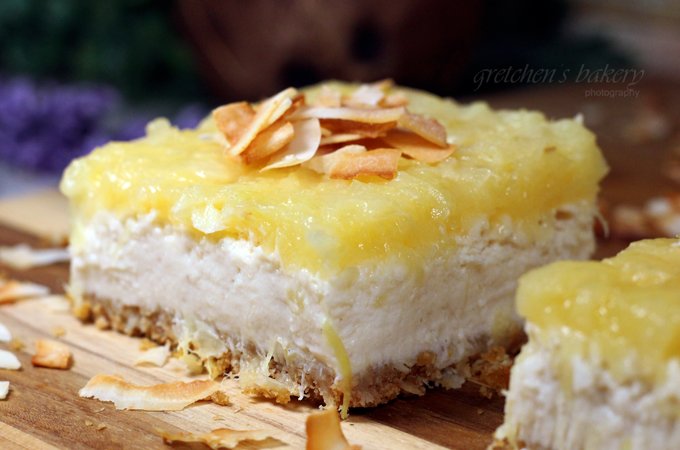 For the Crust:
Graham Crackers or Digestive Biscuits 1 package of graham crackers= 10 sheets (140g)
Shredded Flaked Coconut *sweetened or unsweetened *your option ½ cup (35g)
Vegan Butter melted 6 tablespoons (85g)
For the Cheesecake:
Vegan Cream Cheese *see notes 12ounce (339g)
Firm Tofu 4ounces (113g) * see notes
Vegan Butter melted 2 tablespoons (28g)
Coconut Extract 1 Tablespoon (15ml)
Vanilla Bean Paste 2 teaspoons (10ml)
Granulated Sugar 1 cup (200g)
Cornstarch 4 Tablespoons (32g) *see notes
All Purpose Flour 3 Tablespoons (24g)
Light or Full Fat Coconut Milk *your option 6fl oz (177ml)
Vegan Lactic Acid or apple cider vinegar 1 teaspoon
Salt ¼ teaspoon
Rum extract or pure spiced rum *optional 1 Tablespoon (15ml)
Unsweetened Desiccated Coconut ½ cup (35g) *optional
For the Pineapple Topping:
1 Can 20oz Crushed Pineapple in 100% juice this is equivalent to approx 2.5 cups crushed Pineapple in 1 cup juice
Cornstarch 2 Tablespoons (16g)
Vegan Butter 4 Tablespoons (56g)
Spiced Rum Extract or Spiced Rum 4 teaspoons (20ml)
Shredded Flaked Coconut for the garnish *optional approximately ¼ cup (17g)
First prepare the cake pan with an overhang of parchment paper for easy removal *see video tutorial
Next prepare the graham cracker crust by crushing the graham crackers in a food processor to fine crumbs.
Add the melted vegan butter and pulse until it resembles wet sand, then add the coconut just to combine
Press the crumbs into the prepared greased & parchment lined cake pan evenly on the bottom and up the sides.
Freeze while you prepare the cheesecake batter
Placing all of the cheesecake ingredients except for the optional coconut, into the work bowl of your food processor and pulse to blend
Scrape the sides of the bowl to ensure an even mix then blend again to a smooth mixture
Pour the batter into the crust and then sprinkle the desiccated coconut over top of the batter, this forms a nice crust on top of the cheesecake bar while baking
Bake the cheesecake pan in a larger pan (i used a 9" x 13" pan) to make a water bath in a preheated 350°F oven and bake for 50 minutes.
Because we are making bars, the cheesecake should finished baking in less time than a regular deeper cheesecake pan.
Shake the pan gently if the center is firm to slightly jiggly, but not liquid, it is done.
Remove the pan from the oven and cool at room temperature.
The refrigerate to set to cold.
Meanwhile prepare the pineapple topping by combining the juice from the pineapple can in a small sauce pot with the cornstarch and vegan butter.
Cook over medium high heat whisking constantly until it comes to a full boil
Remove from the heat and add the spiced rum extract and the crushed pineapple, transfer to a bowl or container to cool
Once the cheesecake is completely cold & set, spread the pineapple topping over the entire top then remove it from the pan by pulling it out by the parchment paper flaps.
Cut into bars and serve!
Pineapple Cheesecake Bars must be kept refrigerated but can stay at room temperature during service for up to 2 hours.

Cheesecake bars will stay fresh wrapped well in the refrigerator for up to 1 week

I do not love to freeze vegan cheesecakes, I feel they take on a strange texture upon thawing.
Recipe by
Gretchen's Vegan Bakery
at https://www.gretchensveganbakery.com/pina-colada-cheesecake-bars/