I am obsessed with my new cheesecake recipe so I have been putting just about everything into it!
How about Fruity Pebbles Cheesecake!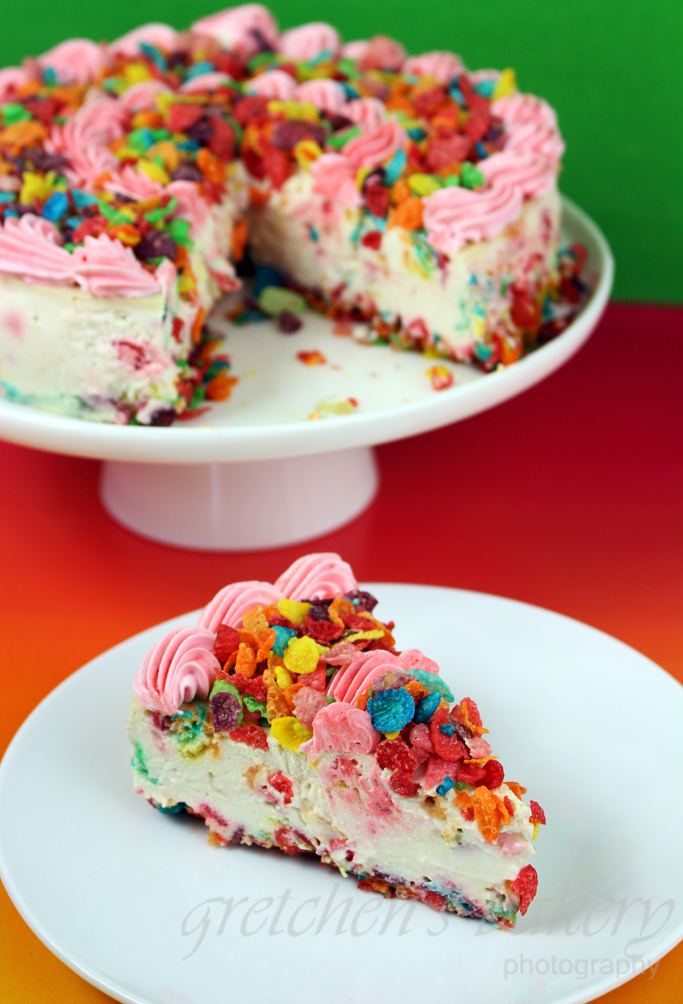 One of my favorite childhood cereals meets my newest adult recipe for cheesecake!
So perfectly creamy with fruity pebbles cereal all over it and in it!
Garnished with a bit of buttercream this cheesecake screams Spring!
Give it a try for an out of the ordinary Easter Dessert this year!
Fruity Pebbles Cheesecake
Ingredients
For the Cheesecake Batter:
Vegan Cream Cheese 1 package (8oz) (226g)
Vegan Sour Cream ¼ cup (56g)
Firm Tofu half package (7ounces) (196g)
Vegan Granulated Sugar ¾ cup (150g)
Cornstarch 2 Tablespoons (15g)
All Purpose Flour 2 Tablespoons (15g)
Salt ¼ teaspoon
Vanilla Extract 2 teaspoons (10ml)
Apple Cider Vinegar 2 teaspoons (10ml)
Earth Balance 2 Tablespoons (28g)
Milk Alternative scant1 cup (7 fl oz)
Fruity Pebbles Cereal 1 cup
For the Crust:
Fruity Pebbles Cereal 1½ cup
Vegan Butter or Coconut Oil 2 Tablespoons melted
Instructions
Prepare the crust by combining the fruity pebbles measurement listed for the crust and then add the melted earth balance vegan butter
Press it into the prepared 7" cake pan and freeze while you prepare the cheesecake batter
Place all cheesecake ingredients (except the fruity pebbles) into a food processor and process until smooth
Add the cereal and mix well
Pour batter into prepared pan with fruity pebbles crust and bake in a water bath in a preheated 335°F oven for 1 hour, then turn the oven off and leave the cheesecake inside for another hour.
Remove from the oven and refrigerate overnight before unmolding
For a closer look at how to unmold a cheesecake in a regular cake pan, click here
(Skip to 1:19 in the video for a visual tutorial)
Garnish as you wish, I used my Best Vegan Buttercream and ore fruity pebbles cereal