Ok, I know what you are thinking, "Gingered Pumpkin and Chocolate Cheesecake?"
At first glance you may think, "Hmmm, this is overkill."
Well, I'll admit, when I was designing this new cheesecake I actually said that same thing to myself, "Is this overkill?"
So, I tested it.
And the results are in. Verdict: AWESOME!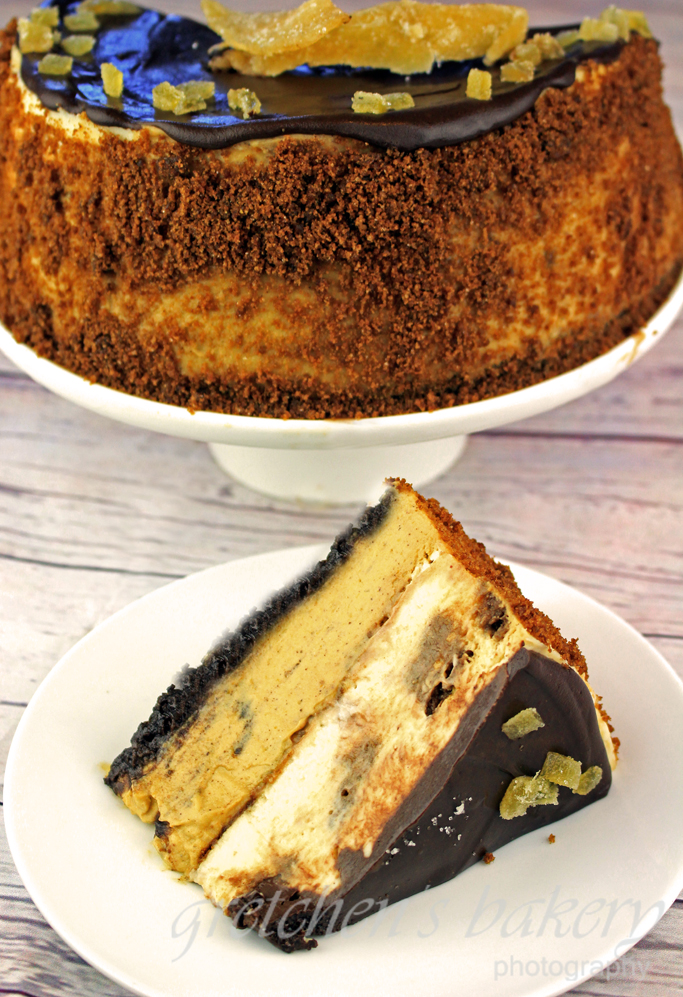 Pumpkin and ginger? Why, yes, of course!
Pumpkin and chocolate? Double yes!
Pumpkin, ginger and chocolate together oh yeah!
The combination of these three flavors are so perfectly balanced and one does not overpower the other.
That is the main thing when we are creating recipes that combine some pretty dominating ingredients all together.
You want to be sure that the main attraction (here it is the pumpkin) stands out.
The other layers should be just that: Layers.
Ginger is a very complimentary spice in any pumpkin recipe, and my original recipe for Pumpkin Pie Gingersnap Cheesecake from last year stayed very traditional using just the gingersnap cookie crust as a base and for all you conservatives out there you will not want to miss out on that recipe this holiday season.
But for those who are a bit more adventurous and a bit more chocoholic you will want to step up your game this year with this Gingered Pumpkin and Chocolate Cheesecake version.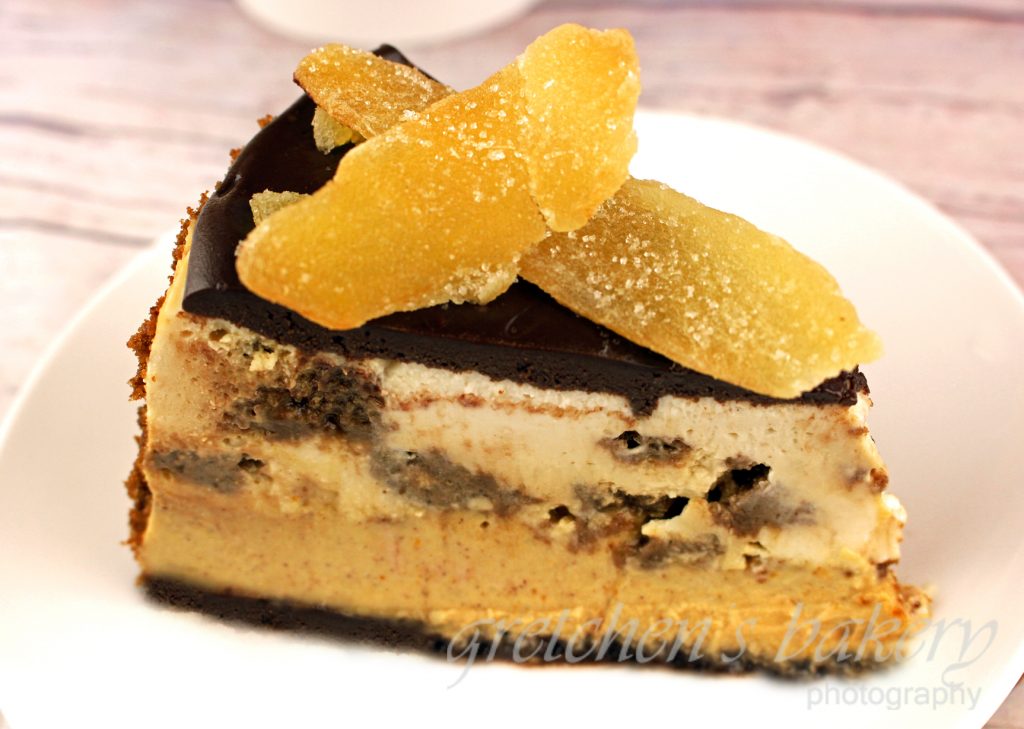 The chocolate crust is subtle and the ginger in the vanilla cheesecake layer is a bit more pronounced as I used chopped gingersnap cookies folded into the batter while keeping the pumpkin cheesecake layer pure and unadulterated.
Of course you can leave out the chocolate crust and go for a gingersnap cookie crust, after all you are already making the cookies, but you know me and my chocolate ways.
Stacking one on top of the other with just a small amount more of chocolate ganache topping and crystallized ginger garnish made this cheesecake go from "Oh there's another pumpkin cheesecake…" to "OH! Now THERE'S A PUMPKIN CHEESECAKE!"
The hardest part of this whole recipe was getting the one on top of the other, but you just have to throw all caution to the wind and just go for it!
And there you have yourself a double decker and double pleasure Gingered Pumpkin and Chocolate Cheesecake all cruelty free of course!
So go ahead, love yourself and the planet and the animals just a little bit more all with this one recipe!
You're welcome 🙂
Gingered Pumpkin and Chocolate Cheesecake
If you opt for the crystallized ginger for the garnish, I would recommend to fold about ½ cup of it minced to the ginger cheesecake batter for an added blast of flavor!
Ingredients
½ Recipe Vegan Version Gingersnap Cookies
For the Pumpkin Cheesecake:
Vegan Cream Cheese 1½ packages (12oz) (336g)
Canned Pumpkin ¾ cup (320g)
Silken Tofu ¼ package (3½ounces) (98g)
Vegan Granulated Sugar ¼ cup (50g)
Light Brown Sugar ½ cup (105g)
Cornstarch 4 Tablespoons (40g)
All Purpose Flour 2 Tablespoons (15g)
Molasses 2 teaspoon
Salt ¼ teaspoon
Cinnamon 1 teaspoon
Ground Ginger 1¼ teaspoon
Cloves ¼ teaspoon
Nutmeg ¼ teaspoon
Vanilla Extract 2 teaspoons (10ml)
Lactic Acid 1 teaspoon OR Apple Cider Vinegar 2 teaspoons
Vegan Butter 2 Tablespoons (28g)
Milk Alternative ¼ cup (60ml)
For the Crust:
Vegan Chocolate Sandwich Cookies or Ginger Cookies 10
Vegan Butter 2 Tablespoons (28g)
For the Ginger Cheesecake Batter
Vegan Cream Cheese 1½ packages (12oz) (336g)
Silken Tofu ¼ package (3½ounces) (98g)
Vegan Granulated Sugar ½ cup (100g)
Cornstarch 3 Tablespoons (30g)
All Purpose Flour 2 Tablespoons (15g)
Ground Ginger 1 teaspoon
Salt ¼ teaspoon
Vanilla Extract 2 teaspoons (10ml)
Lactic Acid 1 teaspoon OR Apple Cider Vinegar 2 teaspoons
Vegan Butter 2 Tablespoons (28g)
Milk Alternative ½ cup (120ml)
1½ cup chopped ginger cookies
*optional crystallized ginger ¼ cup minced
For the Ganache:
Semi Sweet Chocolate 4 ounces
Soy Milk ¼ cup
*optional garnish 2 Tbs crystallized ginger
Instructions
First prepare the ginger cookies as per the recipe instructions on that page.
Next prepare the chocolate crust by chopping the chocolate sandwich cookies (with their fillings) in a food processor until fine then add the melted vegan butter.
Press the crust into a parchment lined lightly greased 7" cake pan and freeze while you prepare the pumpkin cheesecake layer
Combine all the ingredients for the pumpkin cheesecake together in a food processor or blender until smooth.
Pour into the prepared crust and place in a water bath.
I like to prepare the gingersnap cheesecake right away so I can bake them both at the same time
So next combine all the ginger cheesecake ingredients except for the cookies into the food processor and process smooth.
Chop the cookie by hand into ½" pieces and fold into the batter with the optional minced crystallized ginger
Pour into another greased and parchment lined 7" cake pan
Bake both cheesecakes in a preheated 335°F oven for 70 minutes then turn the oven off the oven and leave the cheesecake inside to cool for another hour.
Refrigerate overnight and then unmold cheesecakes and stack them by placing the ginger cheesecake on top of pumpkin cheesecake
I used some of the extra ginger snap cookie crumbs to put in between the two cheesecakes
Prepare the ganache by combing the soy milk with the chocolate in a small saucepot over low heat stirring constantly until melted and smooth, then pour over the cooled stacked cheesecake and sprinkle with crystallized ginger