These Mint Oreo Cupcakes combine my most amazing Chocolate Cake recipe with the best mint buttercream you will ever try!
Filled with buttercream and iced with buttercream then smothered with crushed mint Oreo cookies!
This mint cupcake idea started out very different though, as I bought 3 boxes of movie theater sized Junior Mints.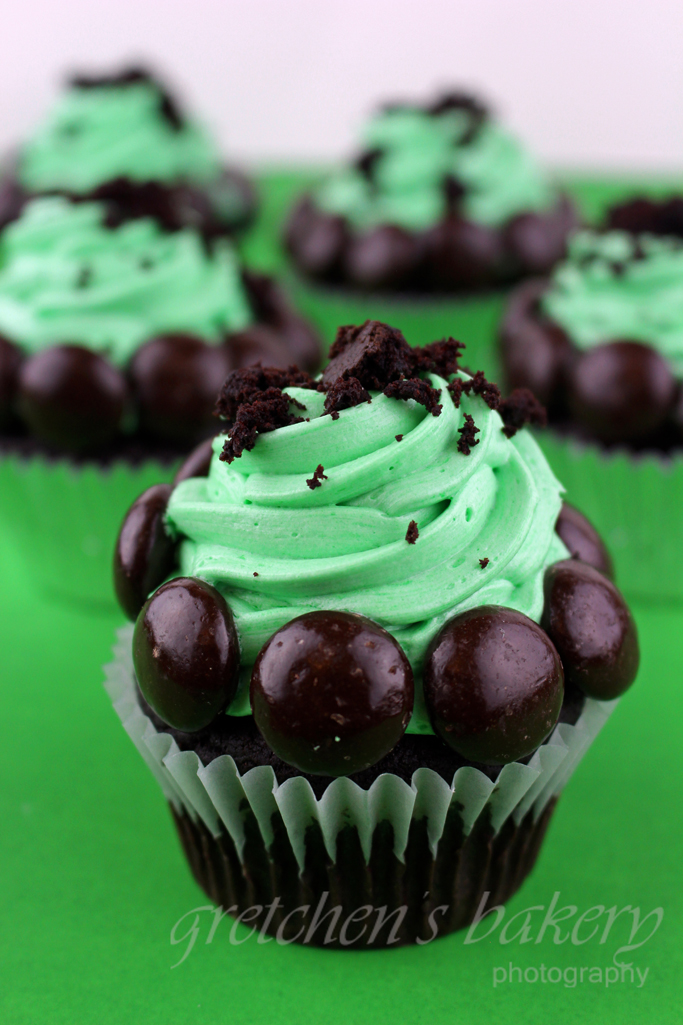 Reading the ingredients label it all looked perfectly vegan to me! No animals to be found in any of those ingredients!
Woohoo! Let the games begin!
Well, as you will see in the video below, it was not until I was finished that I had a light bulb moment to verify that Junior Mints are indeed vegan.
I suppose I should have done that BEFORE I started since it turns out the shellac they use to make those candies shiny is made from the Lac Bug~ yes you read that correctly a bug.
So….I quickly removed those Junior Mints and replaced them with trusty Oreo Cookies.
Yes I know, Oreos in the USA are not exactly vegan either, since the sugar they use is processed through animal bone char~ Sigh….. must they use animals in EVERYTHING!!??
So as long as you are getting your Oreos from the UK where they do not process the sugar that way, you are safe.
And if you don't mind eating bug secretions, then by all means go for the Junior Mints.
At any rate my chocolate cupcakes recipe paired with mint buttercream is amazing just as is; so candy or cookies or not~ you are going to love these 2 recipes!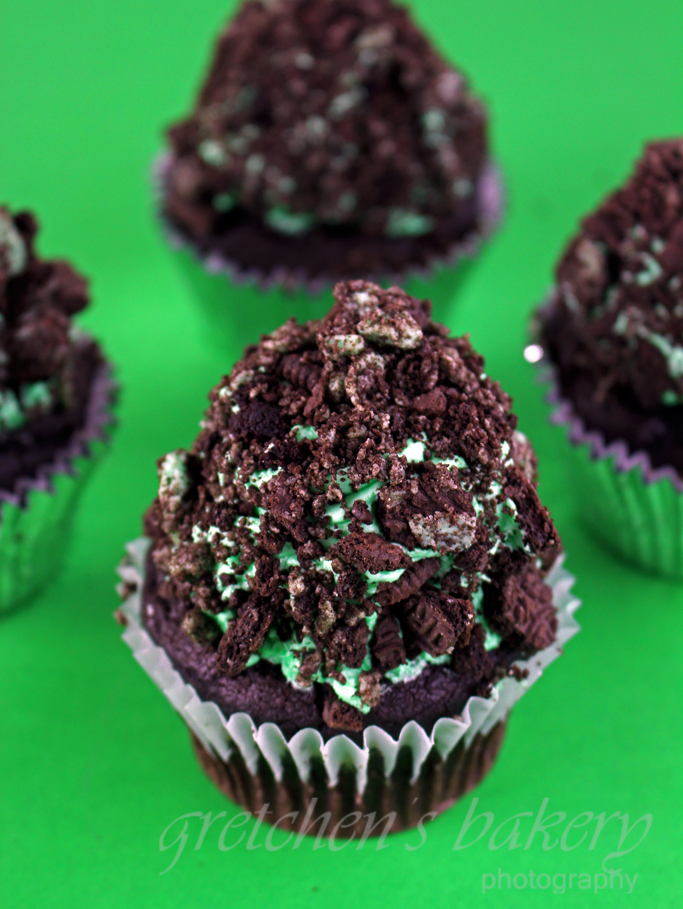 Mint Oreo Cupcakes
Ingredients
½ Recipe Vegan Buttercream
Mint Flavor 3 teaspoons (15ml)
Green Food Color as needed
Junior Mints or Mint Oreos as needed
For the Cake Batter:
All Purpose Flour 1½ cups + 3 Tablespoons (212g)
Granulated Sugar ¾ cup (150g)
Salt ½ teaspoon (3g)
Baking Powder 1½ teaspoon (6g)
Baking Soda 1½ teaspoons (6g)
Coconut Oil 7 Tablespoons (98g)
Boiling Water 1½ cup (360ml)
Dutch Process or Natural Cocoa Powder ¾ cup (70g)
Ground Flax Seeds 6 Tablespoons (48g)
Hot Water 9 Tablespoons (135ml)
Vanilla Extract 2 teaspoons (10ml)
Instructions
Combine ground flax seed with the 9Tbs of hot water and whisk smooth
Let stand for at least 5 minutes or up to 30 minutes to thicken to a paste
Combine the flour, sugar, salt, baking powder & soda together in a large mixing bowl
Combine the coconut oil, 1½ cup boiling water and cocoa powder together and whisk smooth
Add the cocoa mixture and the flax eggs mixture along with the vanilla extract to the flour mixture and whisk smooth
Scoop batter into cupcake liners filling slightly more than half full and bake in a preheated 350°F oven for approximately 22 - 30 minutes or until the cupcakes are springy to the touch when you gently press the centers
Meanwhile prepare the buttercream as per the instructions on that blog post with video tutorial
Add the mint flavor and green food coloring last