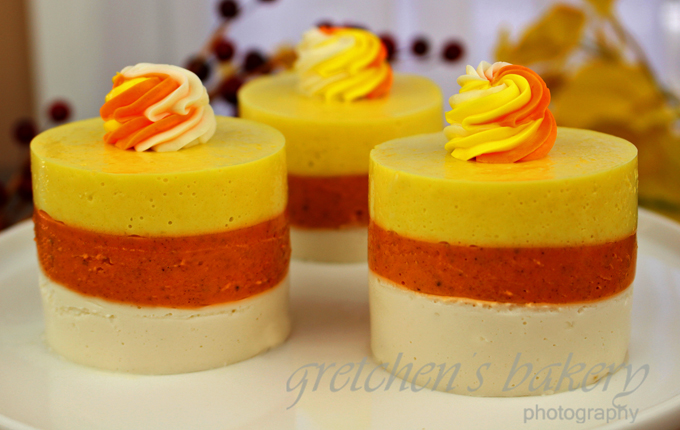 While this recipe doesn't taste like actual candy corns (thank God! Yuck!) it does look beautiful as a Halloween dessert or for Thanksgiving!
The three distinct flavors in this cheesecake play wonderfully together.
One layer of vanilla, one layer of pumpkin and one layer of corn.
Yes I said CORN cheesecake.
It's not so unusual when you think about it, after all corn is one sweet vegetable! Nature's candy!
It makes a perfect base for the yellow layer in this "candy corn" inspired cheesecake and against the vanilla and pumpkin it really just works!
This recipe is quite simple to make, however you do have to make it three separate times because in order to get the distinct layers of each color, each layer must chill and set before adding the next layer.
So a dessert like this one is going to take time, but the final effect is well worth it!
Look how pretty it is!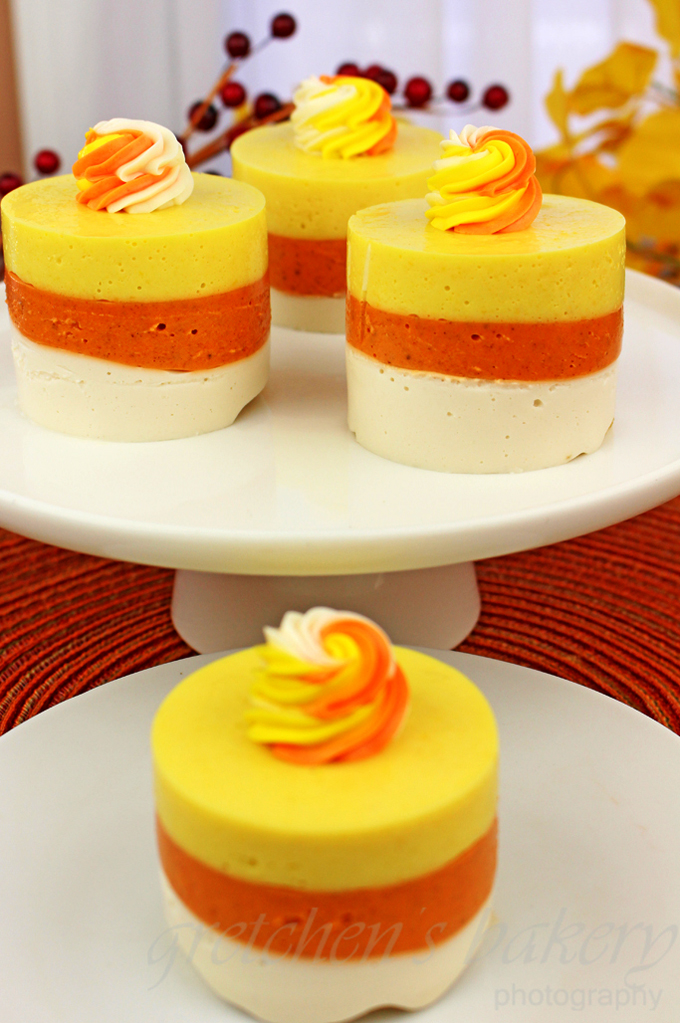 We are getting into advanced pastry preparations with this one guys!
I know I listed this recipe under "no bake desserts" Woops!
But I then decided to use a base of my most recent white chocolate cake recipe but in all actuality you really don't need a cake base at all.
You can totally just use a pressed graham cracker crust like we do in most no bake pies & cheesecakes!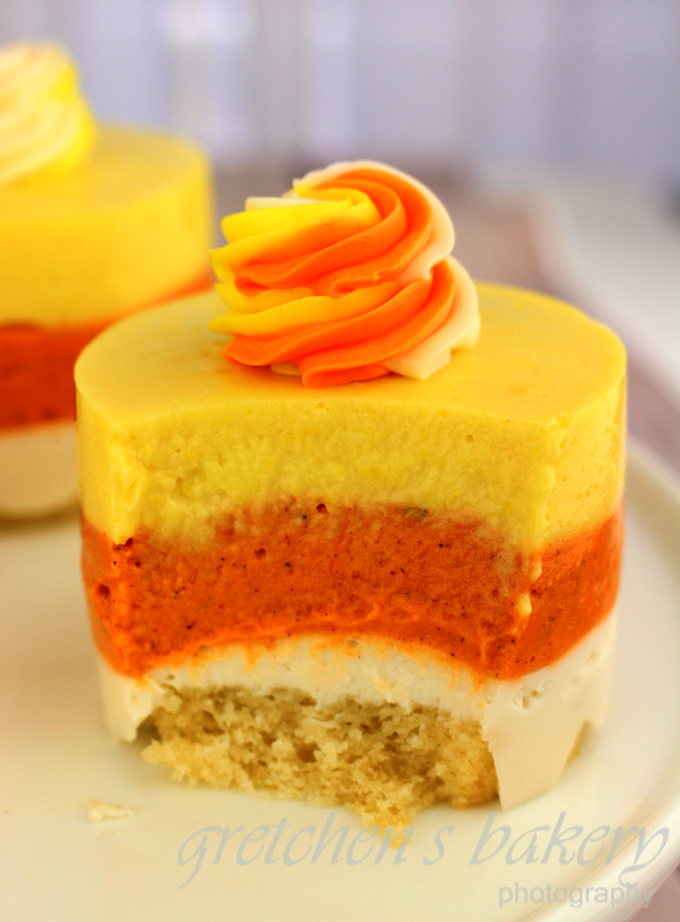 Or keep it simple and just serve it as a pure mousse dessert or even just in tall champagne glasses.
Additionally I am making them as individual servings so you will want to grab some stainless steel ring molds or go the super duper thrifty route and use 2″ PVC Piping from Home Depot. (Oh my God how dare you! LOL)
Just note that while the PVC is great for frozen and cold preparation desserts YOU CANNOT BAKE IN THEM
Alternatively you can make this entire recipes into a larger family style or event cake and use an 8″ Stainless steel ring mold too or get super simple and serve this cheesecake in individual glasses!
No Bake Candy Corn Cheesecake
Ingredients
For the White Chocolate Cake
Cake Flour ¾ cup (90g)
Granulated Sugar ⅓ cup (75g)
Baking Powder 1 teaspoons (5g)
EnerG Egg Replacer 1 teaspoons (3.3g)
Salt pinch
Vegan Butter 2½ Tablespoons (35g)
Soy Milk ¼ cup (60ml)
Vanilla Extract ½ teaspoons )
Vegan White Chocolate 2ounces (40g)
For the Vanilla Layer
Vegan Cream Cheese 1 8oz package (226g)
Granulated Sugar ¾ cup (150g)
Soy Milk ¾ cup (180ml)
Agar ¼ teaspoon
Lactic Acid 1 teaspoon or Apple Cider Vinegar 1 teaspoon
Vanilla Extract 2 teaspoons (10ml)
For the Pumpkin (orange) layer
Vegan Cream Cheese 4oz (113g)
Solid Canned Pumpkin ½ cup (113g)
Granulated Sugar ½ cup (100g)
Soy Milk ½ cup (120ml)
Agar ¼ teaspoon
Lactic Acid 1 teaspoon or Apple Cider Vinegar 1 teaspoon
Vanilla Extract ½ teaspoon
Orange food color 2 drops *optional
For the Corn (yellow) layer
Vegan Cream Cheese 4oz (113g)
Sweet Corn (canned and drained) ½ cup (113g)
Granulated Sugar ½ cup (100g)
Soy Milk ½ cup (120ml)
Agar ¼ teaspoon
Lactic Acid 1 teaspoon or Apple Cider Vinegar 1 teaspoon
Yellow food color 2 drops *optional
Vanilla Extract ½ teaspoon
Instructions
For the cake recipe:
Combine the flour, baking powder, EnerG egg replacer, and salt in a mixer bowl and sift it together or mix on low to combine.
Add the softened vegan butter and mix for about 1 minute until it resembles coarse meal and is evenly incorporated
Add the vanilla extract and then slowly pour in the soy milk while mixing on low to medium speed until it is all incorporated then increase the speed to medium-high for 30 seconds to develop the batter
Pour the batter into 8 paper lined cupcake molds
Bake in a preheated 350°F oven for approximately 15-20 minutes or until they are springy to the tough when you gently press the centers
Cool completely then remove them from the papers and trim each one to ¼" thick slices to fit into the 3" molds that have been lined with acetate cake strips
Prepare the fist layer of cheesecake by combining the soy milk, agar and sugar in a medium heavy bottom saucepot.
Bring to a boil stirring constantly and then boil for 30 seconds
Remove from heat and combine the vegan cream cheese,lactic acid or apple cider vinegar, and vanilla extract in a food processor or blender.
Add the hot soy milk mixture and process smooth
Divide the cheesecake batter into the molds and refrigerator to set
Prepare the pumpkin cheesecake the same way by combining the soy milk, agar and sugar in a medium heavy bottom saucepot.
Bring to a boil stirring constantly and then boil for 30 seconds
Remove from heat and combine the vegan cream cheese, lactic acid or apple cider vinegar, pumpkin and vanilla extract in a food processor or blender
Add the hot soy milk mixture and process smooth, then add the optional food color
Divide the cheesecake batter into the molds on top of the vanilla layer and refrigerator to set
Next prepare the corn layer by combining the soy milk, agar and sugar in a medium heavy bottom saucepot.
Bring to a boil stirring constantly and then boil for 30 seconds
Remove from heat and combine the vegan cream cheese, corn, lactic acid or apple cider vinegar, and vanilla extract in a food processor or blender
Add the hot soy milk mixture and process smooth, then add the optional food color
Divide the cheesecake batter into the molds on top of the vanilla layer and refrigerator to set
Notes
Cheesecake must be kept refrigerated and can be stored for up 1 week in the refrigerator covered well.

Freeze for up to 1 month