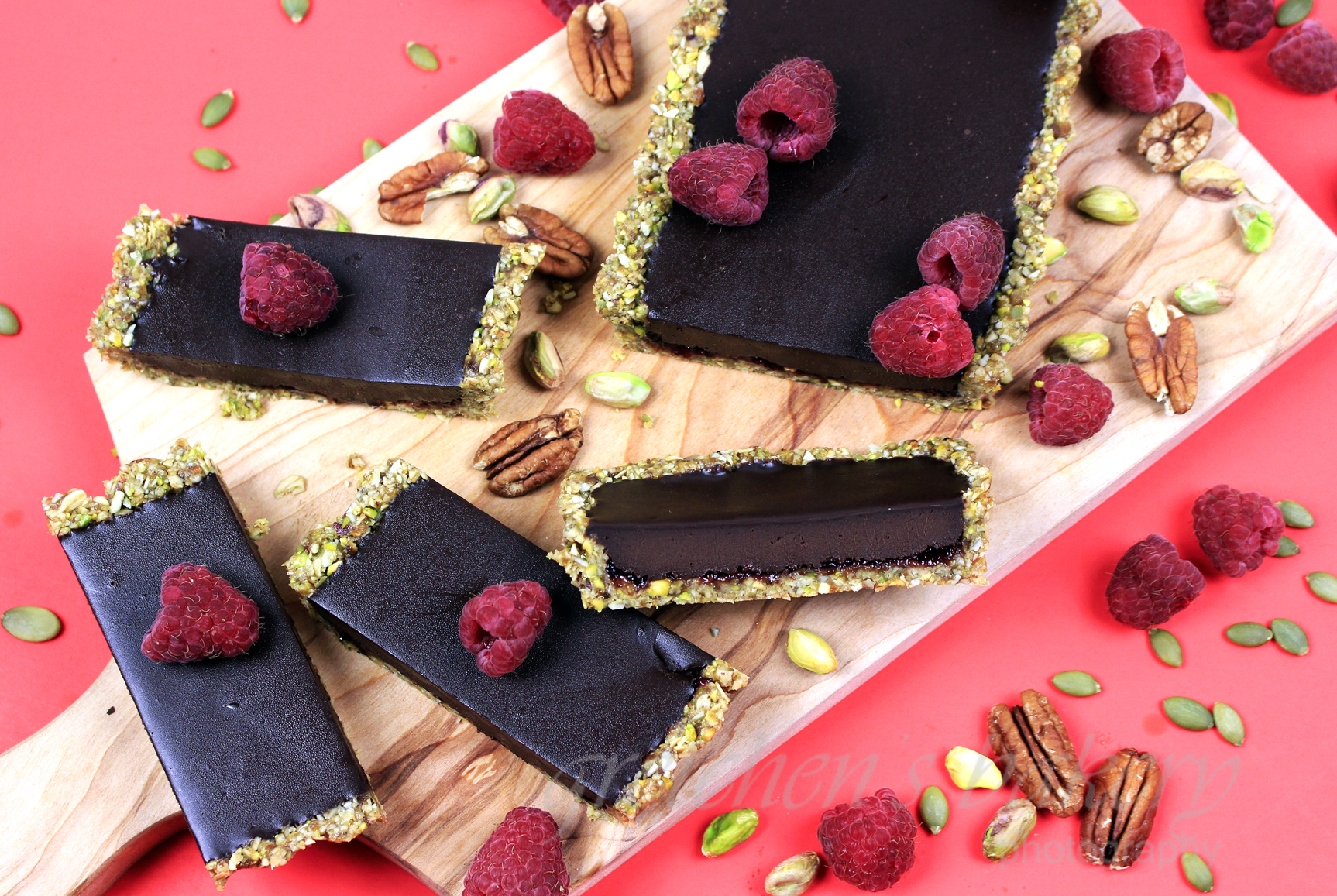 What happened to me?
I went from being a No Bake Dessert Hater ~ to a No Bake Dessert Lover!
I guess it's the Taurus in me that takes some prodding to get me into new territory; but once I get there, look out!
I'm obsessed!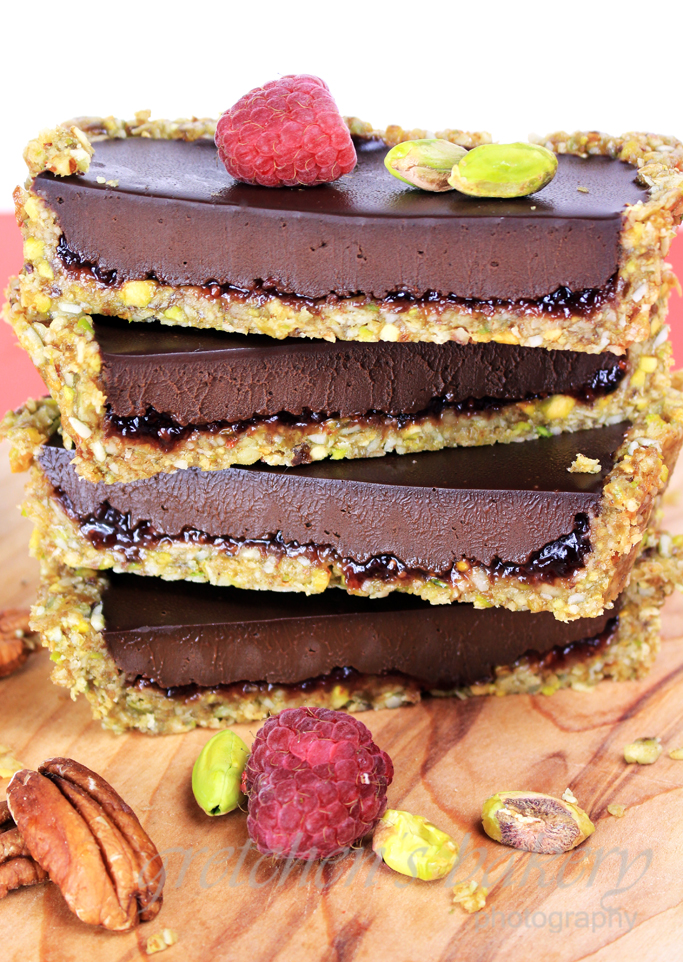 I went from Key Lime Pie Cheesecake hell for a week in the test kitchen trying to get the perfect balance and consistency for that one.
Which triggered my no bake Lemon Bars and then I make a Tri layer Cheeseckae, yes… no bake too!
What had gotten into me? Probably a dose of OCD since I once I started this project "no bake" I couldn't put it down!
I'm on a roll!
Well now let me introduce probably the easiest and most original of all the no bake desserts; Chocolate Raspberry Ganache Tart.
Simple, pure and unadulterated since it is not much more than pure chocolate sauce poured into a tart shell!
But this time I have a wonderful (and healthful) crust made from pumpkin seeds, nuts, oats and dates.
No sugar added to this recipe whatsoever!
Oh wait except for the Raspberry Preserves I use in the bottom layer! But that is optional of course!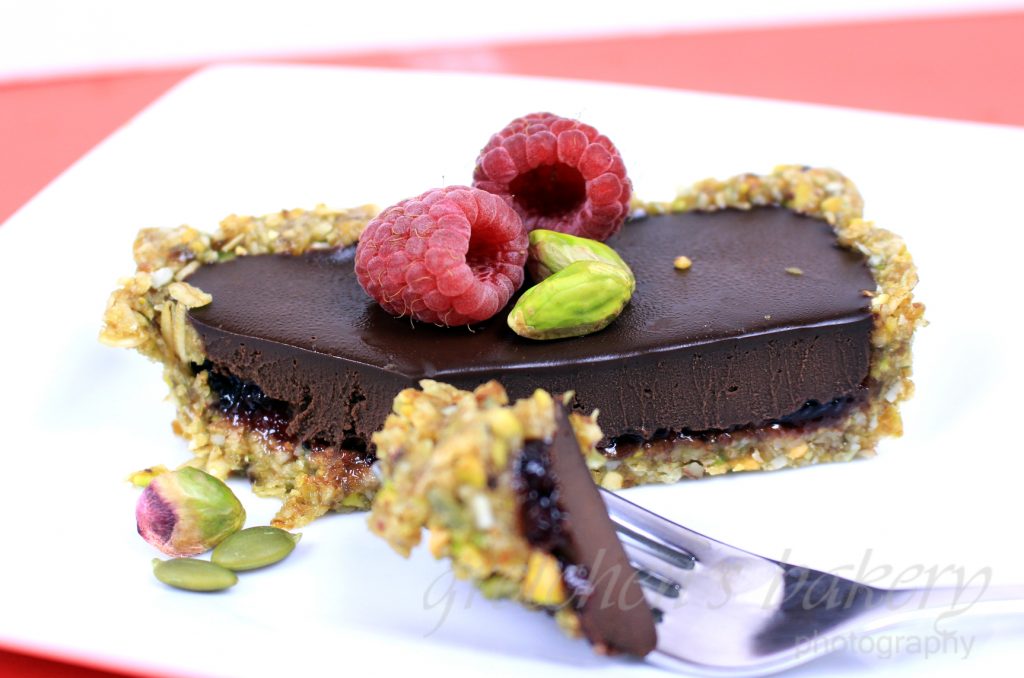 [b]No Bake Chocolate Raspberry Ganache Tart[/b]
Ingredients
For the Filling:
Vegan Semi Sweet Chocolate 8 ounces
Soy Milk or any milk alternative of your choice ½ cup (120ml)
Raspberry Preserves ¼ cup
For the Crust:
Pumpkin Seeds ⅓ cup
Pecans ⅓ cup
Oats ¾ cup
Dates 10 large dates
Coconut Oil or Vegan Butter 4 Tablespoons
* I use Earth balance Vegan Butter which is salted so I do not add salt to this, but you may if you are using coconut oil (just a pinch is good)
Instructions
First prepare the crust by combining the pumpkin seeds, oats, pecans and dates in a food processor until ground fine.
Add the melted vegan butter and then press the entire mixture into the bottom and sides of a tart pan with a remove able bottom.
Freeze the crust while you prepare the ganache.
In a small sauce pot combine the chopped chocolate and the milk alternative
Stir constantly over a low heat until melted and smooth
Spread the raspberry preserves into the frozen tart crust and then pour the ganache over top
Refrigerate until set
Notes
Chocolate tart is best stored refrigerated, but can stay at room temperature for several hours.

For longer storage wrap loosely with plastic wrap and store in the refrigerator for up to 10 days