Lately I've been getting asked about ideas for finger foods to bring to a party that will wow both vegans and non vegans alike and with the Superbowl just a few days away I thought what a perfect time to introduce my Parmesan Tofu Bites.
Most people cringe at the word tofu, and believe me I was one of those people before I found the perfect way to cook it!
With the exception of my ultimate breakfast scramble like here in my Cheesey Tofu Scramble with crispy smoky bacon, I really don't like tofu any other way than fried!
But let's face it fried food is no bueno for our health!
So you can imagine my delight when I finally got my air fryer!
I have been frying up tofu every chance I get!
It is simply the best!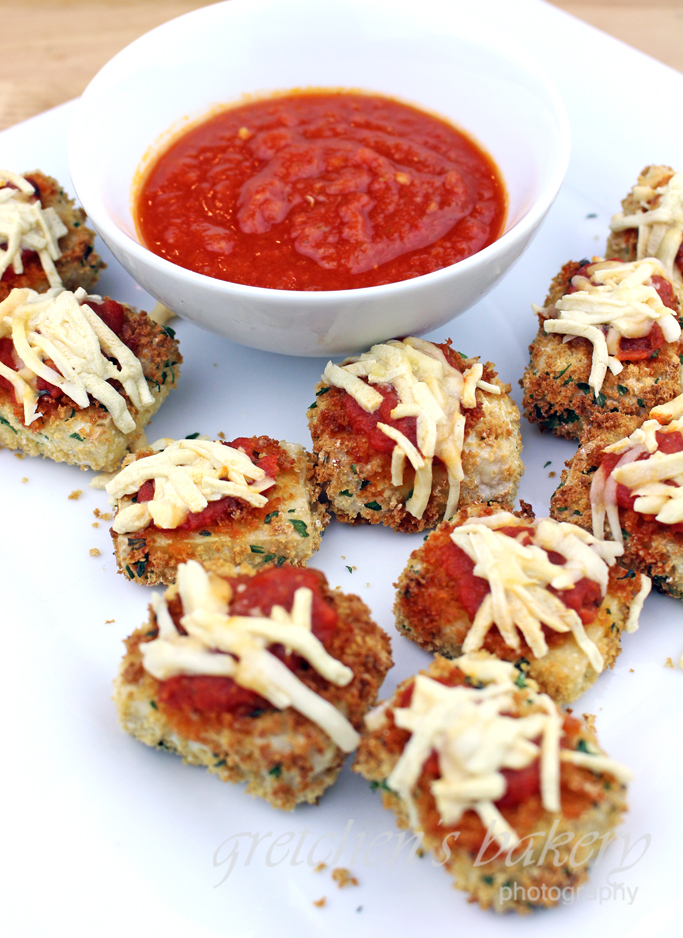 Here is a quick easy recipe for crispy tofu breaded with Parmesan crust and topped with tomato sauce and vegan mozzarella cheese!
They are perfect for a party or just to snack on!
You can of course bake these little bites in the oven to get them nice and crispy too.
Parmesan Tofu Bites
Ingredients
1 Block Extra Firm Tofu
1¼ cup Panko Bread Crumbs *or any bread crumbs you like
2 Tablespoons Parsley
1¼ teaspoons Dried Oregano
½ cup Vegan Parmesan Cheese
1 teaspoon Garlic Powder
salt & pepper to taste (about ¼ teaspoon each)
1 cup Soy Milk
2 Tablespoons Coconut Oil
1 -16ounce Jar Tomato Sauce
¼ cup Vegan Mozzarella Cheese
Instructions
Press tofu of the excess water
Cut into bite sized cubes
Toss in cornstarch, shake off excess
Dip in soy milk & melted coconut oil mixture and then dredge in the breadcrumbs, parsley, oregano, salt, pepper, garlic and parm cheese mixture
Air fry at 400°F for 15-20 minutes or bake on a sheet pan in a preheated 400°F oven for 25 minutes or until crispy
Top each bite with tomato sauce and vegan cheese bake to melt the cheese
Serve with additional tomato sauce for dipping