So remember those Pumpkin Streusel Muffins I made last week?
Well I didn't tell you this, but that same day I also made a pumpkin bread out of it for the sole purpose of making this Pumpkin Bread Pudding with spiced whipped cream!
Secrets secrets, but obviously I can't keep them for very long!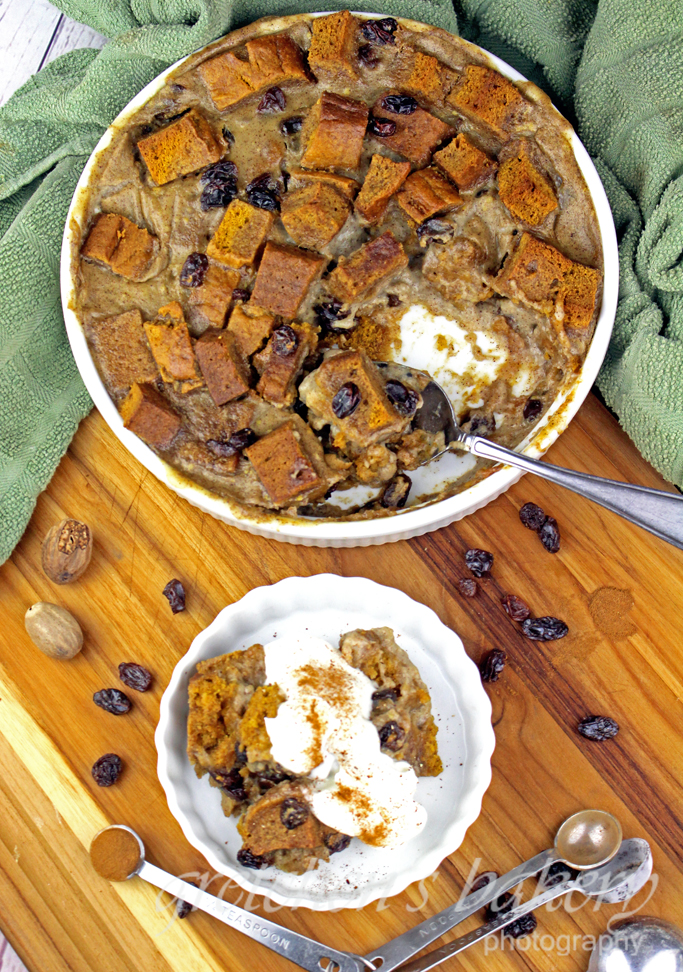 When I owned my bakery people would start asking for pumpkin bread at the beginning of September; however we were still making the blueberry breads, and lemon loaves at that time as we started to wind down from summer.
Pumpkin bread and other pumpkin desserts didn't really hit the scene until early to mid October, especially because in New Jersey it could still be 75°F on October 1st!
But the demand was just so great that Pumpkin Bread eventually made its way to the production list by first week of October.
This then opened the door for the next great thing.
Pumpkin Bread Pudding.
Oh how I love a hefty scoop of warm pumpkin bread pudding loaded up with fall spiced coconut whipped cream!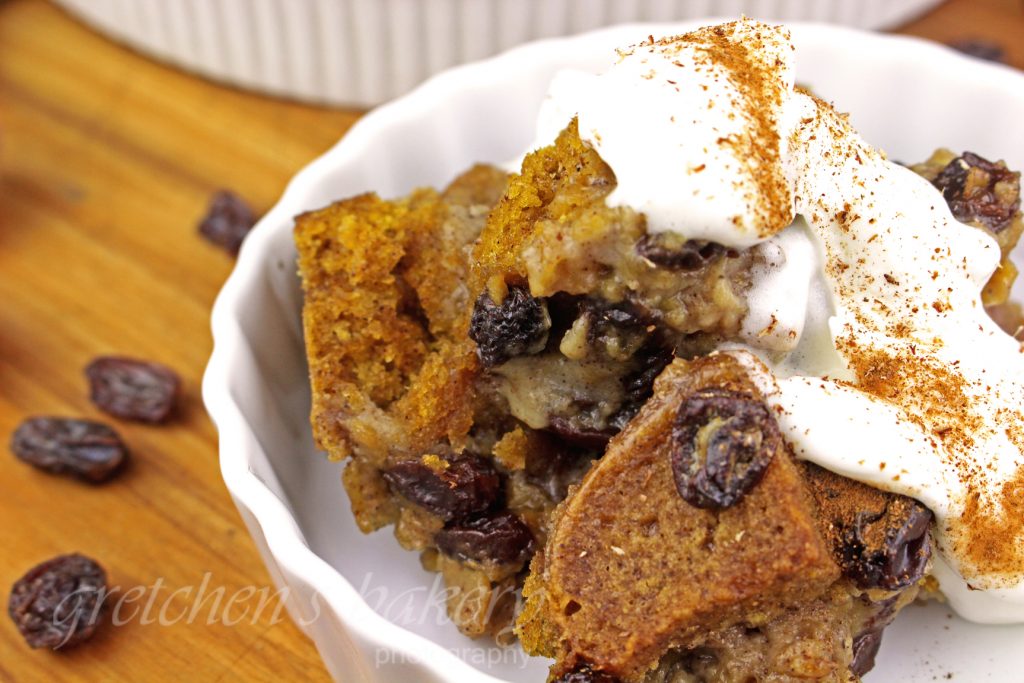 So good!
I've added raisins to mine, but I know many people have an aversion to raisins so of course you can leave those out!
I thought dried cranberries or even pecans would be a nice addition, so you can really add anything you like.
Pumpkin has a way of complimenting so many different add ins, like chocolate, nuts and all the dried fruits; so get creative and make this one your own!
Pumpkin Bread Pudding with Spiced Whipped Cream
I am using Follow Your Heart Vegan Egg here, since I really like how it reacts in custards. But if you don't have that or don't want it to buy it just use an additional 2 Tbs of cornstarch
Ingredients
Soy Milk or any milk alternative of your choice 1½ cup (180ml)
Vegan Butter or Margarine 2 Tablespoons (28g)
Follow Your Heart Vegan Egg 2 tablespoons
Cold Water ¼ cup (60ml)
Ground Cinnamon 1 teaspoon
Vanilla Extract 2 teaspoons
Granulated Sugar or Maple Syrup ¼ cup
Cornstarch 1 Tablespoon (10g)
Raisins ½ cup
For the whipped cream:
1 Can Full fat coconut milk refrigerated overnight
Vegan Sugar 2tablespoons
Vanilla Extract 1 teaspoon
cinnamon for sprinkling
Instructions
Bake and cool your pumpkin bread recipe ahead of time and I like to put mine in the refrigerator to get it cold so it is easier to cut and keep in cubes.
Chop it into 1" chunks and place in an 8" x 8" baking dish with the raisins
Combine the vegan egg with the cold water and whisk smooth
Melt the vegan butter and then add it to a mixing bowl with the sugar, cinnamon, cornstarch and the add the vegan egg paste, whisk smooth
Add the soy milk and whisk everything smooth then pour over the pumpkin bread in the baking dish
Bake in water bath in a preheated 350°F oven for 40 minutes
The pudding will be set and start to bubble just slightly
Remove from the oven and cool before serving with coconut whipped cream
Be sure to refrigerate the can(s) of coconut milk the night before
Scoop the fat from the top of the can and discard the liquid (or use it for smoothies or other recipes)
Whip it with the sugar and vanilla extract to stiff peaks
Notes
Pumpkin bread pudding must be kept refrigerated but is best served warm (in my opinion) many people eat it cold though!