Ah the abundance of summer!
I love that we have so much wonderful food to choose from during the summer months!
So much so, that I can't keep up with all the recipe ideas that are swirling in my head!
My neighbor has a fantastic garden and she just gave me a bunch of Rhubarb! I love love love Rhubarb!
However this summer vegetable is not ready to eat upon picking. It's sour demeanor requires some attention, cooking and definitely some sugar to make it a pleasurable experience!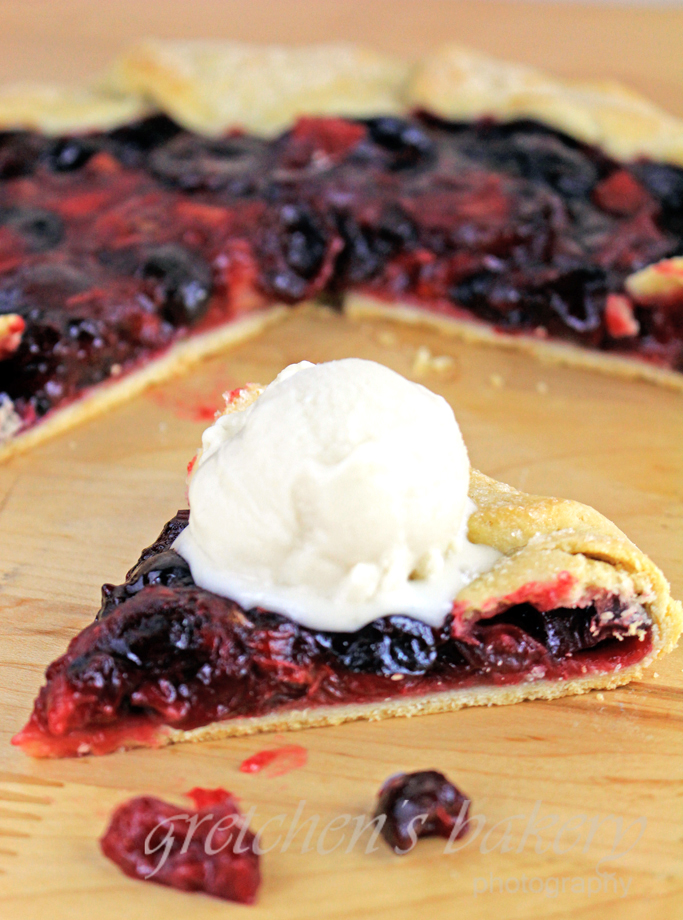 Here I'll be adding sweet red cherries to the mix to reduce some of that need for sugar and I present to you my Rustic Cherry Rhubarb Galette.
I would have had this recipe to you much sooner, but every time I bought the cherries to make this galette, I kept eating them all before I had a chance to film!
So here we are finally with my 3rd purchase of sweet red cherries; and the rhubarb has been waiting patiently too!
If you have never had Rhubarb, you are in for a real treat.
In my early days of Gretchen's Bakery I shared with you my mom's recipe for Strawberry Rhubarb Pie
So sit back, check out the video for how to prepare the Rhubarb, then see how easy it is to pil eit all into a circle of pie dough, free form it on a sheet pan and voila!
Lately I've been keeping it simple so I decided to go with a free form tart style dessert filled with the earliest of summer's best offerings!
Add some ice cream or not, and you have a refreshing, easy, delicious taste of summer!
Summer is served!
Rustic Cherry Rhubarb Galette
Serves:
1- 8" Galette serves 8 people
Ingredients
For the Galette Dough:
All Purpose Flour 1 cup + 2 Tablespoons (140g)
Vegan Sugar 2 teaspoons (21g)
Vegan Butter (*I use Earth balance) 4½ Tablespoons (63g)
Salt *optional I find Earth Balance Vegan Butter to be salty so I do not include salt, however if you are using shortening or another brand of vegan butter you can add ¼ teaspoon salt
Cold Water ¼ cup (60ml)
For the Rhubarb Cherry Filling:
Rhubarb Stalks to make 1½ cup chopped
Cherries (fresh or frozen) 2 cups
Vegan Sugar ¼ cup *adjust to your liking sweeter or less sweet is optional
Cornstarch 1½ Tablespoons
Lemon Juice from 1 small lemon (approx 1 Tablespoon)
Instructions
First Prepare the Dough by combining the flour, sugar, *optional salt and cold diced vegan butter in a food processor.
Process until it resembles fine meal
Add the cold water and process to a dough forms
Turn out onto plastic wrap and chill for 1 hour
Meanwhile prepare the rhubarb cherry filling by chopping up the fresh rhubarb into small pieces and place in a heavy bottom sauce pot with the sugar, cornstarch and lemon juice.
Cook over medium heat stirring constantly to avoid burning but to allow the rhubarb to break down and release its juices.
Cook for about 5-8 minutes until the rhubarb is tender
Remove from heat and add the cherries
Now the dough should be chilled and you can roll it out to approximately 10" in diameter
Place the fruit compote in the center and fold up the edges of the dough as shown in the video tutorial
Brush with water and sprinkle with sugar
Bake in a preheated 375°f oven for approximately 25 - 30 minutes or until the dough is light golden brown and the fruit compote is starting to bubble.
Cool slightly then serve as is, or with ice cream
Notes
Fruit galette can be stored at room temperature for up to 3 days

For longer storage refrigerate for up to 1 week.

Galette is best served warm or at room temperature like a fruit pie