Ah yes, the infamous Shamrock Shake.
Reincarnated here at Gretchen's Vegan Bakery as the Shamrock Shake Parfait!
Most of us have distant memories of this holiday treat from our far away days in the fast food lane.
Although we don't frequent Mickey D's anymore (and thankfully we don't!!) we can still enjoy that good ol' Shamrock Shake, now in parfait form!
Layers of vanilla cake and light mint mousse will bring you back to St. Patrick's Day McDonald's style only cruelty free and way more healthy!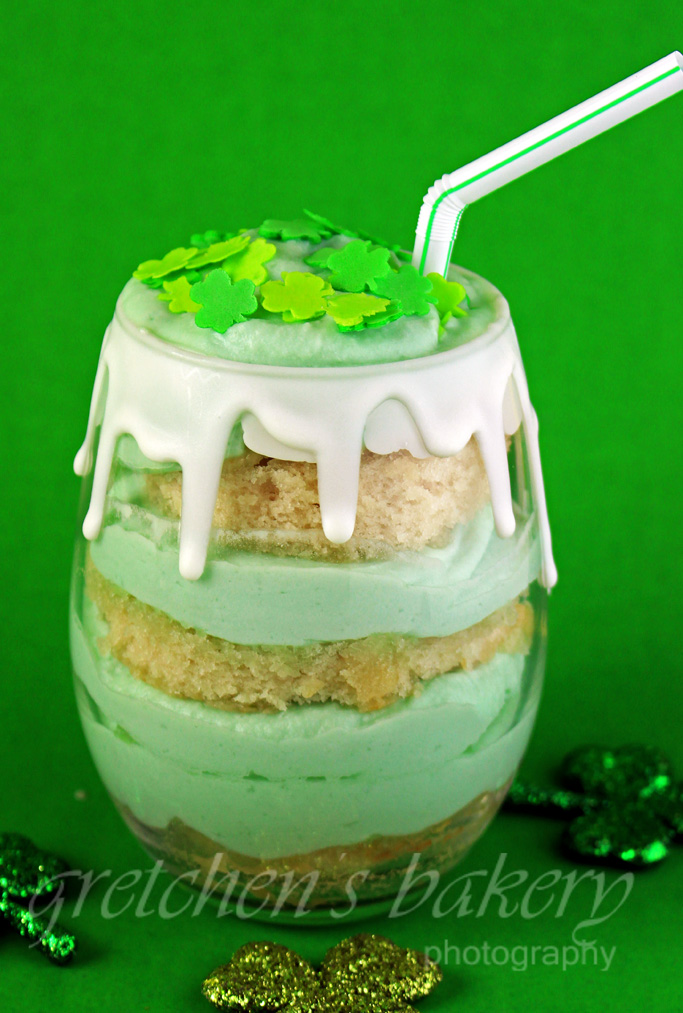 I mean seriously, a cake trumps a shake any day; so sink your teeth into this Shamrock Shake inspired parfait made all vegan of course.
This vegan vanilla cake is so light and moist paired with the lightest of mousse recipes, you will think you have found the pot of gold in this new combination!
And if you want to take this idea and make it into a cake, then be sure to watch to the end of the video to see how I first created this idea in cake form.
Essentially this is Shamrock Shake Cake 2 ways!
Who loves ya? Yep….ME!
Happy St. Patrick's Day!
Shamrock Shake Cake
If you are interested to make the cake style as shown at the end of the video, I am using
PVC pipe from Home Depot
as my cake rings. You can of course use stainless steel rings if you are bougie and want to go that route, but me...I'm a cheap-O so....
Just be sure if you use PVC pipe to NEVER bake in it! It is strictly for cold preparation desserts
I have lined the molds with
food grade acetate cake strips
This is a
building on recipe project
so you can prepare
the buttercream recipe
days in advance to cut down on the time to make this
Otherwise just make it in parfait glasses like I show in the first part of the video, no buttercream needed and it is a very light and airy dessert parfait
Serves:
3 - 10 ounce glasses
Ingredients
For the Cake:
Cake Flour ¾ cup (90g)
All Purpose Flour ¾ cup (94g)
Vegan Granulated Sugar ¾ (150g)
Vegan Butter 1 stick (8Tablespoons) (113g)
Salt pinch
Baking Powder 1½ teaspoons (7g)
Vanilla Extract 1 teaspoon (5ml)
Aquafaba *the liquid from a can of chick peas) ½ cup (120ml)
Milk alternative *I am using oat milk ½ cup (120ml)
For the Mint Mousse:
Vegan White Chocolate 1½ cup (215g)
Aquafaba *the liquid from a can of chickpeas ½ cup (120ml)
Vanilla Extract 1 teaspoon (5ml)
Mint Flavor ½ -1 teaspoon *adjust to your liking
Coconut Milk *just the fat from 2 -15oz cans
Instructions
For the Cake:
Combine the milk with the aquafaba and the vanilla extract
Sift the flour with the salt and baking poweder
Cream the vegan butter with the sugar until light and fluffy and this will take approximately 3-5 minutes.
Slowly drizzle in half of the milk & bean water mixture be sure to scrape the bottom and sides of the bowl often for an even mix
Add half of the sifted dry ingredients and then the remaining milk/bean water.
Add the remaining flour last and mix smooth
Pour into a greased and parchment lined ¼ sheet pan and bake in a preheated 350°F oven for approximately 30 minutes or until it is golden browned and springy to the touch when you gently press the center.
Cool completely while you prepare the mint mousse.
For the Mousse:
Melt the vegan white chocolate and then whisk in the aquafaba.
Add the vanilla and mint extracts and whisk smooth
Scoop the fat off the top of the cans of coconut milk that have been refrigerated overnight and whip to medium peaks
Fold the coconut whipped cream into the white chocolate mixture and then add green food color as needed for desired color.
Refrigerate the mousse while you cut out the cake and shown in the video then assemble the parfaits.
I used Vegan White Chocolate to garnish the glasses to make it look like a melty shake, but this is optional
Notes
Shamrock Shake Parfaits must be kept refrigerated.

Store for up to 1 week in the refrigerator
To make the cake version as shown below you will just need an additional recipe for the
Best Vegan Buttercream
with a bit of mint extract and green food color added