If there is one recipe creation that I unabashedly pat myself on the back, it's my cheesecake recipes
Vegan Cheesecakes are my go-to whenever I am asked to bring something to a gathering
Or when I am asked, "I'm new to veganism, what recipe should I try first!?"
It's always my vegan cheesecakes.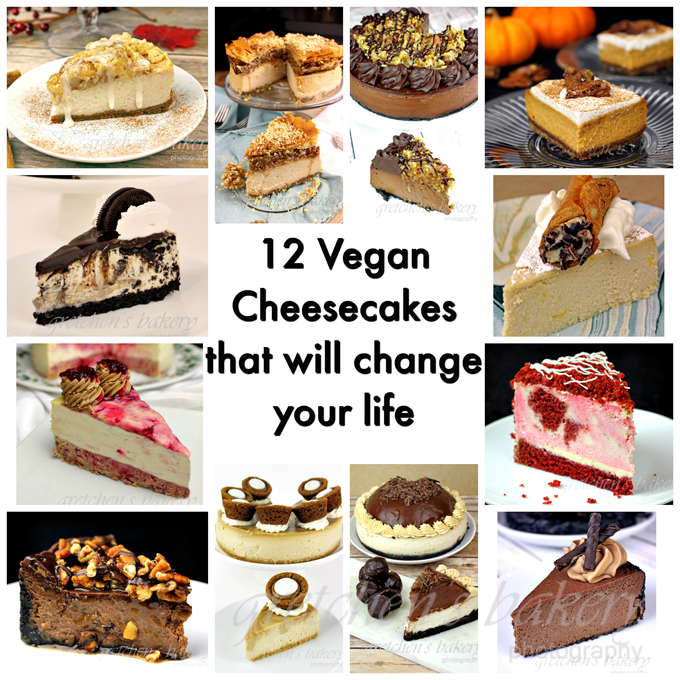 You will not go wrong with making any one of my vegan cheesecakes.
In fact you will have people begging for more and swearing "there is no way that could be vegan!"
I have over 3 dozen recipes to choose from but I had to narrow down my favorites for you and I settled on these twelve!
You may notice that my base recipes for cheesecake are always the same with some slight variations to the sugar or an added spice depending on what flavor I am making.
In some recipes you will notice I am using all vegan cream cheese whereas other times I use a combination of vegan cream cheese and tofu for a lightened up version and to cut some of the fat calories.
I do not find an extremely noticeable difference in the outcome of straight vegan cream cheese versus the tofu addition, so for me I like the tofu version.
Additionally I only use Tofutti Cream Cheese for my BAKED recipes.
*Not sponsored
I have not had success with any other brand of vegan cream cheese in BAKED recipes.
For some reason the other more expensive brands I've tried have broken down into an oily mess when baked.
The biggest tip for success in making my vegan cheesecakes is going to be in measuring cornstarch
I cannot stress enough that a kitchen scale is the best way to go.
Cornstarch is a very difficult ingredient to measure consistently with a volume spoons measure, so while I list both measures in all my recipes;
I cannot stress enough how the grams measure with a scale is going to give you the best results.
Many times people have complained that their cheesecake is like rubber and they don't know why!
This is from a heavy measure of cornstarch when using volume measuring spoon vs the 100% accurate scale measure in grams.
Each recipe below has a clickable link to the full written recipes with ingredients listed & instructions as well as a full step by step video tutorial!