Also known as Depression Cake or Wacky Cake, this recipe for egg free & dairy free Vegan Chocolate Cake is surprisingly GREAT!
"We don't need no stinking eggs!" LOL
I actually wanted to name my cake "The Salad Cake" or the "Oil & Vinegar Cake" since those are 2 of the ingredients!
I am not quite sure who to credit for the original posting to the internet for this recipe (since there are tons, not to mention the original recipes dates all the way back to the early 1900's).
I first tried the recipe from  Sweet Little Bluebird who actually calls it a Crazy Cake.
I've tweaked it slightly to suit my liking!
I hope you love it too!
It is so moist and so chocolate-y and affordable too!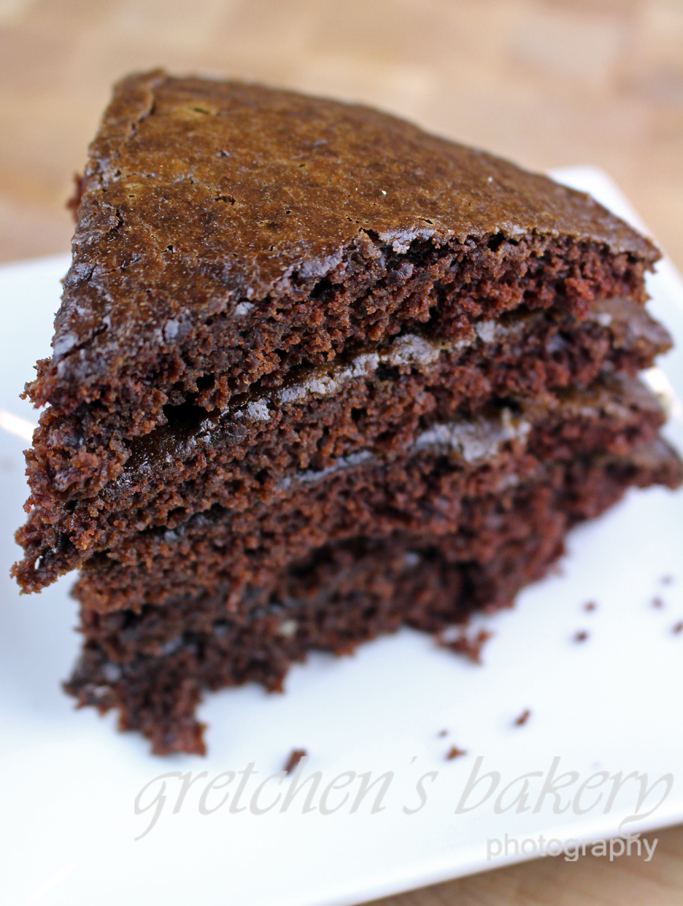 I would recommend using this cake in your favorite cake layer creation like my Tuxedo Strawberry Cake for starters!
For those who want a vegan vanilla cake, while taking out the cocoa powder here and replacing with flour works; it is not my favorite and I want you to check out this one instead
CLICK HERE FOR VEGAN VANILLA CAKE
Vegan Chocolate Cake Recipe
This recipe makes 2 very thick layers of cake. If using a 2" high cake pan the batter will rise all the way to the top, giving you a perfect opportunity for 4 torted layers.
Or just halve the recipe below for 2 thinner layers
(In the video I made the full recipe)
Ingredients
All Purpose Flour 2 cups (250g)
Cake Flour 1 cup (120g)
Unsweetened Natural Cocoa Powder 8 Tablespoons (48g) *not dutched process
Granulated Sugar 2 cups (400g)
Baking Soda 2 teaspoons (10g)
Ground Cinnamon *Optional 1 teaspoon
Salt ½ teaspoon (3g)
Apple Cider Vinegar 2 teaspoons (10g)
Vanilla Extract 4 teaspoons (20ml)
Coconut Oil 12 Tablespoons (165g) melted
Strong Brewed Coffee 2 cups (480ml) *approx 180°F
Instructions
Sift both flours, baking soda, salt, cinnamon and sugar together in a large mixing bowl.
Combine the natural cocoa powder with the hot coffee and then add the vinegar, oil and the vanilla extract.
Pour the wet ingredients into the sifted dry ingredients and whisk vigorously with a hand whisk until smooth (about 15 strokes)
Pour batter into greased and parchment lined 8" x 2" cake pan(s)
Bake immediately in a preheated 350°f oven for approximately 30 minutes or until a toothpick inserted into the center comes out with moist crumbs
Cool completely before using inyour favorite layer cake creation!