I am certainly a coconut custard pie lover.
I think many people are, but somehow it's an after thought, am I right?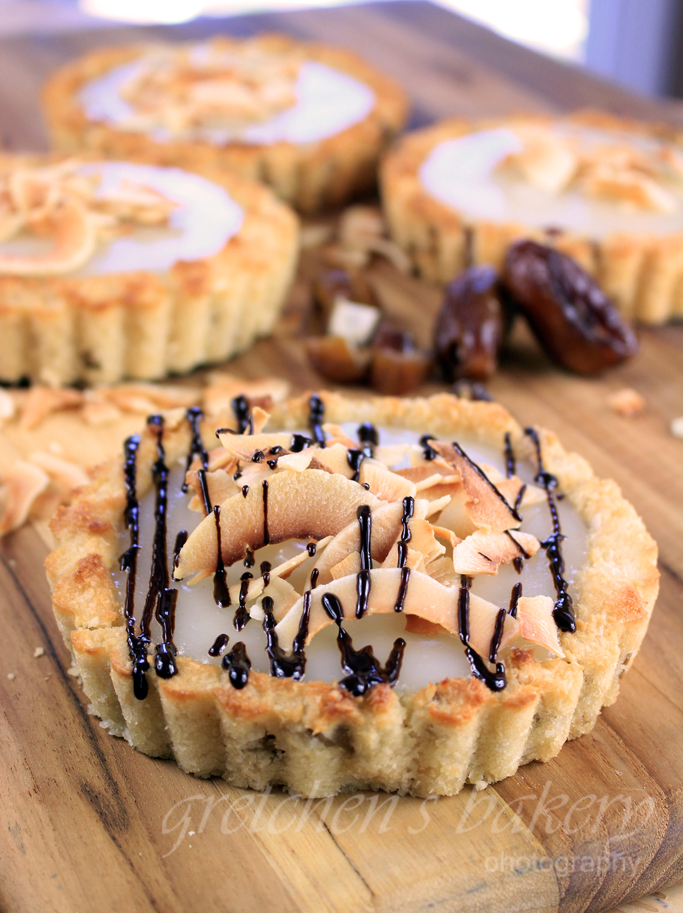 I mean, even I don't think about it too much unless it's Easter, Christmas or Thanksgiving (the 3 major holidays where my bakery was overflowing with coconut custard pies!)
Why then, if they are so lusciously good, do we not eat them everyday!?
Ok, ok maybe not everyday! But more than once a year!
Well, I am here to change that since you are going to fall in love with how easy it is to make this new vegan version and once you taste it~ SOLD!
I know the title says "pie" but I just love my little individual tart molds for desserts like this, but of course you can use 1- 8″ Pie Dish for this entire recipe if you prefer.
I took a spin off of the Simple Veganista's recipe for Coconut Macaroons recipe and instead of using almonds like she did, I used dates.
And for the custard I am using a slight variation on Miyoko Schinner's custard recipe in her Homemade Vegan Pantry Cook Book.
I am in love with this book so if you guys are serious about vegan baking (and cooking!) you must check it out! I wish I did sooner!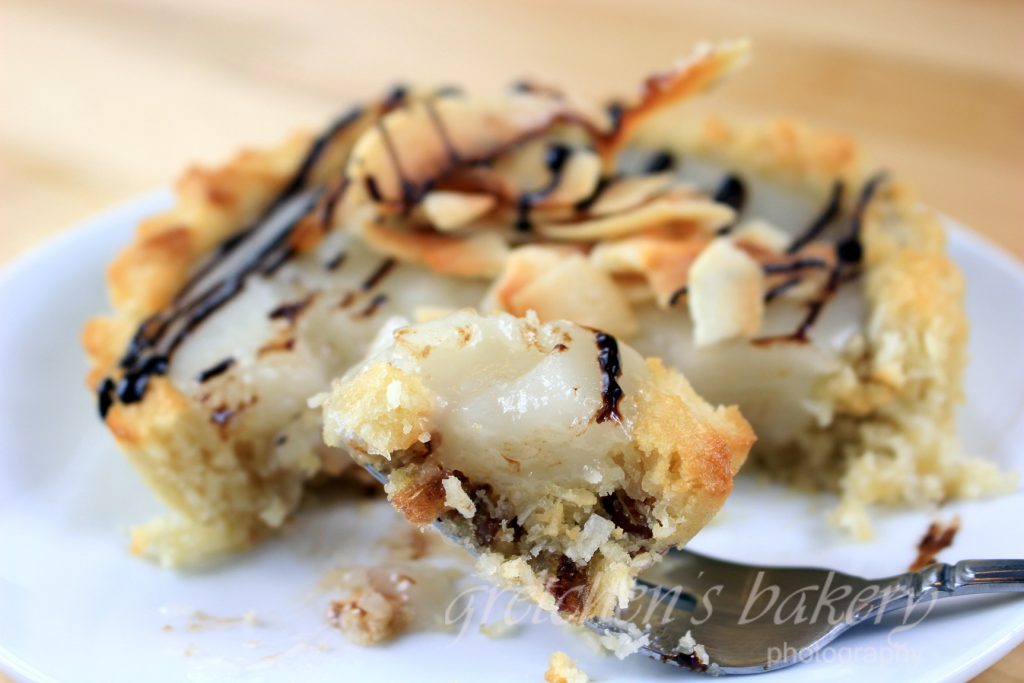 Vegan Coconut Custard Pie
I am using desiccated coconut for the crust here, but if you prefer sweetened flake coconut just omit the agave and replace with same amount aquafaba to help bind
Serves:
6 Individuals or 1- 8" Pie
Ingredients
For the Crust:
Desiccated Coconut 2¼ cup (225g)
Dates Chopped ½ cup (from about 6-8 lg dates)
Full Fat Canned Coconut Milk ¾ cup (180ml)
Agave Syrup 4 Tablespoons (90g)
Almond or Coconut Flour 6 Tablespoons (60g)
Vanilla Extract 2 teaspoons (10ml)
Salt ¼ teaspoon
For the Custard
Full Fat Canned Coconut Milk 1½ cans (2 cups) (480ml)
Vegan Sugar ¾ cup (154g)
Vegan Butter 3 Tablespoons (42g)
Cornstarch 4½ Tablespoons (45g)
Water 4½ Tablespoons (67ml)
Vanilla Extract 2 teaspoons (10ml)
Shaved Toasted Coconut for garnish *optional
Instructions
To make the crust dice the dates into tiny pieces.
Combine all the crust ingredients together in a large mixing bowl and mix to a mushy paste.
Press the mixture into the tart molds or 1- 8" Pie Plate and then bake in a preheated 375°F oven for 15 minutes to set and then turn the oven down to 350°F for another 10 minutes until golden browned and slightly puffed.
Cool while you prepare the custard.
Combine the cornstarch with the water and whisk smooth
For the custard combine the coconut milk, sugar and vegan butter in a sauce pot over medium to high heat.
Bring to a boil stirring often and once it boils add the cornstarch slurry.
Whisk smooth and let it boil over low heat for 30 seconds.
Pour the custard into the tart crusts or the pie crust and refrigerate to set.
Once set add tasted coconut and a drizzle of chocolate *optional
Notes
Custard Pie and/or Tarts must be kept refrigerated

Store in an airtight container for up to 1 week