Once again a "most sought after recipe" from my past life is re-introduced here at Gretchen's Vegan Bakery and it just keeps getting better!
Who remembers the Golden Vanilla Pound Cake Recipe?
Well now it is veganized and marbled with chocolate! Yumm!
This Vegan marble Pound Cake Recipe is seriously the lightest, most moist pound cake you will ever try!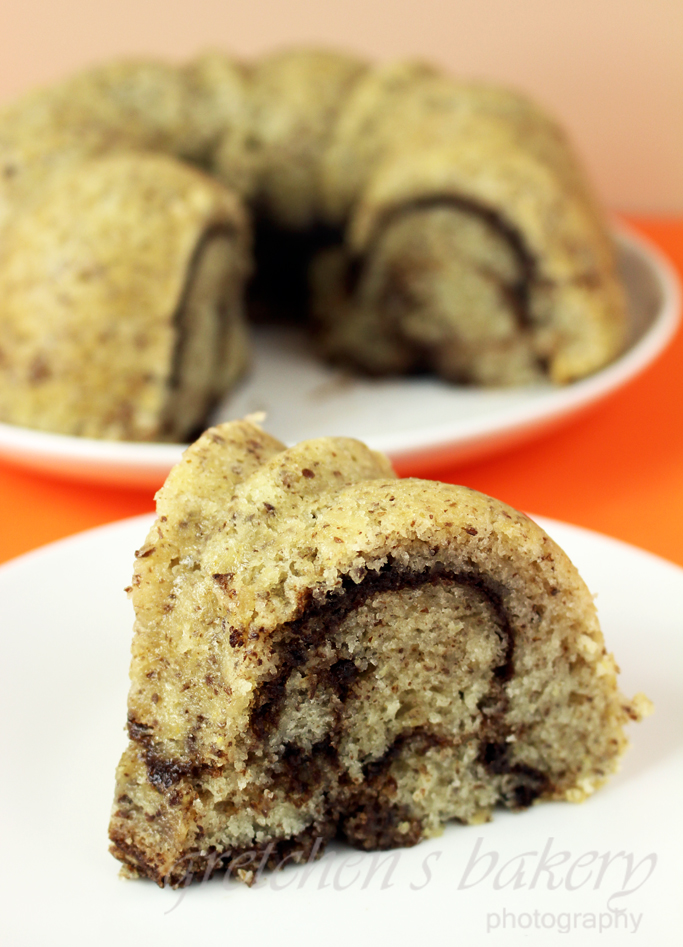 It is so easy to make! You will have this baby in the oven in less than 30 minutes and eating it in less than an hour (okay maybe just over an hour if you let it cool slightly!)
Flax paste replaces the egg here; and vegan cream cheese and butter make up the base that keeps this cake super moist.
I made this into a bundt cake as it can stand alone with no icing needed.
However I have made them into cupcakes with a light buttercream fudge swirl icing and it is out of this world!
Layer cakes, loaf cakes, bundt cakes, you name it! This recipe does it all!
I will confess though, the best late night snack consists of a hefty slice of this cake, warmed up and drenched with chocolate sauce and a heaping scoop of non-dairy ice cream!
Sweet dreams for everyone with a night cap like that!
Vegan Marble Pound Cake Recipe
You will need a
12- cup capacity bundt pan
or 2- 8" Cake Layers or 2- 9" standard loaf pans.
Whatever size pan you are using, just be sure a handful more than half full, not any more than that for proper baking and rising
Serves:
1- 12 cup capacity bundt cake
Ingredients
Vegan Butter 9 Tablespoons (128g)
Vegan Cream Cheese ⅔ cup (170g)
Vegan Granulated Sugar 1½ cup (300g)
All Purpose Flour 1½ cup (188g)
Baking Powder 2¼ teaspoons
Salt ¼ teaspoon
Flax Meal 6 Tablespoons (48g)
Hot Water ¾ cup (180ml)
Vanilla Extract 1 Tablespoon (15ml)
For the cocoa marble:
Cocoa Powder 3 Tablespoons (18g)
Hot Water 4 tablespoons (60ml)
Vegetable Oil 1 Tablespoon (15ml)
Instructions
Combine the flax meal with the hot water and let it stand to thicken for at least 5 minutes.
Sift the flour with the baking powder and salt
In a mixing bowl cream the butter and cream cheese together slowly to incorporate evenly.
Add the sugar gradually while mixing on low until it is all combined well on medium for about 2-3 minutes
Add the vanilla extract
Add half of the flax paste and mix well, then add half of hte sifted flour mixture and mix just until combined.
Add the other half of the flax paste and the last of the flour mixture
In a small bowl, combine the cocoa powder with the hot water and oil and whisk smooth
Add less than 1 cup of the vanilla batter to the cocoa mixture then marble it together with the vanilla batter in your prepared greased pans.
Bake immediately in preheated 350°F oven for approximately 45 minutes (depending on your pan size) or until a toothpick inserted into the center comes out with moist crumbs
Cool slightly before butting and serving
Notes
Pound cake can be stored at room temperature in an airtight container for up to 4 days.

Freeze wrapped well for up to 1 month
For those who want to get crazy up in here, be sure to add So Delicious Cashew Ice Cream, chocolate sauce (which is just 4 ounces of chocolate heated with 2 ounces of almond milk to a thick sauce) and coconut whipped cream! (
CLICK HERE TO SEE HOW TO MAKE COCONUT WHIPPED CREAM
) cherry on top is optional but so darned cute!