Cinnamon Swirl Coffee Cake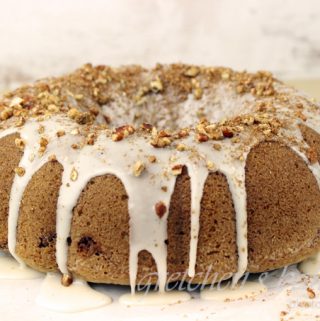 For the Cake Batter
All Purpose Flour 3 cups (375g)
Granulated Sugar 1¼ cup (250g)
Salt 1 teaspoon (6g)
Baking Soda 2 teaspoons (12g)
Baking Powder ¼ teaspoon (1g)
Cinnamon ½ teaspoon
Cardamom 1 teaspoon
Soy Milk 1½ cup (355ml)
White or Apple Cider Vinegar 2 Tablespoons (30ml)
Vegetable or Coconut Oil 6 Tablespoons (90ml)
Vegan Butter 6 Tablespoons (85g)
Vanilla Extract 1 Tablespoon (15ml)
For the Cinnamon Pecan Filling
Lightly Roasted Pecans Chopped 1 cup (150g)
Light Brown Sugar ¼ cup (50g)
Cinnamon 2 teaspoons
For the Icing Glaze
Confectioner's Sugar 1 cup (120g)
Plant Milk 1 Tablespoon (15ml)
Vanilla Extract 1 teaspoon
First prepare the pecan filling by combining the lightly roasted (cooled) pecans together with the brown sugar and cinnamon.
For the cake batter combine all the dry ingredients (including the sugar) together in a large mixing bowl
Melt the vegan butter then add the oil to it, whisk together, then add the vanilla extract
Add the vinegar to the soy milk and let stand to thicken
Add all the liquids to the dry ingredients in the bowl and whisk smooth
Pour ⅓ of the batter into the prepared bundt pan and then sprinkle all but 2 Tablespoons of the pecan filling over top
Pour the remaining batter over the pecan filling and bake immediately in a preheated 375°F oven for 20 minutes, then turn the oven down to 350°F and bake for another 25 minutes or until a toothpick inserted into the center comes out clean.
Cool the cake in the pan for about 30 before turning it upside down onto a cooling rack to finish cooling and it should easily slip out of the pan.
Cool completely and then prepare the icing glaze by whisking the plant milk with the confectioners sugar and vanilla extract and pour over cake.
Sprinkle the remaining pecan filling over top and serve!
Cake can be stored in an airtight container at room temperature for up to 3 days, for longer storage refrigerate (wrapped well) for up to 1 week.
Recipe by
Gretchen's Vegan Bakery
at https://www.gretchensveganbakery.com/cinnamon-swirl-coffee-cake/