No more stuck cakes!
Introducing my Professional Bakery Pan Grease recipe
The exact same recipe I used at the bakery to ensure that all the cakes release perfectly with ease every time.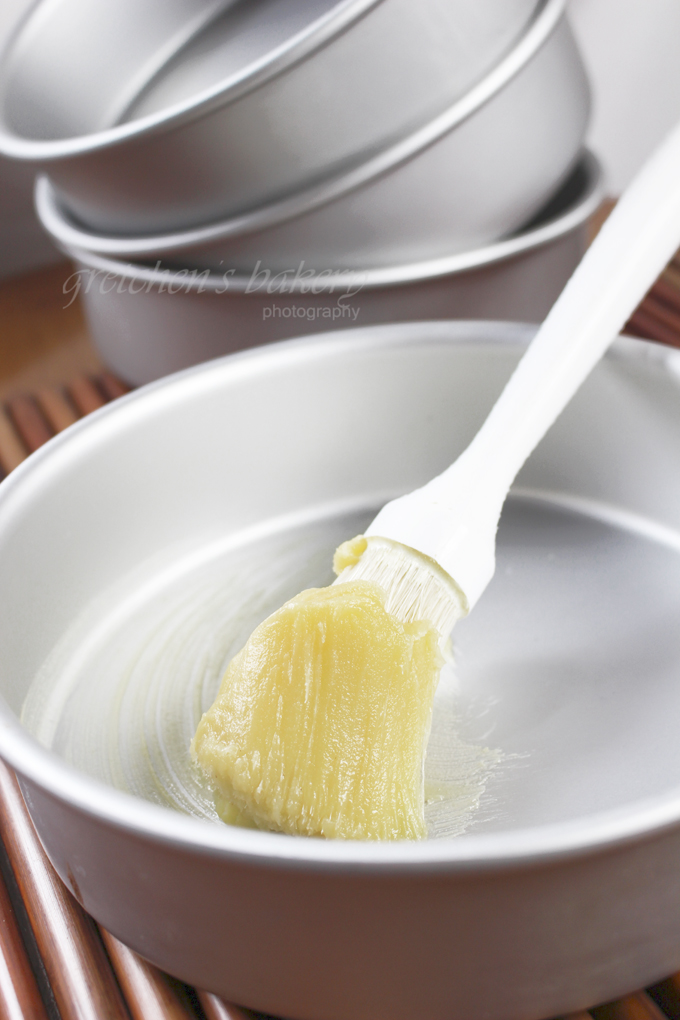 I have been pleasantly surprised to hear how much you all love this recipe over the years, since I started sharing this recipe all the way back in 2011!
For those of you who haven't tried it yet~ What are you waiting for!?
It's super easy to mix and I recommend to make a bulk recipe to store in your refrigerator for months!
If you bake more than once a week you can just go ahead and leave it out on the counter for up to a month
Be careful not to contaminate the mix by double dipping
Or re-using the brush after soiled pans and then adding it back to the main jar
I use one dedicated brush that is always and only used for this professional pan grease recipe.
When I am finished greasing my pans I don't even wash the brush
Just seal the jar I just wrap the tip of the brush with plastic wrap or pop the whole thing in a plastic zip bag to keep it free of dirt and bacteria in between uses.
The fact that I am using shortening and oil versus real butter and even vegan butter is going to reduce the moisture content in the mix while keeping it shelf stable for longer
Some people would argue that using butter and flour the old fashioned way is the only way to go
But moisture that is found in butter and especially vegan butter is going to create steam upon baking and interfere with the baking process negatively
Not to mention shortening and vegetable oils are just cheaper so it's a total win win!
Using a neutral vegetable oil is the best way to go.
So now you can go forth with your cake recipes with confidence that they will come out of the pan with ease every time!
I do still use an added layer of protection with a parchment paper circle in the bottom of my pans
But this is not 100% necessary when using this recipe for Professional Bakery Pan Grease

Professional Bakery Pan Grease
Ingredients
Vegetable Oil ½ Cup (120ml)
Solid Vegetable Shortening 1 Cup (226g)
All Purpose Flour 1 Cup (130g)
Instructions
Mix all together in your Kitchen Aid Mixer (or hand held mixer will work too)
until it is all smooth and incorporated.
Notes
Store at room temperature for up to 2 weeks.


Refrigerate for 5 months


Freeze for 1 year