Pear Gingerbread Custard Cakes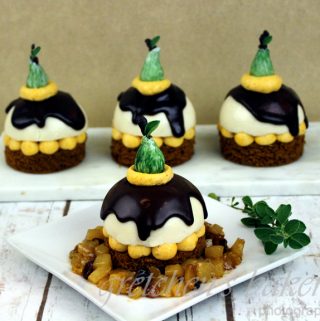 Serves:
8 Individual Cakes
For the Gingerbread Cake:
Whole Wheat Pastry Flour *see note above 1¾ cup (210g)
Ligth Brown Sugar ¼ cup (50g)
Fresh Ginger 1teaspoon *if you do not have fresh ginger add another teaspoon ground ginger
Ground Ginger 1 Tablespoon
Nutmeg ¼ teaspoon
Cloves ¼ teaspoon
Cinnamon ¼ teaspoon
Salt ½ teaspoon
Egg Replacer * I am using The Plant Based Egg by Freely Vegan 2 teaspoons
Baking Soda 1 ½ teaspoons
Molasses ½ cup (118ml)
Unsweetened Applesauce ½ cup (118ml)
Vegetable or Coconut Oil 6 Tablespoons (90ml)
Boiling Water ½ cup (118ml)
For the Pear Compote:
3 Medium Bartlett Pears peeled, cored and chopped for about 2½ cups
Sugar 2 Tablespoons
Cinnamon 1 teaspoon
Raisins ½ cup
White wine, Brandy or Apple Juice ½ cup (118ml)
Vegan Butter 2 Tablespoons (28g)
For the Custard:
Plant Milk *I use soy milk 1¼ cup (296ml)
Granulated Sugar ¾ cup (150g)
Agar Powder ¼ teaspoon
Vegan Cream Cheese 1-8oz Package (226g)
Vegan Butter 1 Tablespoon
Vanilla Extract 2 teaspoons (10ml)
Cinnamon 1 teaspoon
Nutmeg ½ teaspoon
Clove ⅛ teaspoon
Ginger ¼ teaspoon
Solid Pumpkin ¼ cup
First prepare the gingerbread cake by preheating your oven to 350°F
Grease & parchment line a 9" X 12" sheet pan
In a large mixing bowl combine the flour, sugar, spices, salt and egg replacer and whisk to combine well
In another bowl combine the boiling water, molasses, fresh ginger, oil & applesauce and whisk together
Add the liquids to the dry ingredients and whisk just to combine, do not over whip.
Pour into the prepared pan and bake immediately for about 15-20 minutes or until a toothpick inserted into the center comes out with moist crumbs
Cool the cake while you prepare the pear compote.
Soak the raisins in your liquid of choice from the above recipe
Peel, core and small dice the pears.
In a heavy bottom saute pan melt 1 Tbs of the vegan butter, add the pears and the sugar & cinnamon and stir while cooking over high heat.
Once the pears start to caramelize, add the raisins and their soaking liquid and then add the other Tbs of vegan butter.
Cook until tender
Prepare the buttercream as per the instructions on that blog post and add the pumpkin & spices at the last stage of mixing.
Prepare the vegan ganache and set aside until needed
Next prepare the custard by combining the plant milk, vegan cream cheese, sugar and agar in a heavy bottom sauce pot.
Cook over medium high heat whisking constantly until smooth and when it comes to a light boil add the vegan butter and vanilla extract.
Remove from heat and pour into silicon molds (*I am using 3" diameter sphere molds).
Refrigerate the custards until set.
Meanwhile cut out the gingerbread cake rounds and use the scraps for the pear shaped cake pop toppers by adding about ¾ cup of pumpkin buttercream and mixing to combine.
Take about 1 teaspoon of the cake pop mixture and form them into pear shapes.
Refrigerate to cold, then dip them into melted vegan white chocolate. I made a paste of spirulina and water to color the chocolate pears once they were set.
A chocolate stem & a tiny oregano leaf for the garnish.
Once all your components are ready, assemble the desserts as shown in the video.
The custards should pop right out of the silicone molds if they are set to firm, if they seem too fragile you can freeze them for about a half hour to make it easier.
Pear Gingerbread Custard Cakes should be kept refrigerated but can stay at room temperature for up to 2 hours.
Recipe by
Gretchen's Vegan Bakery
at https://www.gretchensveganbakery.com/pear-gingerbread-custard-cakes/