The best vegan buttercream recipe is finally here!
Well, actually I've been making this recipe for a long time so now not only is it animal friendly, but ALLERGY friendly too!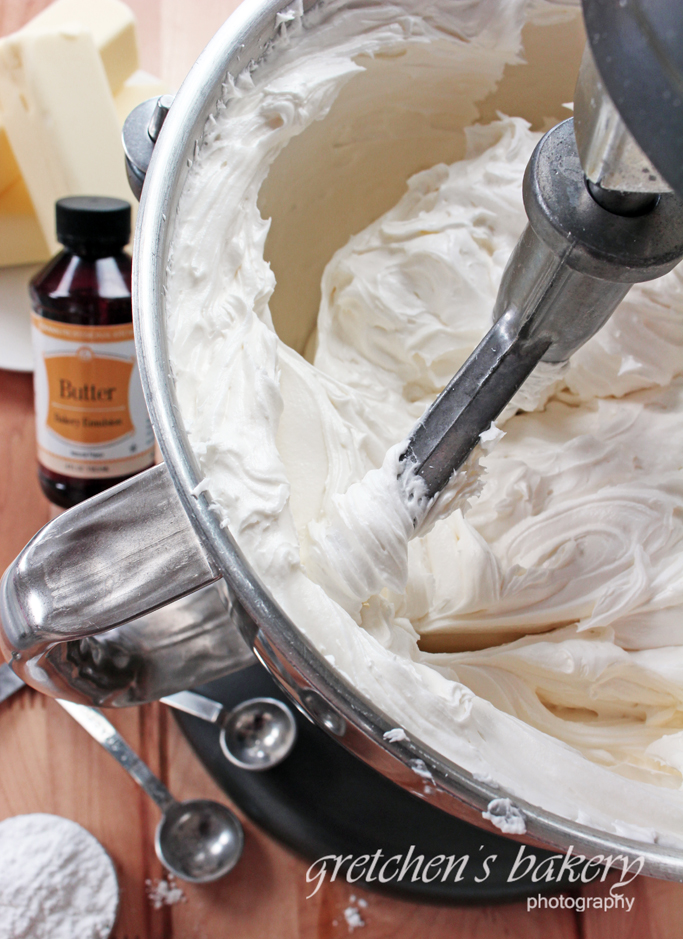 So many people don't correlate the vegan lifestyle and diet with those who are also lactose intolerant and have egg allergies as well!
More and more people are becoming intolerant to those two ingredients alone, so now we can be sure everyone is safe and HAPPY with buttercream galore!
By using a blend of vegan butter (I use Earth Balance Buttery Sticks) and hi ratio shortening this recipe is the closest version to the buttercream I used daily when I owned my bakery.
People came from miles around to get the best buttercream, now you can make it at home!
The addition of butter flavor is optional (but use it sparingly, it can give an off taste if using too much) about ½-1 teaspoon for this entire recipe will suffice.
I also often leave out the addition of milk to the recipe for a lighter fluffier buttercream that pipes really well and keeps it shapes
The Best Vegan Buttercream Recipe
For the chocolate variation add 6 ounces (1 cup) Melted baking chocolate at the last stage of mixing
Ingredients
Vegan Butter 1½ Cups (3 sticks) (336g)
Hi Ratio Solid Vegetable Shortening 1½ Cups (336g)
Vegan Confectioners Sugar 6 cups 720g)
**Almond Milk or any milk alternative of your choice 3 Tablespoons (45ml)
* I have been leaving out the milk addition to this recipe, it seems to be weighing down the final result
Vanilla Extract 2 teaspoons
Butter Extract 1 teaspoon
Salt ¼ teaspoon
Instructions
Combine the vegan butter and shortening in the Kitchen Aid (or stand mixer) bowl with the paddle attachment
Whip on medium to high speed for about 3 minutes.
Scrape the sides and bottom of the bowl to make sure it is evenly mixed and add the salt and flavors. .
Stop mixer and add the sifted confectioners sugar all at once.
Mix on low speed until incorporated , scrape the bottom and sides of the bowl and then mix on high speed for 3 minutes.
Scrape the bowl again and then while mixing on low speed slowly drizzle in the almond milk
Increase speed to high and whip for another 2 minutes
Notes
This recipe will store at room temperature in an airtight container for up to 3 days


Refrigerate for longer storage up to 4 weeks


Freeze for 6 months