From drip cakes to covering an entire cake in ganache
The call for a perfect Vegan Ganache Recipe is greater than ever
The good news is a perfect vegan ganache recipe is not too much different from what we used to make before being vegan!
still just two simple ingredients whisked together to perfect shiny perfection!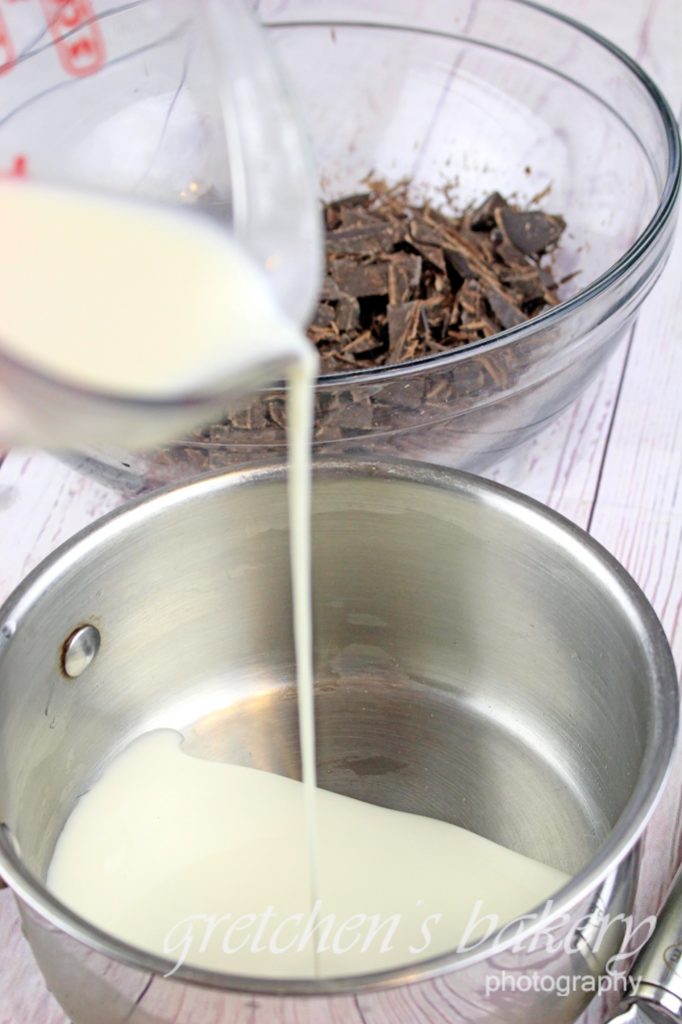 However when making a vegan ganache recipe the plant milk alternatives we are using now are slightly thinner and way less fat than traditional cow cream from our past lives.
So we have to reduce the amount of milk by a small amount to compensate for that discrepancy.
Normally the ratio for a standard ganache is 1:1
Meaning if you have a pound of chocolate you would use a pound of cream for a 1:1 ratio of cream to chocolate.
There are two ways to go about actually mixing those two ingredients together to form what is known as an emulsion.
The Science Behind Ganache
An emulsion is a mixture of two or more liquids that are normally immiscible
The process of mixing two other wise UN-Mixable ingredients is called EMULSIFICATION.
Think Oil and Vinegar.
These two ingredients will just float on top of the other unless we shake it up and then pour it on our salad, right?
With a little help from heat and agitation we can achieve a beautiful emulsion.
2 Ways to making vegan ganache 
#1- Boil the plant milk and pour it over the fine chopped chocolate in a bowl and whisk smooth until melted and emulsified
Or my preferred method:
#2– Combine the plant milk with the chocolate in a heavy bottom sauce pot and heat over low flame while stirring constantly with a whisk to melt the chocolate while creating the emulsion.
Keep in mind that chocolate is very temperature sensitive.
Most people say, "But I thought you can't add liquids to chocolate!"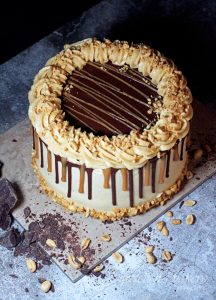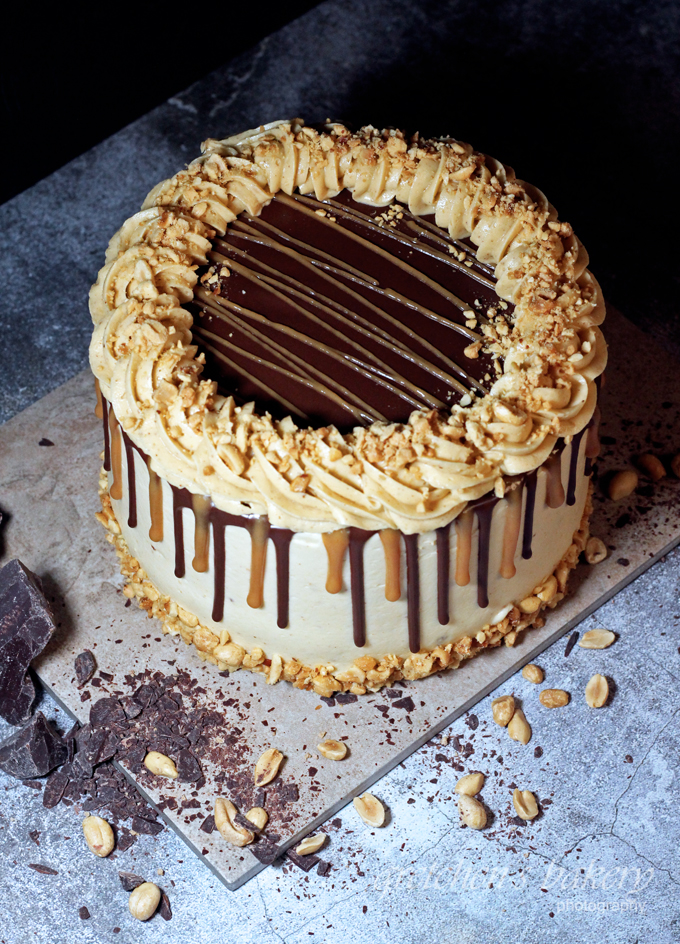 This is true, however in the correct ratios liquid and chocolate are the best of friends!
But be forewarned, if you don't add enough liquid to the chocolate you will find a clumpy seized up mess!
THE RATIOS:
I like a slightly thinner ganache for covering cakes like here on my Almond Joy Cake.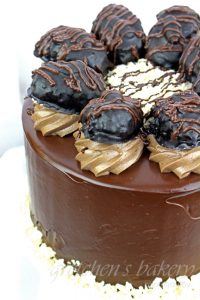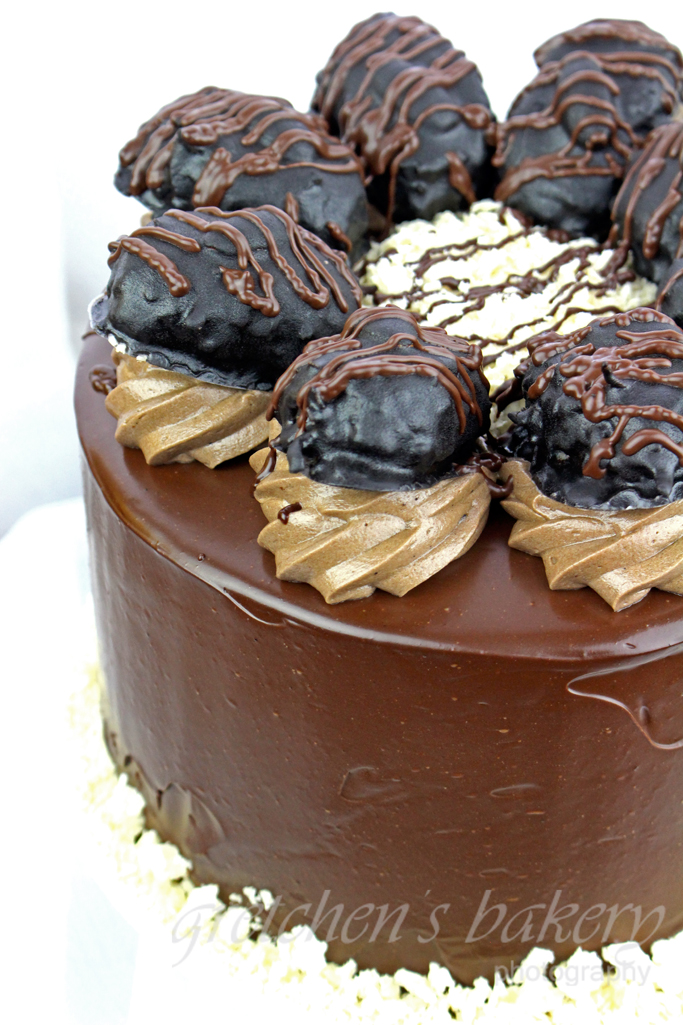 By adding just another tablespoon or two of plant milk to the ganache for a much better, pour able consistency.
I always use soy milk for my vegan ganache recipe.
It is the thickest and most stable with the least amount of stablilizers (typically)
And it has the most fat and protein of all the milks!
BUT WHAT ABOUT THOSE DRIPS!?
For those famous drips a thicker ganche you will give the best consistency
The recipe listed below is the standard ratio for the best drips around!
No Crack Zone Ganache!
PRO TIP:
Adding just a teaspoon of melted coconut oil to the ganache recipe will prevent cracking once the ganache is applied to the cake
Because plant milks have considerably less fat than traditional cow cream ganache recipes
We have to add some fat back to the recipe and I find coconut oil does the best
Keeping the ganache shiny and crack free!
What's the Best Chocolate to use for Ganache?

It really isn't necessary to use an expensive chocolate here
In the bakery I would buy a grade of chocolate specifically labeled "Ganache Chocolate".
Just don't forget to look at the ingredients list for the chocolate to make sure there is not milk added into it!
But what about White Chocolate Ganache?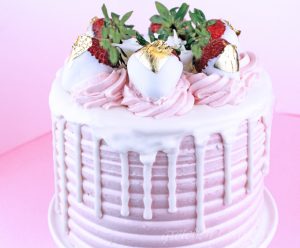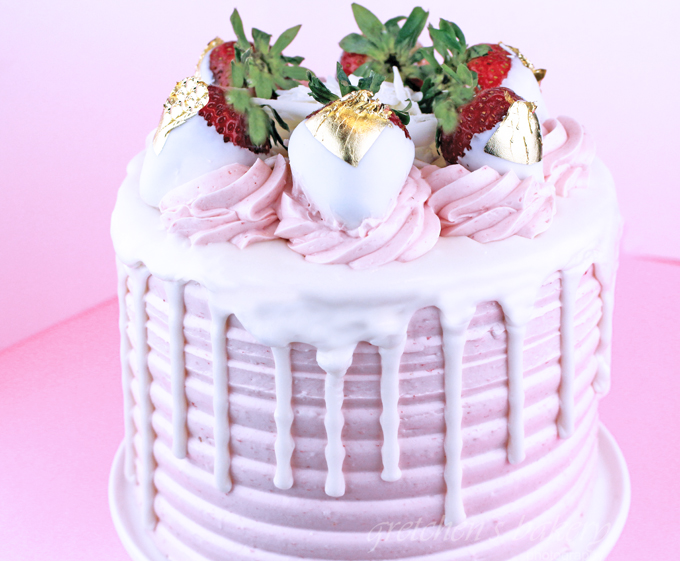 Many people have a hard time working with white chocolate in the first place due to the fact that it is essentially all cocoa butter and a large amount of sugar without any cocoa liquor in it at all!
So is it even really chocolate?
We'll leave that topic for another day!
You can make White Chocolate Ganache easily but it is necessary to reduce the plant milk amounts even more to compensate for the added fat content in that type of chocolate.
I usually start with 4 ounces of melted white chocolate and add 3 tablespoons of warmed almond milk to that
Stirring more than heating since white chocolate is the most sensitive!
So always stir and heat less!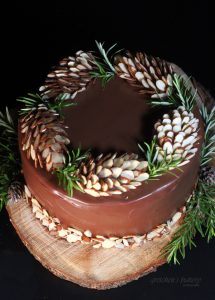 Repairing a Broken Ganache
Divide the entire portion of broken ganache into 2 parts.
Warm 1 part over a double boiler to about 130 degrees F.
This will cause the fats to re-melt making the mixture thinner.
Take the other portion of ganache and cool it to 60 degrees F over an Ice Bath causing the fats to solidify making the mixture thicker.
Once you have reached desired temperature with both portions,
Remove the 1 portion from the ice water bath (to avoid any water splashing) and slowly begin streaming the hot ganache mixture into the cold mixture while stirring gently.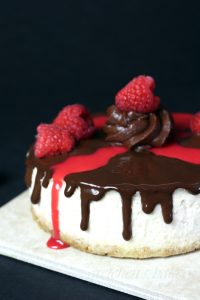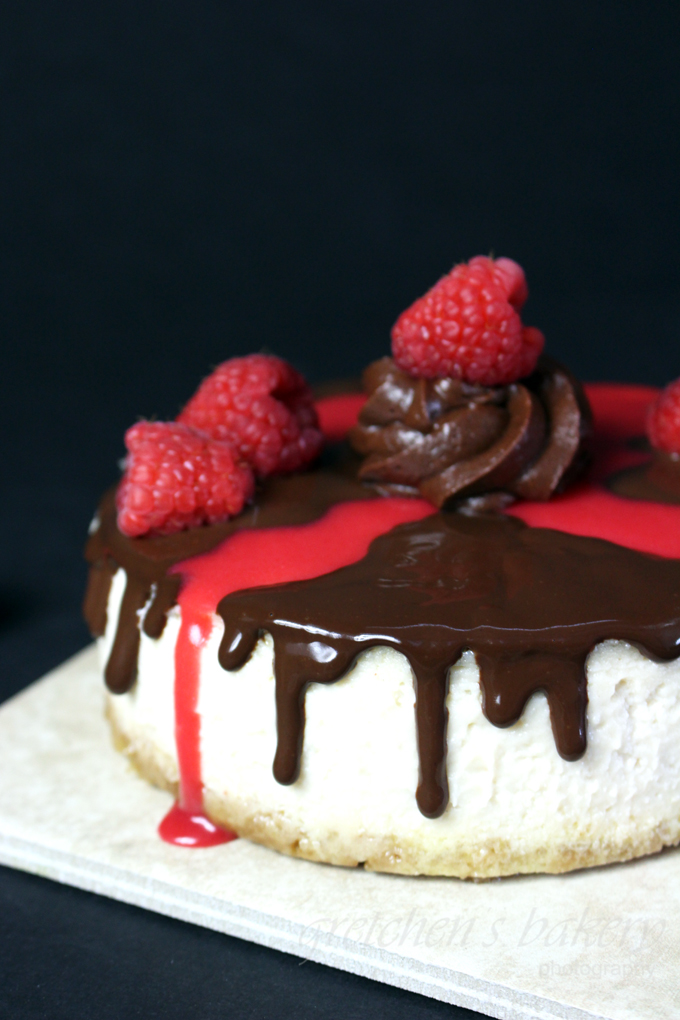 Notes for Success:
Too much agitation will cause rapid cooling to below 90 degrees F which will produce an GRAINY ganache.
Temperature is an important factor in emulsification of ganache. The optimal temperature is 90 degrees F to 110 degrees F.
If the temperature rises above 110 degrees F, the cocoa butter in the chocolate gets too hot and the fats will pool together and separate. This is what causes a "broken" ganache.
CHECK OUT THE FULL YOUTUBE VIDEO STEP BY STEP VISUAL TUTORIAL FOR HOW TO MAKE A VEGAN GANACHE RECIPE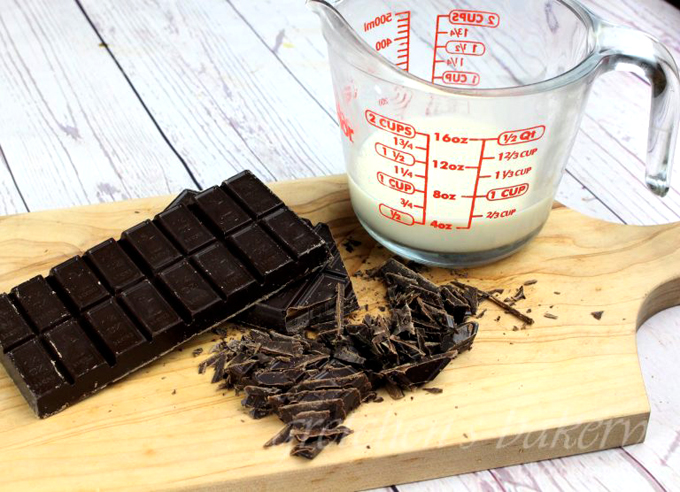 Adding Liquor or flavorings to Ganache for truffles and fillings
By substituting 1- 2 tablespoons of the plant milk with liquor you can make an infused ganache
Add ground nuts and even fruit or nuts pastes to ganache too!
No more than 3 Tbs to the recipe listed below to avoid throwing off the balance
Check out some recipes using vegan ganache! Click the links below!
Chocolate Raspberry Truffle Cake
No Bake Chocolate Raspberry Ganache Tart
TRUFFLES=GANACHE
One last thing!
The fanciest truffles you have ever eaten are simply GANACHE!
Check out how to make 2 ingredient ganache truffles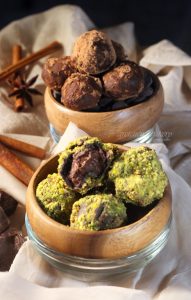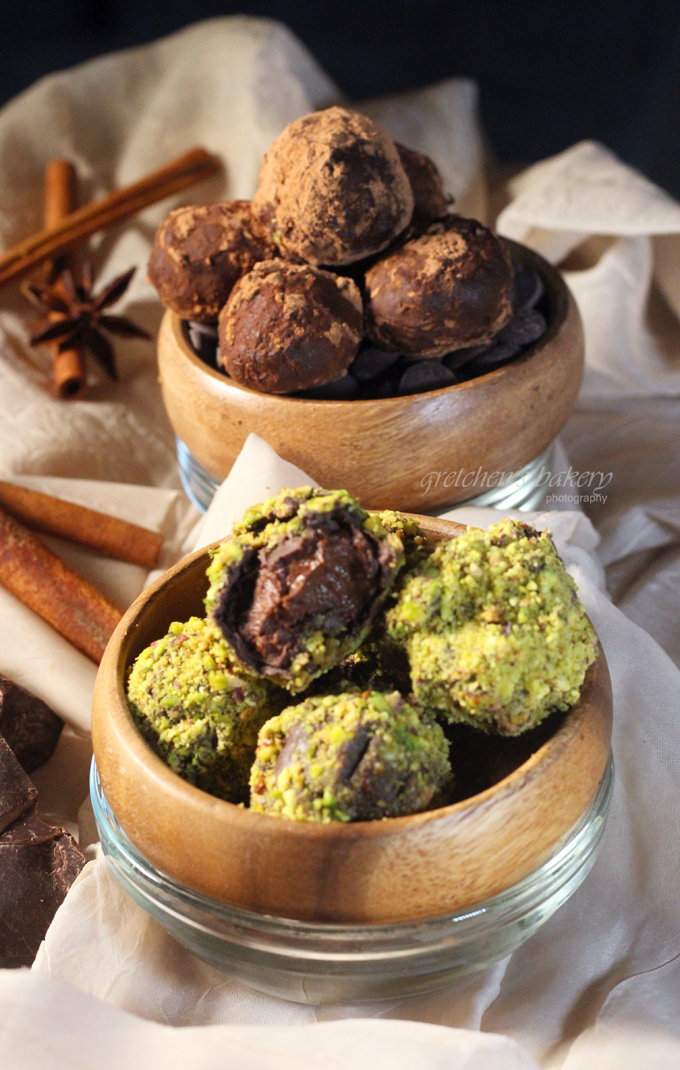 Vegan Ganache Recipe
Ingredients
Vegan Chocolate 12 ounces (336g)
Plant Milk *I prefer Soy Milk 1cup (237ml)
Instructions
Heat the chocolate and milk together in a small sauce pot and stir (whisk) constantly over medium heat - stir constantly to avoid scorching the chocolate!
Alternatively you can bring the milk to a boil then pour over the chocolate in a bowl- whisk smooth as shown in the video tutorial.
Notes
Ganache must be stored in the refrigerator, but can be left at room temperature for up to 2 days before using on your cakes.

Simply remelt the ganache gently in a sauce pot on the stove stirring constantly or carefully in the microwave in 15 second increments