Ever since those luscious Drip Cakes started trending (and haven't stopped!) the call for a Vegan Ganache recipe is now bigger than ever!
It is not much different than when we were making it's animal counterpart where heavy cow cream is used with any chocolate of your choice, and typically that was on a 1:1 ratio of cream to chocolate.
But for the vegan ganache recipe it is slightly different.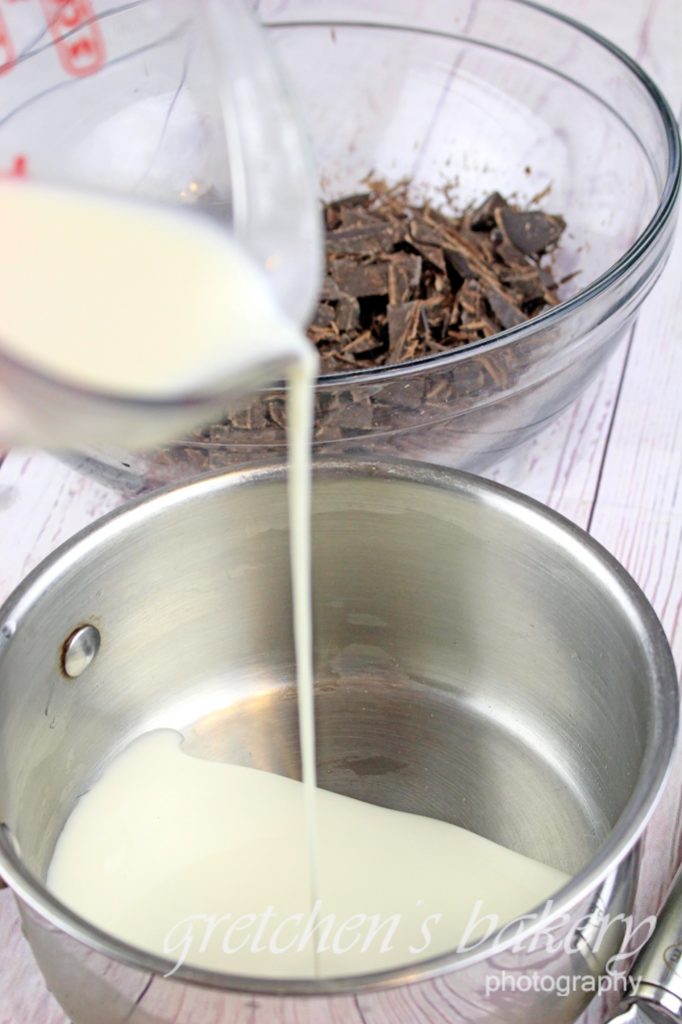 Since the milk alternatives we are using are thinner than traditional cow cream, we have to reduce the amount of milk used in ratio with the chocolate; and don't forget to look at the ingredients list for the chocolate and make sure there is not milk added into it.
I get Baker's Brand Chocolate easily at my local supermarket and find this is really great for making ganache. (I've linked it here only so you can see the brand not so much to buy it, because Amazon is way more expensive than what I pay in the supermarket just $2.59)
It really isn't necessary to use an expensive chocolate here, and quite frankly in the bakery I would buy a grade of chocolate specifically labeled "Ganache Chocolate".
It was definitely cheaper and who doesn't love cheaper?
So save your Endangered Species and Green & Black chocolates for your fancy desserts and use good old baker's brand for the ganache.
When it comes to making white ganache, this is a bit more delicate of a process whether it is vegan or not.
Many people have a hard time working with white chocolate in the first place due to the fact that it is essentially all cocoa butter (fat) and sugar without any cocoa liquor in it at all!
So is it even really chocolate after all?
But we'll leave that topic for another day…
So let me get a bit "science-y" for a minute.
As simple as it may seem Chocolate, is actually very complex.
The addition of liquids to this delicate ingredient can sometimes create complications.
Chocolate is very temperature sensitive.
Anyone who has ever over heated chocolate during the melting process has learned this first hand when the lovely chocolate has seized into a solid grainy, unusable mess right before their eyes!
The idea of mixing 2 ingredients while simple as it sounds is not always so easy.
Mixing Chocolate and Milk together is similar to mixing oil and water. This is not something that is naturally occurring.
So the process of mixing Two other wise UN-Mixable ingredients is called EMULSIFICATION. Think Oil and Vinegar.
These two ingredients will just float on top of the other unless we shake it up and then pour it on our salad, right?
With a little help from HEAT and AGITATION we can achieve a beautiful emulsion.
Be sure to watch the video above for a real time view of this process!

Vegan Ganache Recipe
Vegan Ganache Recipe Serves: 2 cups Adjust the consistency AFTER mixing by adding a tablespoon or more of warmed milk while whisking smooth
For a softer setting ganache you will use more milk and for a firmer ganache you will use less milk.
See below for White Chocolate Ganache notes
Ingredients
12 ounces of semi sweet vegan chocolate
8 ounces (1 cup) of milk alternative.* I prefer soy, almond and oat milks for their highest fat content of all the milk alternatives
Instructions
Heat the chocolate and milk together in a small sauce pot and stir (whisk) constantly over medium heat - stir constantly to avoid scorching the chocolate!
Alternatively you can bring the milk to a boil then pour over the chocolate in a bowl- whisk smooth as shown in the video tutorial.

Too much agitation will cause rapid cooling to below 90 degrees F which will produce an GRAINY ganache.
Temperature is an important factor in emulsification of ganache. The optimal temperature is 90 degrees F to 110 degrees F.
If the temperature rises above 110 degrees F, the cocoa butter in the chocolate gets too hot and the fats will pool together and separate. This is what causes a "broken" ganache.
Now as I mentioned earlier, you can make White Chocolate Ganache but it is necessary to reduce the plant milk amounts to compensate for the added fat content in that type of chocolate. I usually start with 4 ounces of melted white chocolate and add 3 tablespoons of warmed almond milk to that
Repairing a Broken Ganache:
Divide the entire portion of broken ganache into 2 parts.
Warm 1 part over a double boiler to about 130 degrees F. This will cause the fats to re-melt making the mixture thinner.
Take the other portion of ganache and cool it to 60 degrees F over an Ice Bath causing the fats to solidify making the mixture thicker.
Once you have reached desired temperature with both portions, remove the 1 portion from the ice water bath (to avoid any water splashing) and slowly begin streaming the hot ganache mixture into the cold mixture while stirring gently.