Yes I know Thin Mints are already vegan, but what about the people who missed out on the Girl Scout train?
Or maybe it's not Girl Scout season (as you know they only come around once a year!)
Not to mention homemade is always better and once you get the hang of how easy this recipe is to make it is a sheer no-brainer (and cheaper too!)
So now you can make your own with this simple recipe for crispy mint shortbread cookies dipped in vegan chocolate!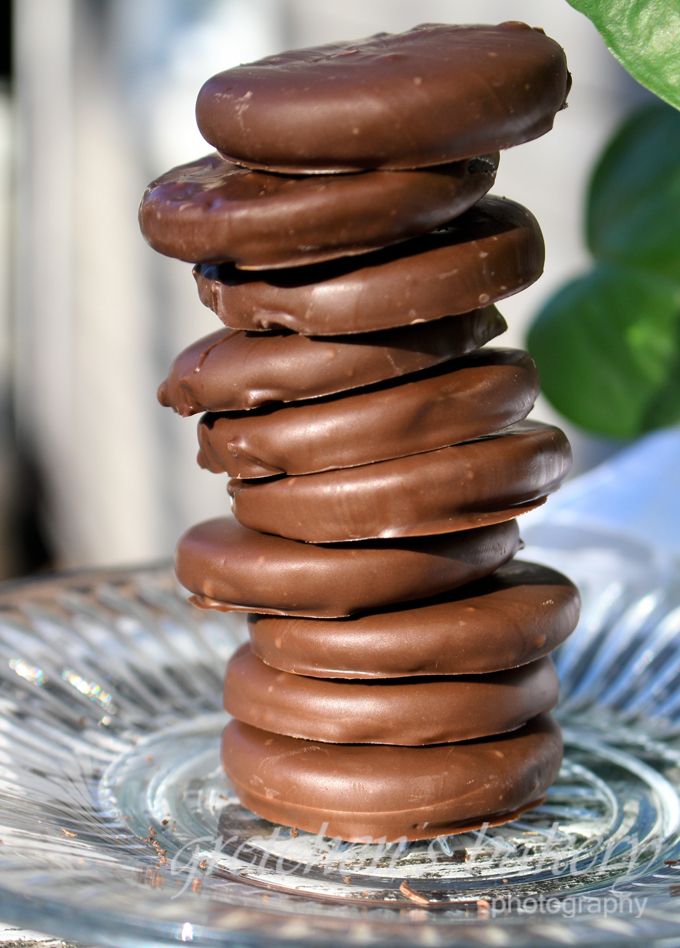 This is the third recipe in my Copy Cat Girl Scout recipes series, so if you missed the Samoas (a.k.a Caramel DeLites) and the Peanut Butter Patties (a.k.a Tagalongs) well you have some catching up to do!
All recipes include video tutorials as usual to make the process much easier for you!
Oh and by the way, although Oreo's are not a part of the Girl Scout family, while we are copy catting, you may want to check out my Vegan Homemade recipe for those too!
Vegan Thin Mint Girl Scout Cookies- Copy Cat Recipe
Ingredients
All Purpose Flour unbleached 1 cup (125g)
Dutch Process Cocoa * I used Hershey's Dark Blend ¼ (20g)
Baking Soda ⅛ tsp
Sea Salt pinch
Confectioners Sugar ½ cup + 2 Tablespoons (75g)
Cold- Earth Balance Vegan Butter *or any vegan butter of your choice 10 Tablespoons (140g)
Vanilla Extract 1 teaspoon (5ml)
Mint Extract 1¼ teaspoons *see notes below the recipe
Tempered Chocolate or Non Tempering Chocolate Coating approx 1 Lb (454g)
Instructions
Prepare the chocolate cookie dough by combining the flour, cocoa powder, baking soda, salt and confectioners sugar in a large mixing bowl.
Blend on low speed to combine, the add the diced cold vegan butter and continue blending on low to medium speed. It will seem that this is taking forever to come together and you will think there is something wrong with the recipe. Just wait. It may take 5 minutes or more
It will eventually come together and at that point you can add the vanilla extract and blend on high for 10 seconds to incorporate well.
Turn the very soft, sticky dough out onto a piece of plastic wrap or parchment paper (the plastic is way easier though) and then place another piece over top
Roll to about ¼" thickness as shown in the video.
Cut the dough with a 1¾" cookie cutter (dip the cutter in flour to make sure they don't stick in your cutter) and place them spaced ½" apart on a parchment lined (or non stick) sheet pan.
Bake in a preheated 350°F oven for 10-12 minutes and then transfer them to a cooling rack
Notes
Thin mints can be stored at room temperature in an airtight container for up to 2 weeks, or frozen for 3 months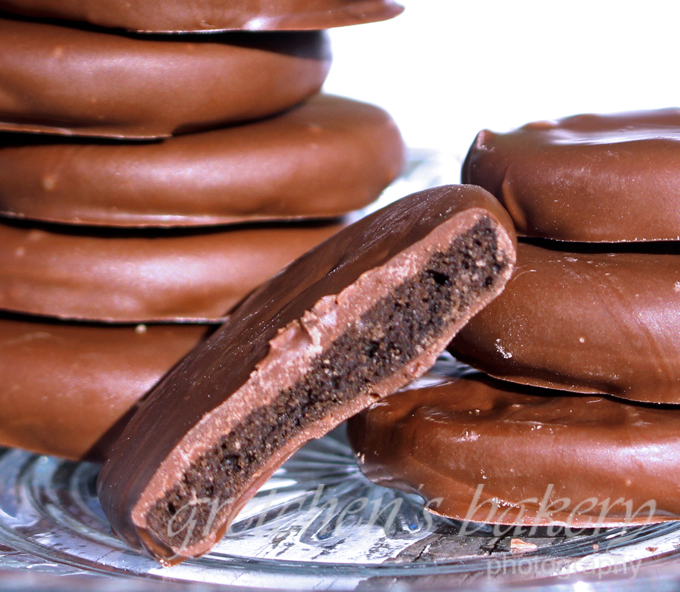 I want to talk for just a minute about mint extract.
There are so many different options for buying mint extracts and they range by brands and also by prices.
I can get a small bottle for about $1 in my local Shop Rite but I find that it will give my cakes and pastries more of a toothpaste taste than anything else, so I try to stay away from that low grade stuff whenever possible, or use it sparingly as a little goes a long way!
There is one more thing to consider and perhaps you just haven't noticed, but there is Mint Extract and then there is Peppermint Extract.
Mint Extract is most often a combination of Spearmint and Peppermint together.
Whereas Peppermint Extract is just that~ Peppermint.
Maybe you wouldn't even notice a difference in your cakes and pastries from brands, to grades, to specific varieties of mint being used; but some people do notice the subtle nuance of using one over the other.
The best way to describe the difference between the two is that Spearmint is the taste you get when you have a stick of Spearmint Gum; whereas Peppermint has a high level of menthol..
That menthol is going to give you a cool mouthfeel; in a way it will seem like it is stronger mint flavor because of that.
I find that using straight up peppermint extract in my recipes (especially those that have chocolate in them) give it a much better flavor than one of those "mint" extracts that has levels of spearmint that I am just not sure how to measure; and 9 times out of 10 (ok 100% of the time) I am pairing mint with chocolate anyway, so the straight up real deal Peppermint Extract is the winner in my book.