Sometimes I have to satisfy my sweet cravings with something a little bit healthier!
Apple Pie Bars with yogurt glaze fits the bill and they are gluten free, refined sugar free and oil free!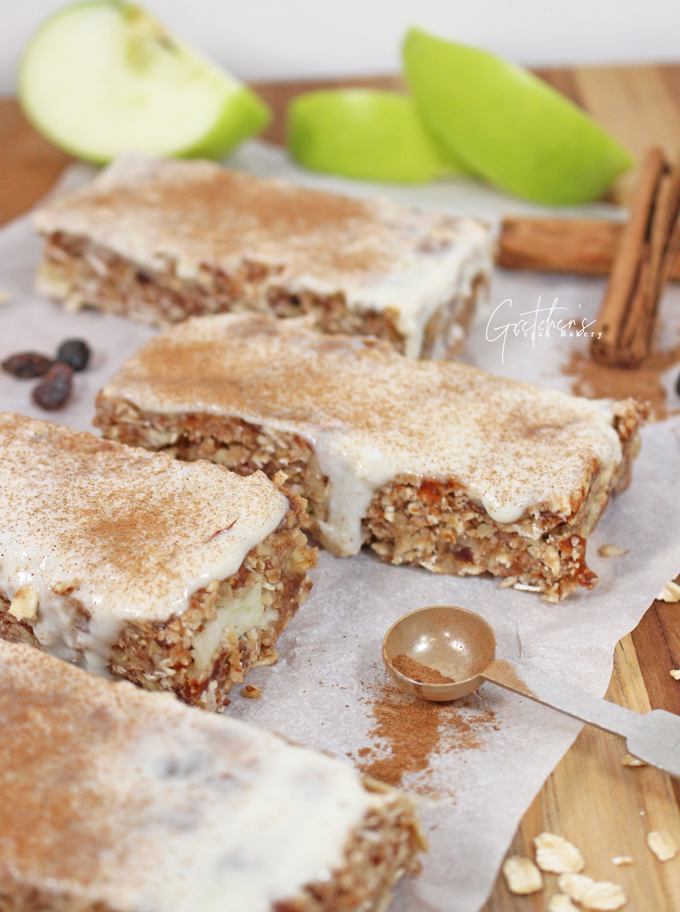 Kinda sort of like granola bars but these are gluten free, oil free and refined sugar free!
Chock full of nuts though so this one is not for my nut free peeps
Dates are the natural sweetener here which also helps to bind everything together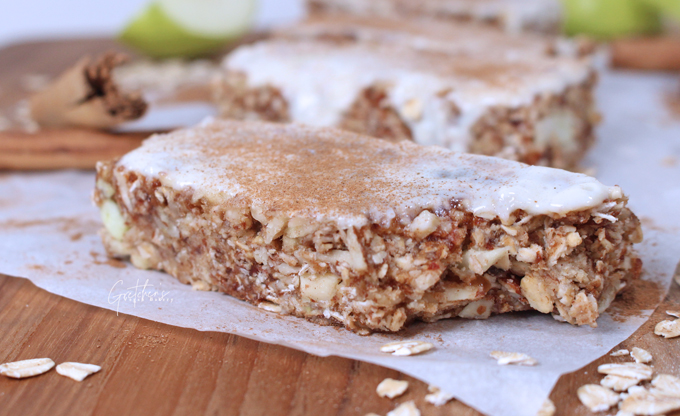 Cocoa Butter in the yogurt glaze ensures a firm finish that sets in the refrigerator!
If you don't have cacao butter you can substitute coconut oil, just don't try to pass it off as oil free!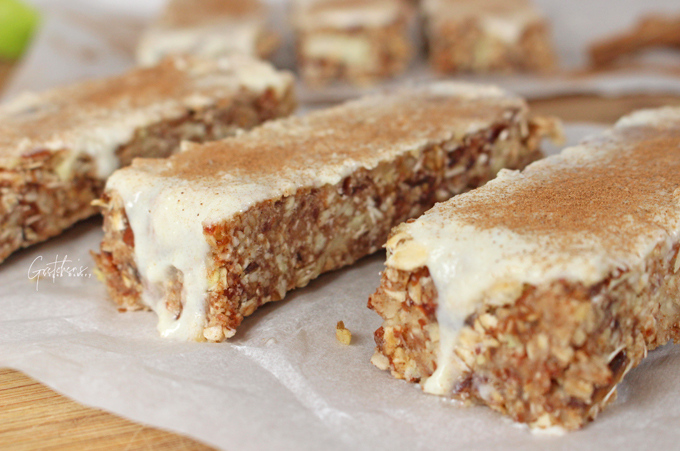 Notes for Success & Substitutions:
This recipe is very versatile and many ingredients can be substituted however some tweaking many be necessary depending on the actual substitution you are making *see more notes below
For both the actual bar and for the yogurt glaze if you don't have cocoa butter you can substitute coconut oil, just don't try to pass it off as oil free!
Additionally I used powdered allulose for the sweetener in the yogurt glaze but you can use any sugar alternative or refined sugar free sweetener like maple or agave
I used sliced almonds but you can use any nut you prefer, just keep in mind that most other nuts like pecans and walnuts have a much higher fat content so you may have to decrease the cocoa butter so it is not super oily
Medjool Dates are the main sweetener as well as the binder that sticks everything together. Raisins or another dried fruit like cranberries or figs can be used instead
Originally I doubled all the ingredients below and made this entire recipe in a 9″ x 9″ pan and then cut the portions into 10 bars. That turned out to be a really large portion especially because this is such a dense and nutrient packed whole food I could barely finish the bar!
So I decided to trim the recipe in half for you since I don't think you all need such a gigundo bar! But of course feel free to double the recipe for big thick Apple Pie Bars!
Granny Smith apples are my apple of choice but you can use any variety you like the most!
For more awesome healthy dessert options click the links below!
Chocolate Eclair Snack Cake ~ sugar free/reduced oil
Reduced Sugar Strawberry Shortcake Snack Cake
Yield: 10
Apple Pie Bars with yogurt glaze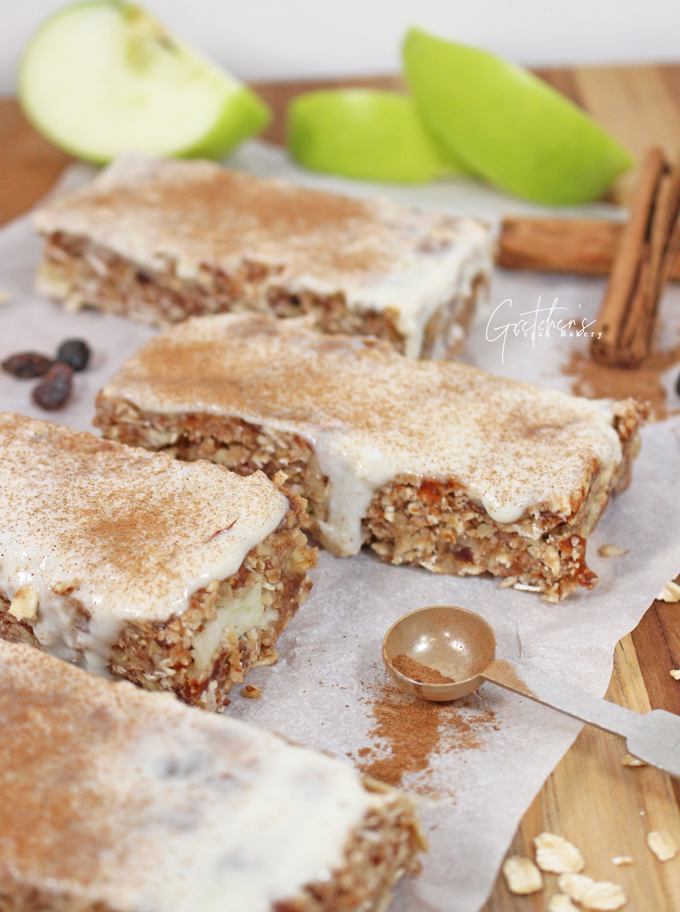 Ingredients
For the Raw Apple Pie Bars
Shredded Apple 1 cup * I used granny smith
Sliced Almonds 1½ cups
Rolled Oats 1¼ cups
Medjool Dates 10 large (approx 1 cup)
Cocoa Butter melted 1/3 cup
Salt ½ teaspoon
Cinnamon 1 teaspoon
For the Yogurt Glaze
Plain Vegan Yogurt ¼ cup (60g)
Allulose 1 Tablespoon (12g) *see notes
Cocoa Butter Melted 2 Tablespoons (30ml)
Instructions
First prepare the 9" x 9" cake pan with parchment paper so it overhangs on the sides.
Next peel & core your apples and then shred them in the food processor, remove the apples and reserve until last
Switch to the blade attachment and add all the other ingredients to the work bowl (the nuts, oats, cinnamon, dates and salt)
Process everything to a coarse chunky consistency
Add the melted cocoa butter and process until it all binds together, then add the apples last and pulse just to combine
Press the mixture firmly into the prepared pan and refrigerate until it is cold enough to remove from the pan without breaking
Transfer it to a cutting board and cut into equal portions *see notes above on my portion size
Meanwhile combine the room temperature yogurt with the sweetener and melted cocoa butter and whisk smooth *if the yogurt is cold it will set the cocoa butter causing chunks
Spread the yogurt glaze over the bars & refrigerate to set
Notes
Raw apple bars with yogurt glaze must be kept refrigerated and will stay fresh for 10 days