It's 2023 and Sugar Free Baking just became a reality in my life!
I never thought I would say it, but my Vegan Vanilla Cake got a make over!
It is now sugar free and reduced oil!
But don't worry! It still tastes delicious and it is light and fluffy and can still be used for all types of creations!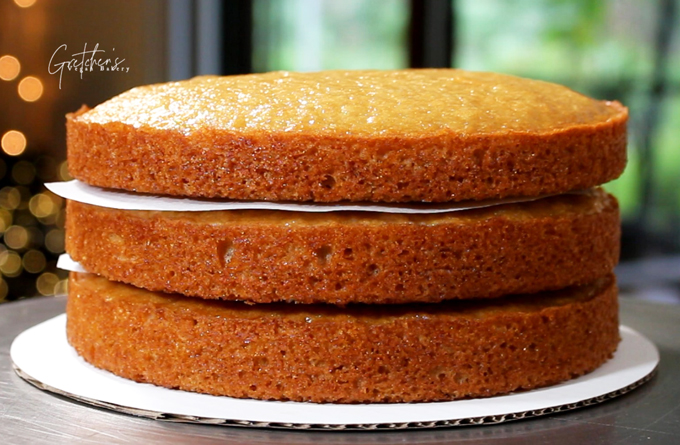 First and foremost, the topic of zero calorie baking versus refined sugar free baking is not the same thing!
So please understand and then decide which one you are trying to achieve by watching the YouTube video linked below!
There are natural sugars such as Maple Syrup, Agave, Coconut Sugar and Date Sugar are all still high calorie sugars.
Then there are commercial sugar alternatives like Stevia, Truvia and Monk Fruit Sugar which are technically refined and look nowhere near what they resembled in their natural form
So the question you must ask yourself is: "Do I want a natural sugar replacement or a zero calorie sugar?" Because these are not the same thing.
My main objective with this article/video is the explain the differences between using granulated forms or sugar replacements versus powdered or liquid sugar replacements
CLICK HERE FOR THE YOUTUBE VIDEO EXPLAINING HOW TO SUBSTITUTE SUGAR IN BAKING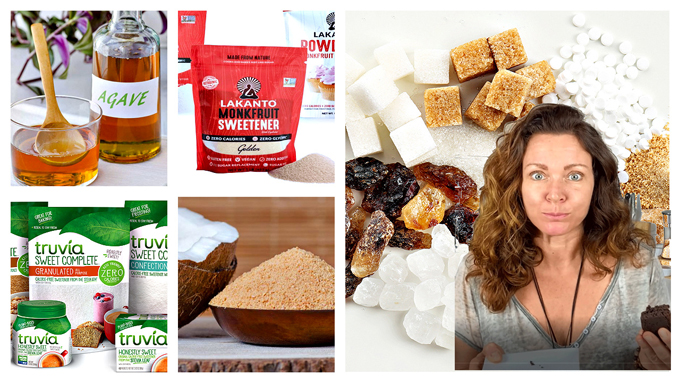 What Role Does Sugar Play in Recipes?
First we must understand that not only does sugar provide the sweetness to our bakes but it also contributes to the lightness and texture of your bakes.
If you have ever tried to reduce the sugar in a cake recipe you probably thought you were eating cornbread instead of cake!
Sugar lends "bulk" to a recipe so if you are taking out a hefty amount of sugar you have to replace it with something!
This is why most diabetic sweeteners add bulking ingredients like erythritol.
Monk fruit sugar is my alternative sugar of choice because it is in granulated form and it resembles granulated sugar almost identically, though it does contain erythritol
Read more about Erythritol in Lakanato brand Monk Fruit Sugar here *not sponsored
I never liked using or baking with Stevia, to me it gives off an unpleasant aftertaste and although they claim it is a 1:1 Baking Blend it is still in powdered form
Which technically should work in a one bowl mix, but to me these powdered forms of sugar substitutes makes the cake texture like bread and very gummy and heavy.
However is custards, icings and mousses it works great.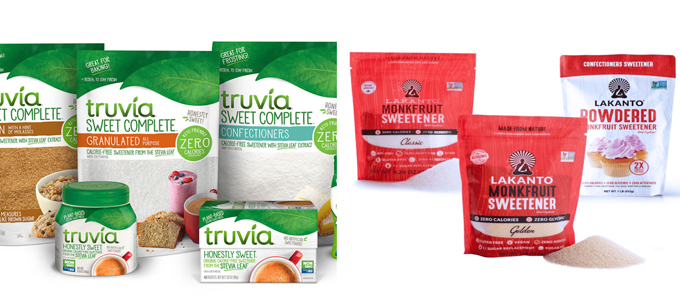 Science Rant Warning in 3…2…1…
Another important role of sugar in baking is how it carries the other ingredients through the recipe in conjunction with the mix method implemented for the particular recipe
Mechanical leavening a.k.a "creaming method" is where we cream the fat with the sugar in the first stage of mixing a recipe
This creaming or literal smashing of the jagged edges of sugar granules into the fat creates air bubbles in the batter that when baked creates steam which in turn raises our recipes!
You can see right away that a liquid sugar or powdered sugar sweetener will never be able to do that!
Since if you have ever tried to cream a powdered sugar or liquid sugar with fat, you get a mushy gooey mess
However for a simple hand mixed cake batter, any type of sweetener will suffice
Great News! My Bakery Yellow Cake & Chocolate Cake recipes are both hand mixed cake batters!
Both work great with the sugar substitute of your choice and reduced oil!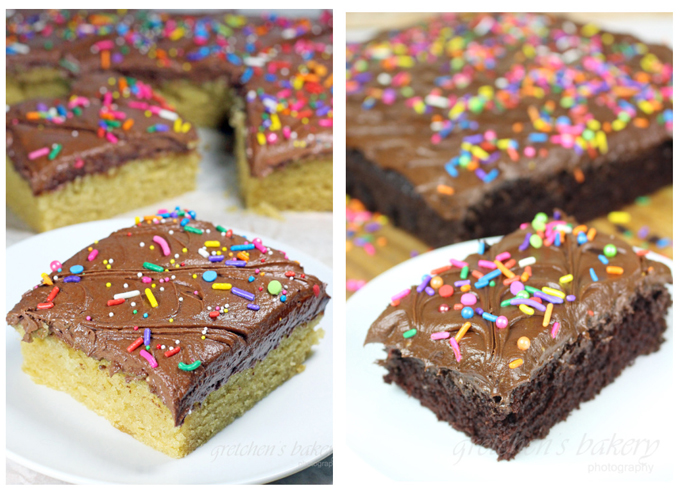 Notes for Success:
I only substituted half of the oil in this recipe which is why I cannot label this oil free but rather reduced oil.
To me the maximum threshold to maintain a light, spongy cake texture is to only substitute half the oil with applesauce
Feel free to replace all of it, but beware you will have a cake that rises less and is very chewy; especially in conjunction with the sugar substitutes!
Because my Bakery Style Yellow Cake recipe is a simple hand mixed recipe
It works beautifully with all types of sugar alternatives and reduced oil! Including gluten free! *see picture below!
You may notice that in comparison to the original recipe where it contains 1½ cups of sugar, I reduce that volume when using Monk Fruit sugar because I find it to be sweeter already
In the recipe mixing instructions you will see that I include the granulated sugar with the dry ingredients; this would be true of a powdered sugar substitute as well
If you are using a liquid sugar you will simply add that along with the liquid ingredients
If you are using maple syrup or any liquid sweetener for that matter, you must decrease the liquid in the recipe by 4 Tablespoons for each cup of liquid sugar you are adding.
Check out the comparison here but be sure to watch the YouTube video for more!

Now this is just the cake recipe! When it comes to fillings and icing, well that's another story!
Don't miss my Chocolate Eclair Snack Cake that's gotten a makeover from the cake layers all the way through to the filling and icing!
CLICK HERE FOR THE YOUTUBE VIDEO FOR THE ORIGINAL YELLOW CAKE RECIPE!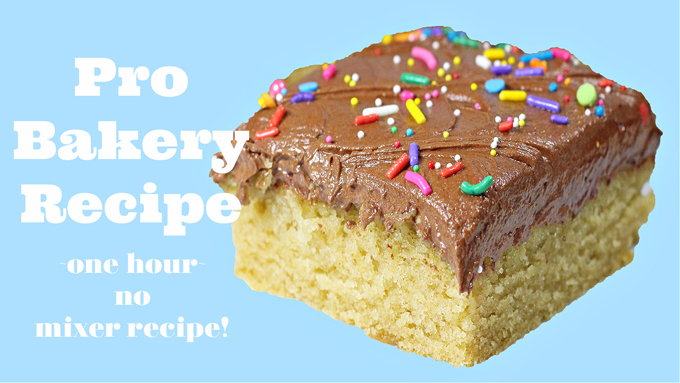 Yield: 12 cupcakes
Vegan Vanilla Cake ~Refined Sugar Free & Reduced Oil Recipe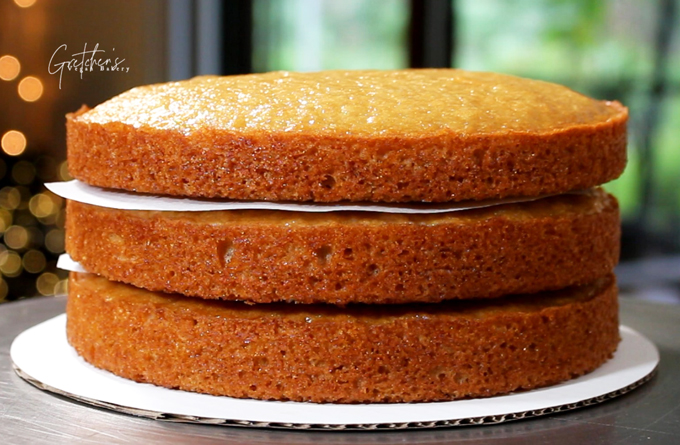 This recipe is very versatile and will make 12 standard cupcakes, 6 Jumbo Cupcakes, 2-8" Layers, 3-7" Layers
Ingredients
Plant Milk *I use soy milk 1½ cups (360ml)
Apple Cider (or white distilled) vinegar 2 teaspoons (10ml)
Vegetable Oil ½ cup (118ml)
Applesauce ½ cup (126g)
Vanilla Extract 2 teaspoons
All Purpose Flour 3 cups (375g)
Monk fruit Sugar 1¼ cup (280g) *see notes in the article for other sugar substitutes
Salt ½ teaspoon (3g)
Baking Soda 2 teaspoons (8g)
Instructions
Preheat your oven to 350°F
Grease & parchment line your cake pans
Combine the plant milk & vinegar in a measuring cup and let stand for 5 minutes to thicken
In a large mixing bowl combine the granulated sugar substitute(*see notes above in article for liquid substitute) with the flour, baking soda & salt whisk to combine or sift together
Add the thickened plant milk, vanilla extract, oil & applesauce to the dry ingredients and whisk vigorously to develop the batter ~ approx 50 strokes
Divide the batter evenly amongst your prepared pans and bake until they are done. Approx 20-25 minutes for jumbo cupcakes and cake layers.
They will be golden brown and when you gently press the centers they spring back. Or a toothpick test with most crumbs will determine if they are done.
Cool in the pans until you can safely touch the pan without burning yourself and then flip onto a cooling rack to cool completely.
Notes
Cake layers and cupcakes can be stored in the refrigerator for up to 2 days wrapped well, for longer storage freeze for up to 1 month