Another five start restaurant dessert that we thought we would no longer get to enjoy since going vegan!
Caramel Flan also known as Creme Caramel has never been easier!
With just five ingredients and about thirty minutes you can have your Caramel Flan and eat it too!
It's a simple stove top custard with a small addition of agar for the perfect set just like you remember it to be!
Firm yet creamy and packed with vanilla in every last bite!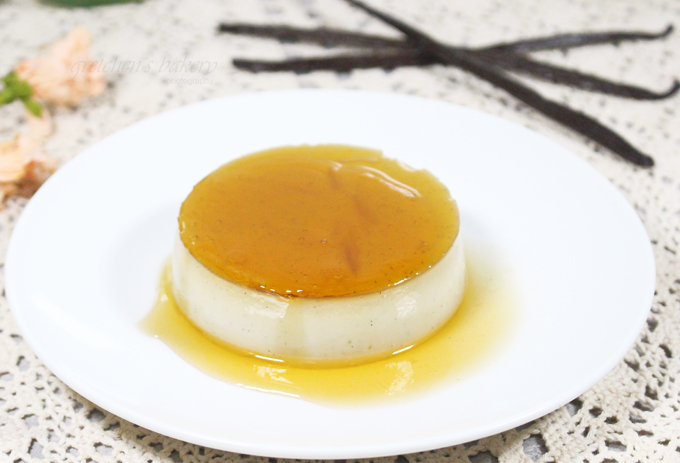 Vanilla beans are so expensive nowadays that I rarely use them but for Creme Caramel I will always make the exception
Today I will urge you to go for the vanilla bean or at least Vanilla Bean Paste!
Luckily I have teamed up with Olive Nation once again with their high quality but affordable bakery ingredients and you can now do the same
With discount code GVB20 you can save 20% on your order so be sure to grab some vanilla beans and let's get to making this recipe!

CLICK HERE FOR THE FULL YOUTUBE VIDEO TUTORIAL FOR HOW TO MAKE CARAMEL FLAN~ CREME CARAMEL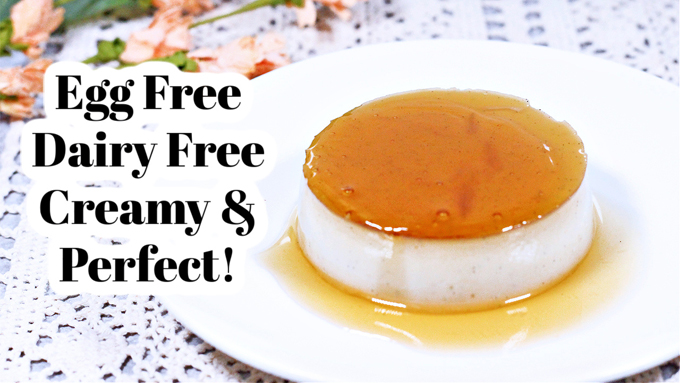 Notes for Success:
Cornstarch is a very difficult ingredient to measure consistently with a volume teaspoons measure
So while I list both measures below I cannot stress enough how the grams measure with a scale is going to give you the best results.
Many times people have complained that their custard or cheesecake is like rubber and they don't know why!
This is from a heavy measure of cornstarch when using volume measuring spoon vs the 100% accurate scale measure in grams.
Agar can be the ingredient that makes or breaks your recipe.
I don't really like to use agar in my dessert recipes but as a replacement for gelatin in vegan dessert making it is practically essential
Be sure to measure sparingly as even a sprinkle too much can take your custard from creamy and delicious to literally inedible!
I use this exact Agar with a gel strength of 900 so be sure you are using the same gel strength as the author of the recipes so you get the same result!
Read all about Agar in this article that follows!
CLICK HERE TO GET A BETTER UNDERSTANDING OF AGAR AND HOW IT WORKS IN YOUR RECIPES
Coconut Milk for this recipe is full fat from a can for the best, creamiest result; but I have used soy milk before with good results
So any plant milk will do if you do not prefer the taste of coconut for this recipe
For more exceptional restaurant style desserts like this one click the links below!
No Bake Chocolate Raspberry Ganache Tart
Yield: 6
Caramel Flan ~ Creme Caramel
I am using 4 ounce ramekinsfor this dessert
I am using coconut milk from a can for the best results, it has the highest fat content for the creamiest dessert, however it will give a coconut taste.
You can use any plant milk you prefer instead.
Ingredients
For the Caramel:
Granulated Sugar 1 + 1/3 cup (266g)
Water 8 Tablespoons (120ml)
For the Custard:
Full Fat Coconut Milk Unsweetened 3 cups (710ml)
Granulated Sugar 6 Tablespoons (84g)
Cornstarch 3 Tablespoons (24g) **see notes for success
Agar Powder 1 teaspoon (2.75g) **see notes for success
Vanilla Bean 1 bean split & scraped of it's seeds *watch video
Instructions
First prepare the caramel by combining the sugar with the water in a medium sized heavy bottom sauce pot and stir over high heat until it starts to boil.
Once it comes to a boil do not stir it or you will form sugar crystals and a cloudy crusty caramel and you will have to start over
I like to put a lid on it for some of the cooking~ this will dissolve any sugar crystals that form on the sides of the pot.
Once the caramel starts to turn light amber in color, watch it very carefully as it can go from light amber to burnt sugar in no time!
BE EXTREMELY CAREFUL WHEN COOKING SUGAR IT IS VERY DANGEROUS AND CAN BURN YOU SEVERELY
Once the caramel turns to a nice light to medium amber color *it will continue cooking* so remove it from the heat and immediately pour about 2 Tbs into each UNGREASED ramekin
Let the caramel ramekins rest on the counter while you prepare the custard
Combine the sugar with the cornstarch in a small bowl and whisk together to coat the cornstarch with the sugar~ this will prevent any lumps during cooking.
Combine the coconut milk, sugar/cornstarch mixture in a medium heavy bottom sauce pot
and then split the vanilla bean lengthwise and scrape the seeds into that milk mixture.
I add the entire pod to the custard as well and then remove it after cooking *this is optional
Cook the custard over medium- high heat stirring constantly until it is warm to the touch, then whisk in the agar powder
Continue cooking & whisking constantly until the entire mixture comes to a boil
Allow it to boil for a few seconds then remove it from the heat and stir it to release some of the high heat, agar also tends to get slightly foamy as it boils, so stirring it down will reduce the foam before pouring into your ramekins
Remove the vanilla bean pod *if it is in there, dry it off and add it to a bowl of sugar for vanilla sugar for another recipe.
Pour the custard into the caramel ramekins all the way to the top and then refrigerate everything until set~ this doesn't take more than 1 hour
To serve run a thin knife or spatula around the rim of the caramel custard and invert the entire ramekin onto a serving plate
It will release easily and the caramel will pool all around the dish
Serve immediately
Notes
Caramel Flan~ Creme Caramel can be made up to 3 days in advance

Just leave the custards in the ramekins and un-mold them ala minute just before serving