Trifles seem to be sadly overlooked as regular dessert options and I'm not sure why
I mean sure we all love a good trifle during the winter holidays
But how easy is it to just layer a bunch of delicious things together in a glass?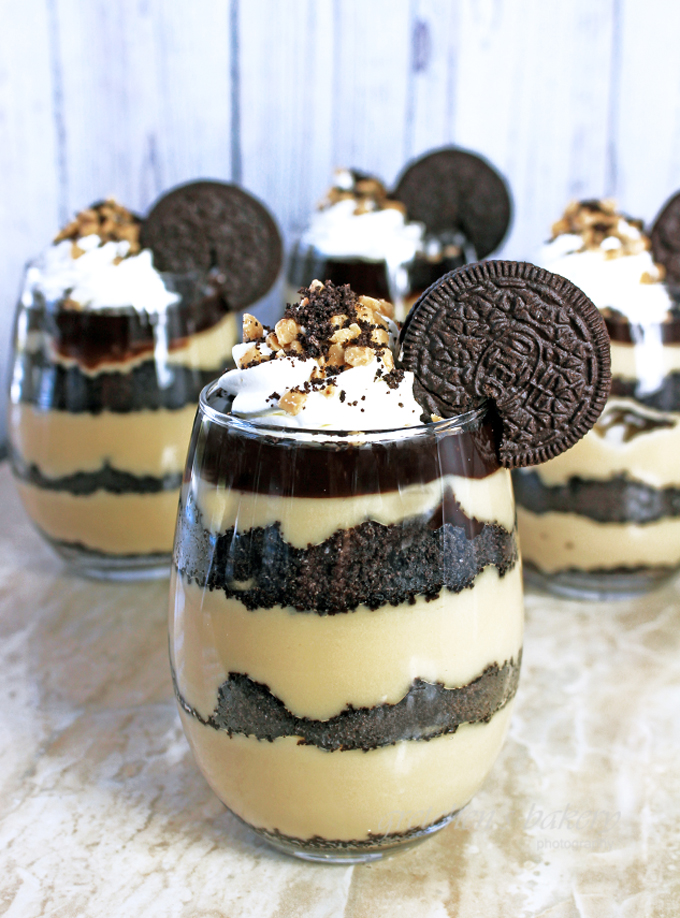 I do this all the time at midnight
Only I don't realize I'm making trifles!
The beauty of a trifle or parfait is that it can literally be anything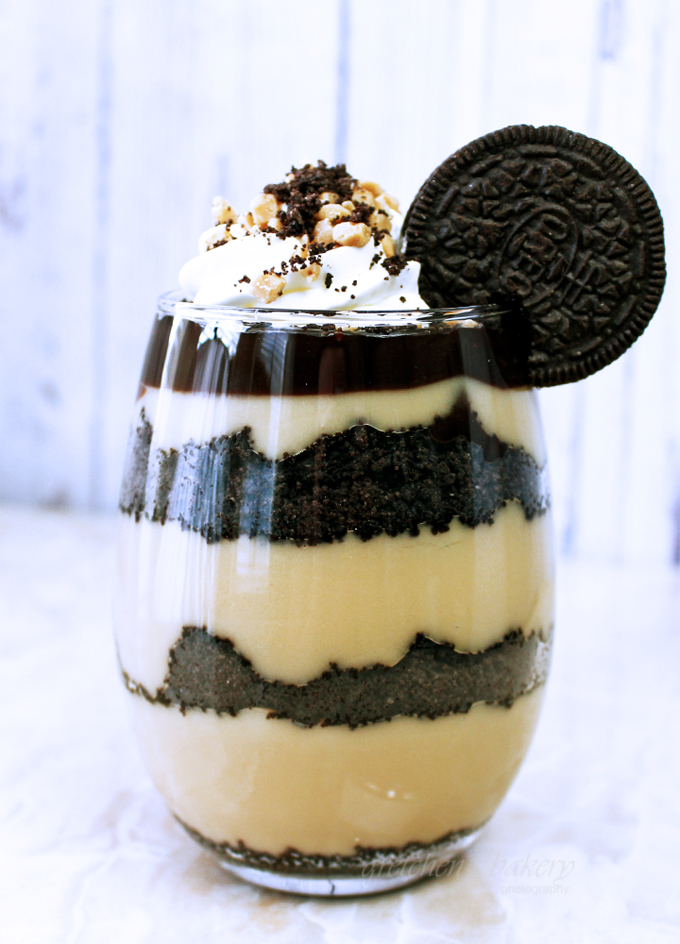 Whenever I have leftover things in my refrigerator from random cake projects
I often grab a glass and just start layering!
When I made too much caramel custard from my recent Caramel Macchiato Cream Pie recipe
I grabbed some glasses and those infamous cake scraps I always talk about taking up residence in my freezer
Doused with Kahlua and then topped off with vegan whipped cream!
Instant Caramel Trifle!
No one would know this was basically the leftovers from a more prestigious project
With just two simple recipes and some of your favorite cookies you can make this beautiful dessert in no time at all!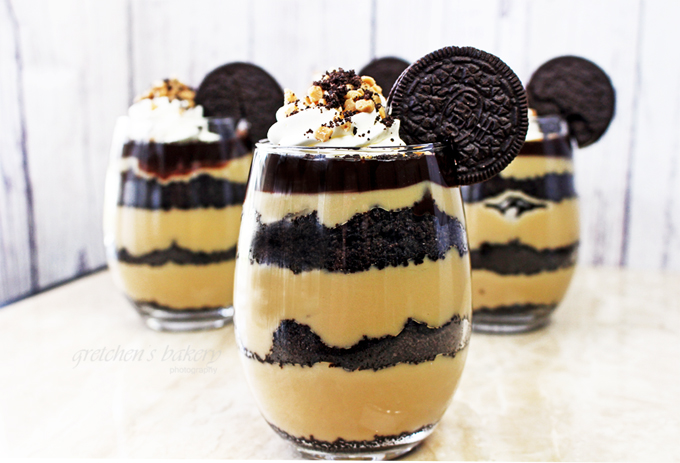 Notes for Success & Substitutions
Not a fan of alcohol in your desserts?
Leave it out and now it's called a parfait! LOL
Use crushed cookies instead of cake for the layers between the custard for a crunchy treat
I've added a layer of ganache on the top of mine, not only does this seal the underlying layers from air and drying out
But it is so nice to break through that layer of thick ganache to the creamy caramel custard treasure below!
I know it doesn't seem helpful to list ingredients amounts merely "as needed"
So for a better understanding of how much you actually need to make 6 individual -8ounce glasses you will need the equivalent to approximately 2-8″ layers of cake
The cake does not have to be intact, as a trifle is typically chunks of cake that have been soaked with alcohol
Cake scraps work perfectly for this type of dessert!
CLICK HERE TO WATCH THE YOUTUBE VIDEO TUTORIAL FOR HOW TO MAKE THIS CARAMEL CUSTARD RECIPE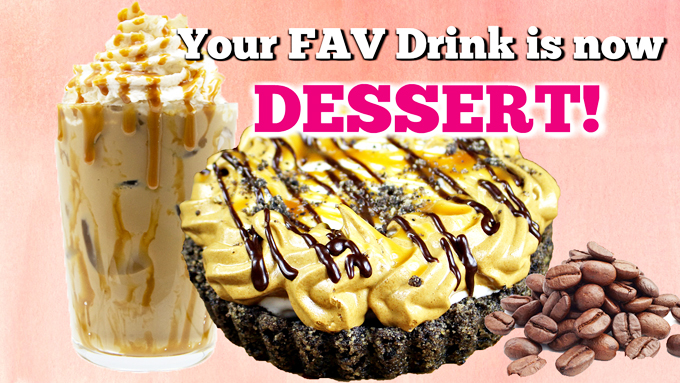 I have several different recipes for custard that you can interchange if you are not that keen on the caramel custard
Make a Coconut Trifle or a White Chocolate Berry Trifle instead!
Just by using the recipes below for my cream pies, you can deconstruct it into a parfait or trifle instead!
White Chocolate Berry Cream Pie

Caramel Trifle
I know it doesn't seem helpful to list ingredients amounts merely "as needed"
So for a better understanding of how much you actually need for 6 individual -8ounce glasses you will need the equivalent to approximately 2-8" layers of cake, The cake does not have to be intact, as a trifle is typically chunks of cake that have been mixed with alcohol before layering
If using crushed cookies in between the caramel custard layers you will need about 3 cups total
The Kahlua is another ingredient that should be used to your liking, I would probably soak each layer of cake with about 2 teaspoons of Kahlua for a total of ¾ cup of Kahlua for all 6 glasses
Serves:
6 Individual glasses
Ingredients
For the Caramel Custard:
Granulated Sugar ¾ cup (150g)
Lemon Juice 2 teaspoons (10ml)
Vegan Butter 2 Tablespoons (28g)
Plant Milk *I use soy milk 2 Cups (473ml)
Cornstarch 5 Tablespoons
Granulated Sugar 4 Tablespoons (56g)
Vanilla Extract 2 teaspoons (10ml)
Chocolate Cake scraps or cookies crushed as needed *see note above
Kahlua as needed * see note above
1 cupvegan whipped cream
Instructions
You will need 6- 8ounce juice glasses or dessert glasses of your choice
If you have to bake the cake, be sure to do that first and have it cooled and sliced into 18 thin discs for the layers (3 for each glass)
For the custard place the sugar and the lemon juice in a heavy bottom 2 quart sauce pot (you will need a larger pot for this since cooking caramel can be dangerous and may bubble up when adding the liquids, so BE CAREFUL!)
Cook the sugar stirring gently to distribute the lemon juice throughout and then stop stirring once it starts to boil, place a lid over top to create steam and help any sugar crystals dissolve.
Remove the lid once you see there are no crystals left on the sides of the pot and let it boil rapidly~ don't walk away!
Once the caramel starts to turn amber, watch it closely as it can go from light amber to burnt in an instant!
Once the color changes to a medium amber, carefully add the vegan butter and the room temperature plant milk and stir gently with a wooden spoon to dissolve the caramel.
Add the cornstarch with the second measure of sugar and whisk smooth as it comes to back to a boil
Once the custard boils, remove from the heat and add the vanilla extract
Immediately pour the caramel custard into the prepared glasses layering with your desired ingredients!
Refrigerate to set
Notes
Caramel trifle will stay fresh in the refrigerator for up to 1 week

Be sure to keep refrigerated at all times