A top seller when I owned my bakery was this Cheese Strudel!
Flaky puff pastry filled with sweetened cream cheese sold out every Sunday!
I like to serve this cheese strudel warm out of the oven with cranberry compote, but any berry compote would work great!
Even my famous apple filling recipe is a total winner here!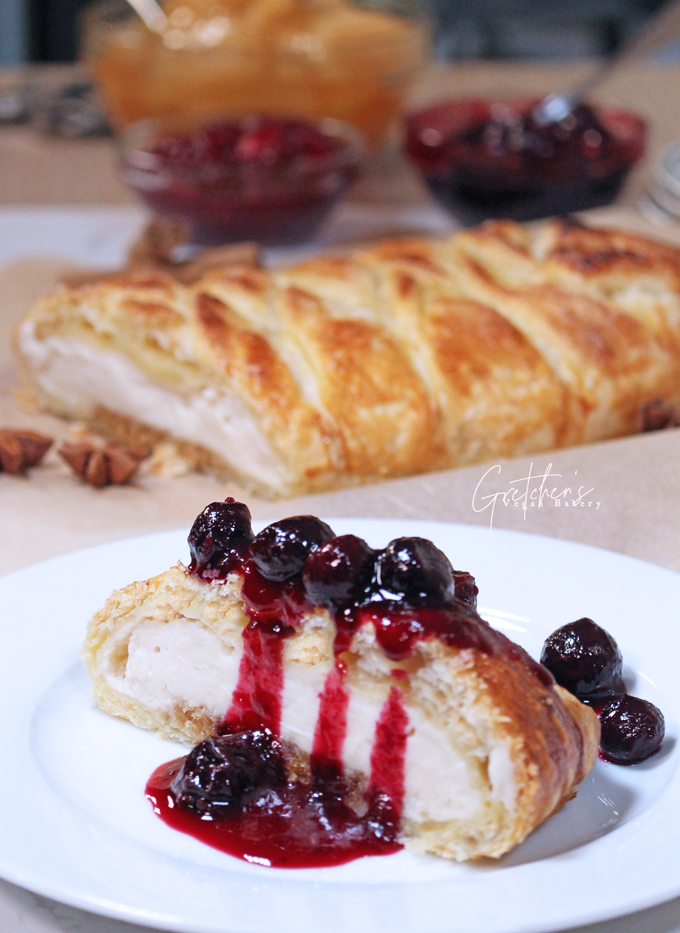 Of course you can serve it just as is with a cup of coffee in the morning!
Breakfast of champions!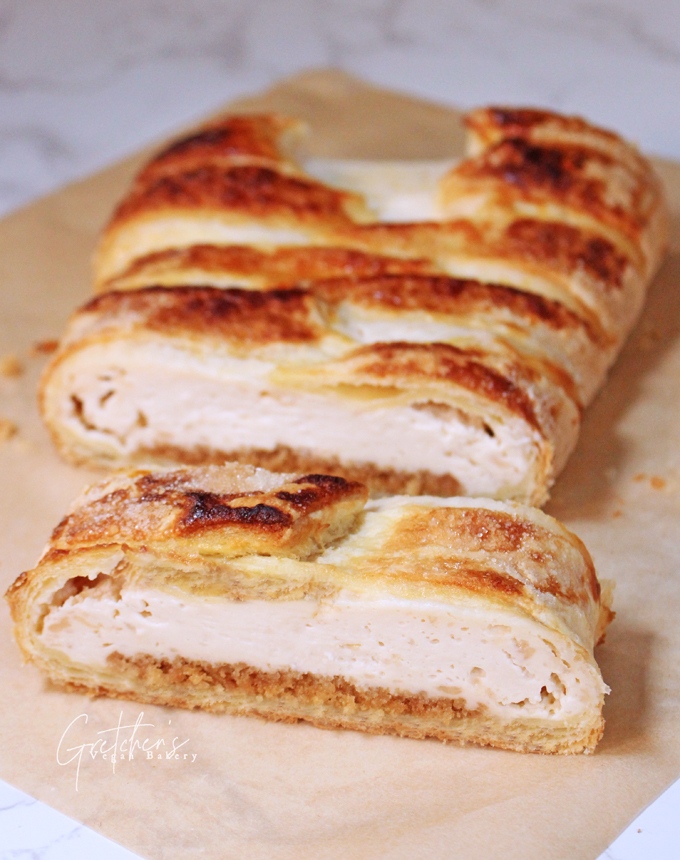 A simple recipe with minimal ingredients and a package of puff pastry is all you need!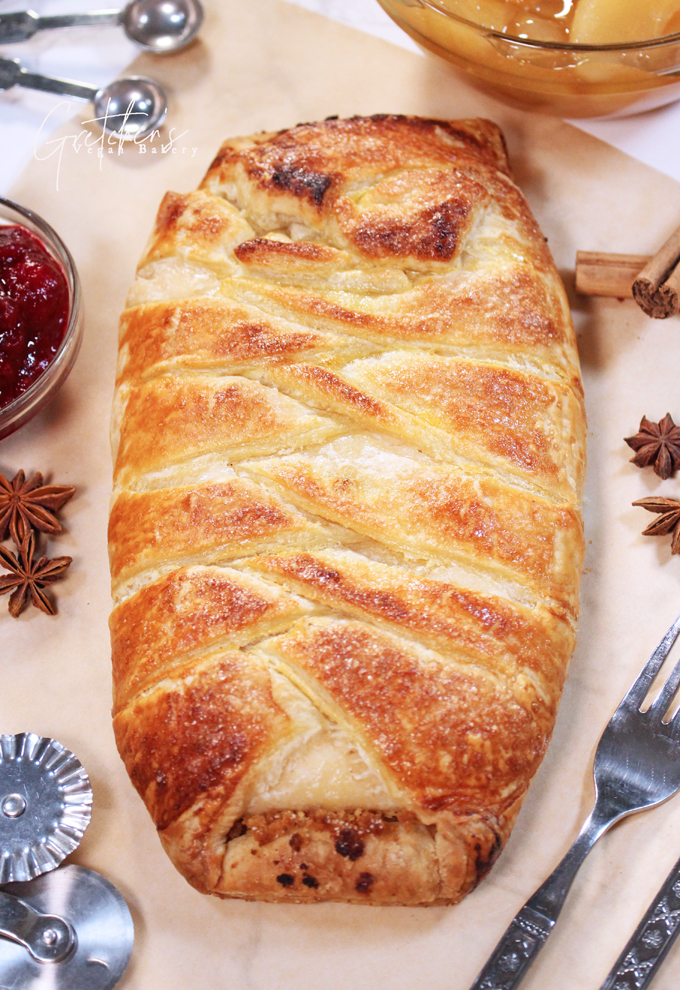 Notes for Success:
Now that we are vegan we have to treat our ingredients slightly different
And if you are aware of the vegan cream cheese nightmare you know what I mean!
First of all vegan cream cheese is basically non existent where I live, so that adds more chaos to the equation!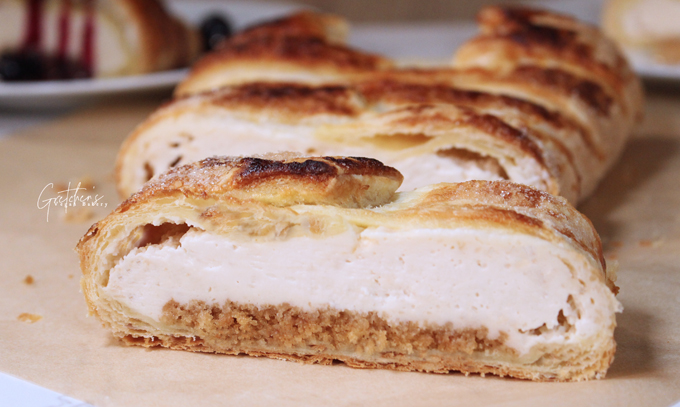 Not to mention I have only had success with Tofutti brand cream cheese in my baked recipes *not sponsored
I have not had success with any other brand in BAKED recipes; for some reason the other more expensive brands I've tried have broken down into an oily mess when baked.
However I have been getting great feedback from many followers of my recipes and they tell me that:
Violife now works in baked recipes!
This is a surprise to me since I had the worst results with Violife in baked recipes back in 2019
Perhaps they have since changed their formula?
Also Miyokos original works out great and the taste is divine!
Cornstarch is a very difficult ingredient to measure consistently with a volume/spoons measure
So while I list both measures below I cannot stress enough how the grams measure with a scale is going to give you the best results.
Many times people have complained that their cheesecake is like rubber and they don't know why!
This is from a heavy measure of cornstarch when using volume measuring spoon vs the 100% accurate scale measure in grams.
Last, I am using dried out cake crumbs this is an old bakery trick to absorb any excess moisture from a soft filling like this one
It was specifically implemented with apple strudels
Simply toast some excess cake crumbs from a previous project in the oven (you only need about ½ cup)
CLICK HERE FOR THE YOUTUBE VIDEO FOR HOW TO MAKE THIS CHEESE STRUDEL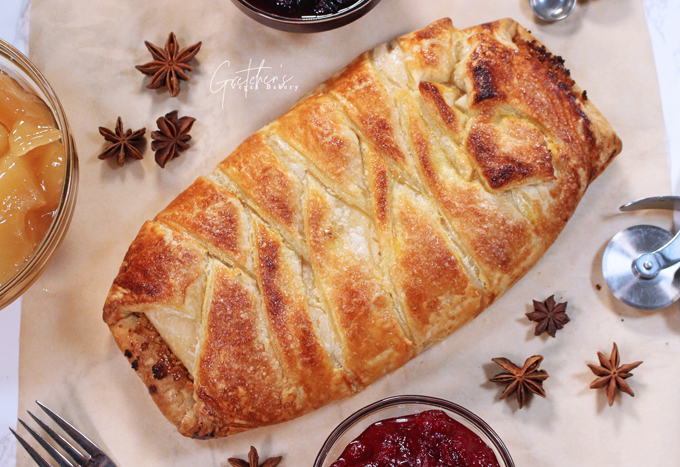 For more awesome bakery style pastries like this one, click the links below!
Bakery Style Cheese Danish Recipe
Traditional Christmas Stollen Recipe~ Vegan
Yield: serves 10ppl
Cheese Strudel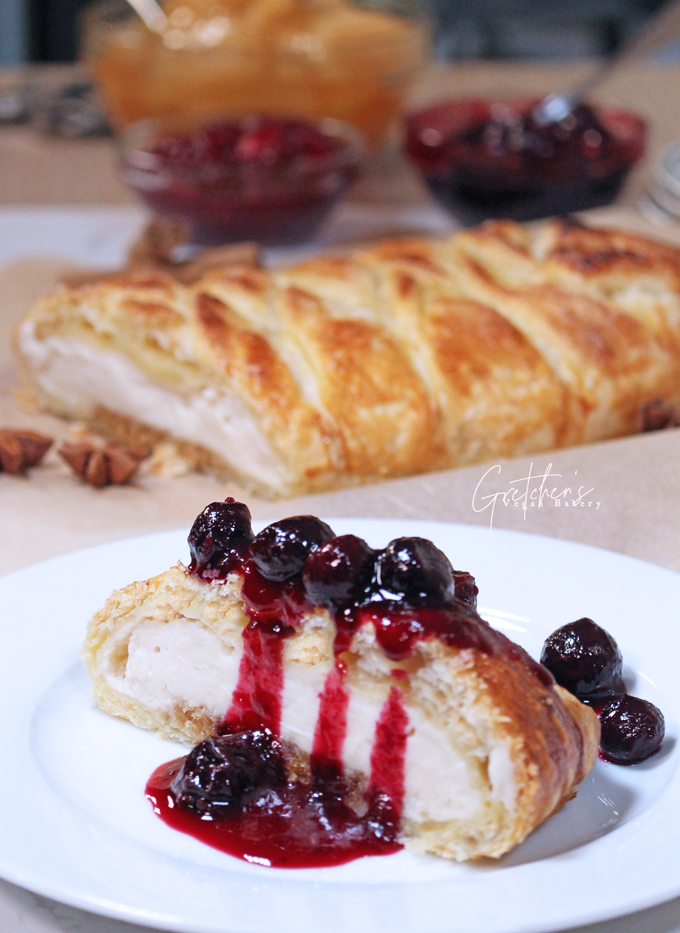 Pepperidge farm Puff Pastry is accidentally vegan. 1 package contains 2 sheets, for this Cheese Strudel you will only need 1 sheet
Total Time
1 hour
40 minutes
Ingredients
1/2 Package Vegan Puff Pastry
For the Cheese Filling:
Vegan Cream Cheese 12 ounces (336g)
Confectioners Sugar ½ cup (60g)
Cornstarch 3 Tablespoons (24g)
Vegan Butter melted 2 Tablespoons (28g)
Vanilla Extract 1 teaspoon (5ml)
½ cup toasted cake crumbs
1 Tablespoon Just Egg for the wash
Granulated Sugar approx 2 teaspoons
For the Cranberry or Blueberry Compote *optional
1½ cup fresh or frozen cranberries or blueberries
4 Tablespoons granulated sugar (50g)
4 Tablespoons water (60ml)
Instructions
Thaw the puff pastry overnight in the refrigerator
Prepare the cheese filling by combining the vegan cream cheese with the sifted confectioners sugar & cornstarch gently with a spatula in a medium sized mixing bowl
Add the melted vegan butter and the vanilla extract and fold together smooth
Prepare a standard sized loaf pan with plastic wrap lining and spoon the cheese filling into that.
Freeze for about an hour or up to 2 but no longer since you do not want a solid block, just frozen enough to handle and it is not soupy.
Preheat the oven to 400°F~ if you have a convection oven setting it is a good idea to use that.
*Air Fryer also works great with this recipe!
Roll the puff pastry on a piece of parchment paper on a half sheet pan slightly to make it about ½" longer & wider then cut 6 strips in a diagonal on each side flap of the dough (the creases from where it was frozen is a perfect indicator of how to measure the center & sides)
Next spoon the ½ cup of the toasted cake crumbs in the center of the dough
Place the semi frozen cheese filling on top of that and then fold up the sides of the cut dough strips in a criss cross fashion
Brush the entire top of the dough with the egg wash & sprinkle with granulated sugar & bake immediately in the preheated 400F oven for approximately 40 minutes
Watch closely to make sure the dough does not burn on the top, and you can cover loosely with a piece of tin foil to prevent over browning
The cheese filling may look slightly jiggly, but it will set as it cools.
Cool before cutting and serve with optional berry compote
To make the berry compote combine the sugar, berries & water together in a small sauce pot and cook over high heat stirring occasionally until it boils & the berries begin to pop
Remove from heat, the compote will thicken as it cools
Notes
Cheese Strudel can be kept at room temperature for up to 2 days wrapped well in a very cool spot.

Refrigerate for longer storage, up to 1 week