Have you thought that making fudge is just too difficult?
Maybe it's the required candy thermometer that puts you off.
While, yes you do need a candy thermometer to have the best results when making homemade fudge
It's a small purchase that will bring you years of relief
Because you will use it time and again to make this awesome Chocolate Mint Fudge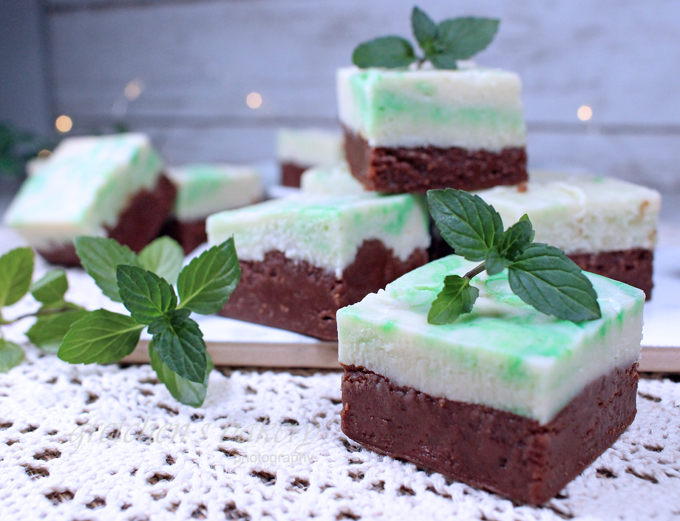 Once you see how easy it really is and taste how awesome this fudge can be!
Making homemade fudge can be done in less than a half an hour.
It's the cooling that takes the longest!
However because I decided to make a two layer chocolate mint fudge the process took slightly longer.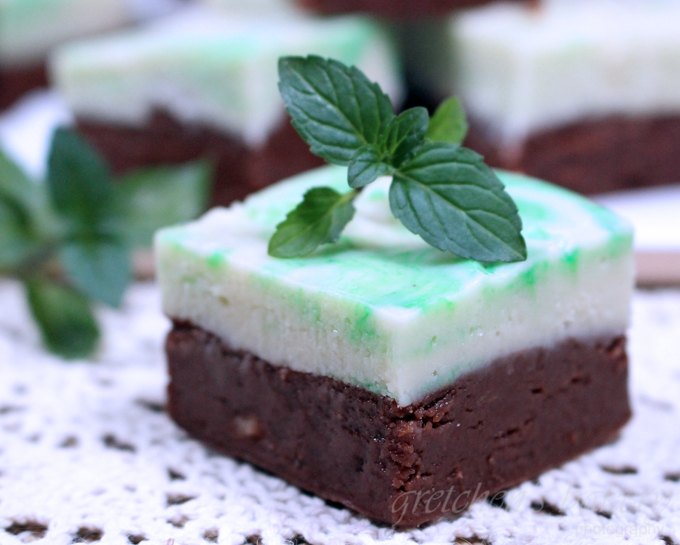 With Dandies Peppermint Marshmallows and a tiny bit of mint extract *not sponsored
I bet you have all the rest of the ingredients already on hand!
Most fudge recipes call for evaporated milk which I always found quite annoying
Because who ever has a can of evaporated milk laying around?
Not me!
And believe me I am not interested in making more homemade pantry items for my recipes!
So I have recreated this recipe for Chocolate Mint Fudge to be made with the standard items you already have.
Except you will probably have to go grab some vegan marshmallows!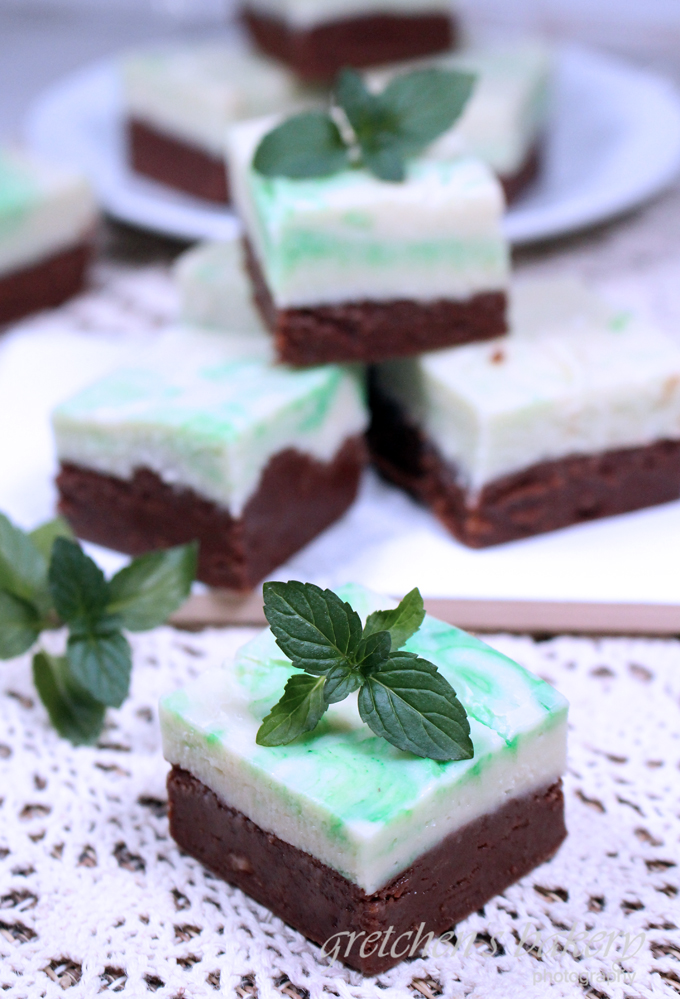 Soy milk was the perfect substitution for evaporated milk as it worked like a dream!
By simply boiling sugar, vegan butter and soy milk to 234°F and adding in the marshmallows and chocolate, this chocolate fudge is yours for the taking in just about an hour!
The hardest part about making fudge is waiting for it to cool!
The recipe below makes almost 2lbs of fudge!
I used a standard sized loaf pan for mine, but a cake pan would work just as well
Just keep in mind you would have a round slab of fudge versus a rectangle or square!
But who cares what shape it is when it is this delicious!
For more chocolate mint recipes click the links below!
Vegan Thin Mint Girl Scout Cookies- Copy Cat Recipe
Vegan Chocolate Mint Fudge
Line a standard sized loaf pan or a 7" cake pan with plastic wrap
Ingredients
For the Semi Sweet Chocolate Mint Layer:
Granulated Sugar 1 cup (200g)
Vegan Butter 4 Tablespoons (56g)
Soy Milk ¼ cup (56g)
Semi Sweet Vegan Chocolate 4 ounces (56g)
Dandies Peppermint Marshmallows 3½ ounces
Mint Extract ½ teaspoon
For the White Chocolate Mint Layer:
Granulated Sugar 1 cup (200g)
Vegan Butter 5 Tablespoons (70g)
Soy Milk ¼ cup (56g)
White Chocolate 4 ounces (56g)
Dandies Peppermint Marshmallows 3 ounces
Mint Extract ½ teaspoon
Green food coloring *optional as needed to your liking
Instructions
Prepare your loaf pan or a 7" cake pan (*note you will have round fudge!) with plastic wrap
In a medium heavy bottom sauce pot combine the sugar, milk and vegan butter and bring to a boil stirring occasionally.
Once it comes to a boil attach a candy thermometer and boil until it reaches 234°F then remove from the heat and stir in the semi sweet chocolate and marshmallows and stir until it is all melted and smooth
Add the mint extract, stir well
Pour into the prepared pan and let it cool to set in the refrigerator while you prepare the white chocolate mint layer.
In a medium heavy bottom sauce pot combine the sugar, milk and vegan butter and bring to a boil stirring occasionally.
Once it comes to a boil attach a candy thermometer and boil until it reaches 234°F then remove from the heat and stir in the white chocolate and marshmallows and stir until it is all melted and smooth
Add the mint extract and a touch of green food coloring *if using
Stir just to swirl and then pour into the pan on top of the dark chocoalte mint fudge.
Refrigerate until set, then remove from the pan and cut into desired portions
Notes
Chocolate mint fudge can be stored at room temperature for several days in an airtight container, but for best results ~ store fudge wrapped well in the refrigerator for up to 1 month